content management | ecm | intelligent automation | modernization | rpa
Intelligent Automation requires both a top-down and a down-up strategy and the proper content capabilities to drive this strategy.
content management | digital disruption | ecm | information management | modernization
The combination of cloud technologies plus mobile is a volatile one when it comes to the sustainability of existing organizations. We've never before been in a disruptive environment quite like this one, and it demands much more agile approaches to IT. Established incumbents are being challenged on every front. Consider the following: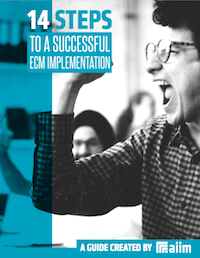 14 Steps to a Successful ECM Implementation
Making an ECM implementation successful requires planning and attention to detail. The best way to create the right solution is to identify organizational goals and priorities. Learn how to manage a successful implementation in our free guide.
Compliance and records management | content management | metadata | records management
We once had an IT person who worked for us who took a page out of the old Saturday Night Live routine, Nick Burns -- Your Company's Computer Guy, who guarantees to "fix your computer and then make fun of you."
IBM | content management | information chaos | information governance
I was invited to attend the IBM Think 2018 event last week in Las Vegas. There were so many interesting aspects of the event, but most notable to me as someone who has attended multiple versions of this event over the years under multiple names (multiple event names, not my aliases) were: 1) the sheer scale of the event; and 2) the convergence of content and data.
@IBM_ECM | IBM | content management | digital disruption | information governance
I was reflecting a bit on some of the themes raised by Ginni Rometty, CEO of IBM, during her opening keynote at Think 2018 and their alignment with some of the concepts we at AIIM have been raising over the past year under the banner of Intelligent Information Management. I suppose it may seem a bit cheeky as the "Chief Evangelist of AIIM" to be commenting upon the comments of the "Chief Executive" of IBM, so for those who want to hear her thoughts without the benefit of my interpretation, the replay is HERE.
cloud content management | content management | ecm | information governance
Here are your Top AIIM White Papers from 2017! The votes are in...and here are the most popular AIIM eBooks and white papers and Tip Sheets from 2017. Enjoy.