Subscribe
AIIM Names Tori Miller Liu Chief Executive Officer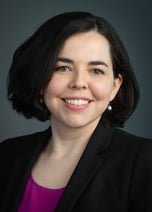 The Association for Intelligent Information Management (AIIM), the world's leading association dedicated to the information management industry and its practice, announced today that it has appointed Tori Miller Liu as its next Chief Executive Officer, effective December 1, 2022. She replaces Peggy Winton who, earlier this year, announced her decision to step down after serving in this position for seven years.
Established in 1943, AIIM's mission is to help organizations improve their performance by transforming the way they manage their information. AIIM represents the professional interests of information management professionals globally along with firms that provide intelligent information management solutions throughout the U.S. and abroad.
In her new role as CEO, Tori will be responsible for leading the Association's dedicated team of professionals while growing the value of the organization to its members, partners, and other stakeholders. She has a clear vision for articulating and demonstrating the organization's visibility as industries and businesses are experiencing a generational shift around how they manage their information and data in the context of mission-critical business operations and the emerging era of Artificial Intelligence.
Tori brings extensive experience in association management, including strategy development, execution, and technology leadership. Currently, Tori serves as Chief Information Officer for the American Speech-Language-Hearing Association (ASHA), where she supervises a staff of 29 and oversees a multi-million-dollar budget.
Prior to that, she served as a Vice President for Association Analytics and Vice President of Technology and Strategic Initiatives for the Global Cold Chain Alliance. Tori is a founding board member of the Association Women Technology Champions and a member of the American Society of Association Executives (ASAE) Technology Professionals Advisory Council.
"Tori's leadership not only in technology but also in professional and trade association management makes her the perfect choice to usher in and lead AIIM into the next era of intelligent information management," said Kramer Reeves, Association Board Chair. "Information, content, records, and more are only as valuable as the impact they have on helping organizations and their teams get key work done. And with Artificial Intelligence having an increasing impact on information, AIIM must evolve to lead that market direction. As such, we're very excited to partner with Tori to help drive this next chapter for AIIM."
"As a passionate believer in the power of technology and associations, I'm thrilled to join AIIM's leadership, members, sponsors, and staff in serving members and empowering their success," said Tori. "Together, we will lead the industry in this new era by advancing a culture of foresight, innovation, and inclusivity."
The search was conducted by association and non-profit search experts, Vetted Solutions.