Information Governance | Sharepoint and Office 365
I know Halloween has come and gone, but I'd love for you to entertain a horrifying scenario for a moment. It's March 15, 2020, and the United States has just gone into lockdown in response to the COVID-19 pandemic. The Empire State Building in New York City, the Prudential Center in Boston, Willis Tower in Chicago, and office buildings across the country have become vacant ghost towns. Millions of companies and organizations have to figure out overnight how to conduct business outside the walls of their office for the first time. Now imagine cloud-based collaboration tools were never invented. There are no cloud storage solutions to safely share files across borders. There are no video meetings, digital whiteboards, or real-time document collaboration tools. There's no instant messaging or internal message boards. How does business get done? Can the world just completely stop for two years?
The Association for Intelligent Information Management (AIIM), the world's leading association dedicated to the information management industry and its practice, announced today that it has appointed Tori Miller Liu as its next Chief Executive Officer, effective December 1, 2022. She replaces Peggy Winton who, earlier this year, announced her decision to step down after serving in this position for seven years.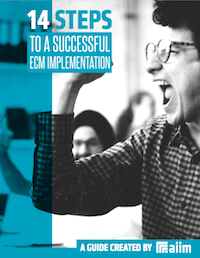 14 Steps to a Successful ECM Implementation
Making an ECM implementation successful requires planning and attention to detail. The best way to create the right solution is to identify organizational goals and priorities. Learn how to manage a successful implementation in our free guide.
Digital Transformation | Intelligent Information Management (IIM)
There are two things you should know about me. The first is that I love to eat. I have an appetite that was once described as "alarming." In my teenage years, I would kick back and devour an entire large pizza in one sitting. As I grew older, I refined my pallet and developed a desire for quality ingredients and a craving for a variety of flavors. The second thing you should know is that I hate to cook.
Business Process Management (BPM) | Process Improvement
There are some chores I love, many I don't mind, and a few that sap my will to live. Folding laundry falls into the soul-crushing category. I've tried doing it while I watch the Price is Right or rock out to Taylor Swift (yes, she's my guilty pleasure!), but nothing distracts me from the monotony of that task. And my least favorite part about it has always been trying to match the socks.
Two new directors elected by members of the association
Back in 2017, I called up a few of the information governance friends I'd made through the AIIM Community to better understand the challenges they were up against. As we engaged in a bit of Socratic dialogue, it became clear to us all that the perceived role of information governance had to shift from a singular focus on risk and cost reduction. If they don't, they will NEVER change the status of information management within their organizations. The key to this transformation is aligning information management decisions with business decisions.