Digital Transformation | Intelligent Information Management (IIM)
There are two things you should know about me. The first is that I love to eat. I have an appetite that was once described as "alarming." In my teenage years, I would kick back and devour an entire large pizza in one sitting. As I grew older, I refined my pallet and developed a desire for quality ingredients and a craving for a variety of flavors. The second thing you should know is that I hate to cook.
Business Process Management (BPM) | Process Improvement
There are some chores I love, many I don't mind, and a few that sap my will to live. Folding laundry falls into the soul-crushing category. I've tried doing it while I watch the Price is Right or rock out to Taylor Swift (yes, she's my guilty pleasure!), but nothing distracts me from the monotony of that task. And my least favorite part about it has always been trying to match the socks.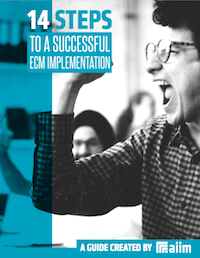 14 Steps to a Successful ECM Implementation
Making an ECM implementation successful requires planning and attention to detail. The best way to create the right solution is to identify organizational goals and priorities. Learn how to manage a successful implementation in our free guide.
Two new directors elected by members of the association
Back in 2017, I called up a few of the information governance friends I'd made through the AIIM Community to better understand the challenges they were up against. As we engaged in a bit of Socratic dialogue, it became clear to us all that the perceived role of information governance had to shift from a singular focus on risk and cost reduction. If they don't, they will NEVER change the status of information management within their organizations. The key to this transformation is aligning information management decisions with business decisions.
Intelligent Information Management (IIM)
In several posts, we've talked about professional development options for information management professionals and provided guidance on how to determine whether a particular course or certification is a good fit. For the most part, we've stayed away from blogging about AIIM's training for two reasons. First, we wanted these blog posts to be informative and insightful, rather than be perceived as self-aggrandizement. And second, we figured that most people reading these posts would already know AIIM's offerings. It turns out that that's not the case. We regularly get questions about AIIM training – what course is right for a particular person, role, or circumstance, what the courses cover, what they cost, etc. So we thought it might be of value to do an overview of AIIM's training offerings.
I'll save you from having to read another contrived word about how difficult the last year was. And it was, without a doubt, difficult. Instead, I want to focus on one of my favorite positives to come out of the pandemic – the "Covid Hobby" phenomenon.