At a recent holiday gathering (of triple-vaxxed friends/family), I was reminded of advice from my very elegant and wise grandmother: "Always leave a party when you're having fun." Since I'm still having a blast at the AIIM party, now is the ideal time for me to make my way to the exit, passing the presidential baton enroute. That's right. I promised myself that I would serve only two, 3-year terms in the CEO role, yet here I am, happily beginning the third. I believe in executive term limits, so I had best be honoring my own vow.
Two new directors elected by members of the association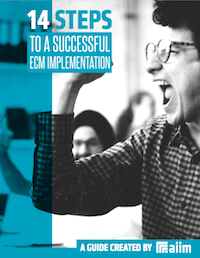 14 Steps to a Successful ECM Implementation
Making an ECM implementation successful requires planning and attention to detail. The best way to create the right solution is to identify organizational goals and priorities. Learn how to manage a successful implementation in our free guide.
I'll save you from having to read another contrived word about how difficult the last year was. And it was, without a doubt, difficult. Instead, I want to focus on one of my favorite positives to come out of the pandemic – the "Covid Hobby" phenomenon.
AIIM Community | Change Management
The new year always brings with it a handful of important questions around the AIIM Community. What are the key trends in information management? What are the top challenges to overcome? More importantly, what are the best practices and strategies to overcome them?
Even though I've been an AIIM staff for more than 9 years, I continue to pay for my AIIM+ membership out of my own pocket. So it's pretty obvious that I see the value of AIIM+, but you're here to figure out if it's worth it for YOU. My goal with this article is to give you a transparent look at both the pros and cons of an AIIM+ membership.
"It's 2020," you might be thinking, "Who needs associations?" Associations and professional memberships can often be thought of as a relic of the past or a resume builder, but not as a valuable personal development tool. For an introvert, I'm a pretty social, member-y kinda guy. I've been a paid professional member of both AIIM and ARMA for nearly 20 years. I've held memberships in lots of other different groups and associations over the years. And I've even been a member of the United States Marine Corps Drill Instructor Association since 1993.