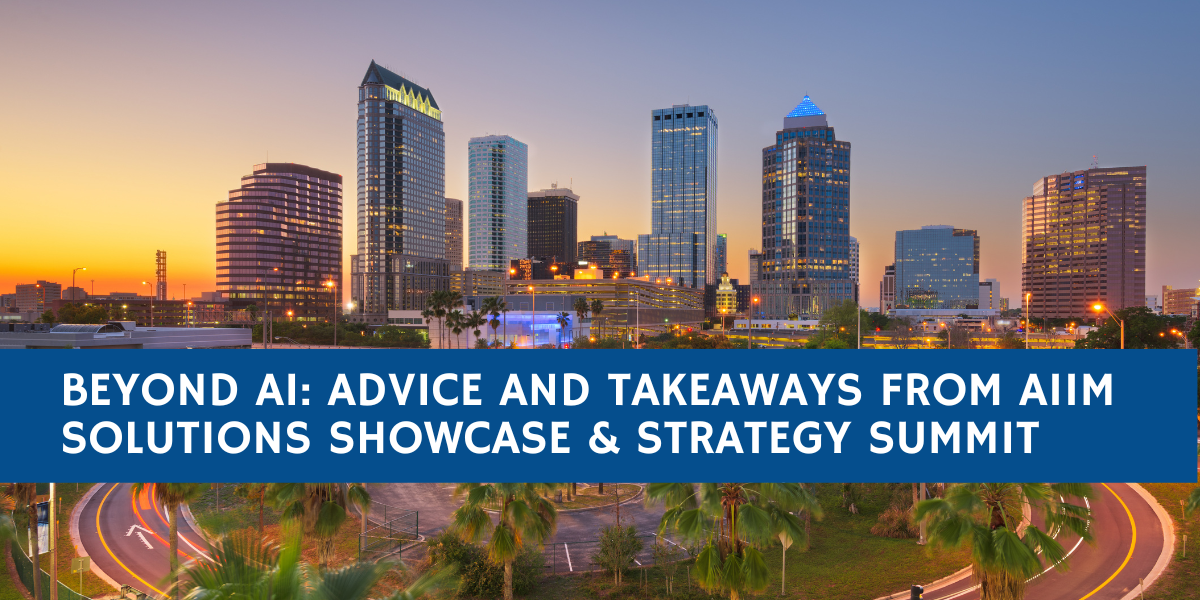 Subscribe
Beyond AI: Advice and Takeaways from AIIM Solutions Showcase & Strategy Summit
In early October 2023, AIIM partnered with the AIIM Florida Chapter to host the AIIM Solutions Showcase & Strategy Summit in Tampa, Florida. This new event concept highlighted a local chapter and community while creating greater accessibility to AIIM's leadership and strategy. This terrific event was well attended and featured some great education. It emphasized the importance of knowledge sharing and relationship building in a community of practice.
Here are my top takeaways from the event.
Look Beyond AI
During a panel discussion moderated by Kramer Reeves and featuring Ron Cameron and Karen Hobert, the panel agreed that generative AI stands to profoundly transform existing software applications across the enterprise technology landscape.
However, as Ron Cameron advises, information management professionals should "widen the aperture" and look beyond AI and traditional ECM systems to fully leverage surrounding innovations including synthetic data, cloud hosting, augmented reality, and more.
"It's about all of the tools and methods that make up the profession, like process workflow, capture, and AI," said Cameron.
Focus on Interoperability
While ECM platforms may be declining in popularity, the key imperative remains intelligently managing system interoperability and security as repositories multiply.
AIIM's 2023 Industry Watch report highlights that technology proliferation presents a mounting challenge within organizations. In 2013, just 3.6% of surveyed companies utilized 7-10 discrete information management systems or repositories. By 2018 that figure rose to 6.2% and has now reached 14.42% in 2023, representing approximately 100% growth every 5 years in the number of systems leveraged.
Troublingly, interoperability between these proliferating systems appears limited. The report indicates that 74% of document, content, and records management solutions currently lack integration with other core business applications. A mere 26% interconnect with complementary systems such as CRM, HR, or ERP platforms.
"In spite of what we try to portray as an industry to our users, the truth is that most systems really stink at user experiences because of poor interoperability and ease-of-use," said Kevin Neal with P3iD Technologies.
"While interoperability is better now, it still seems to be viewed as a necessary evil and something that will be addressed on a customer project basis by most solutions," explained James Fischer with MyQ Solutions. "My hope is that between the advent of iPaaS systems and the furthering of AI to bring custom coding down to the business user, that we see a true embrace of synergy between applications in a customer's environment."
Focus on Training
Equally vital is comprehensively training your employees on emerging capabilities and teaching people the needs skillsets to get the most out of AI tools.
Training needs to be more than defining AI. Staff should understand security and privacy risks, how to craft prompts, and how to evaluate output for accuracy and completeness.
As Karen Hobert underscores, "part of the job of IM professionals is to help the Ai give a correct answer."
Fundamentally, high-quality, ethical data remains the lifeblood of AI. AI requires data that is not only useful but isn't bias and isn't going to come up with incorrect results that could be dangerous.
By recognizing the importance of new technologies and human skills development, as well as data integrity, organizations can take a holistic approach that maximizes the full transformational potential of artificial intelligence.
Focus on the Logistics of AI
Chris Surdak's keynote presentation provided some excellent takeaways as well.
Surdak shared a quote that has stuck with me since the event. Omar Bradley, a U.S. General during World War II, once said "amateurs talk strategy and professionals talk logistics." Surdak and Bradley's point was that amateurs focus on abstract strategy and grand plans, while professionals focus on concrete logistics and practical implementation.
Information leaders and managers are the guardians who can implement and support the implementation, maintenance, and compliance of AI solutions. As a community, we need to look beyond the hype cycle and focus on the logistics of AI.
Focus on Training and Maintenance of Large Language Models
Surdak emphasized the importance of training Large Language Models (LLMs) and how information management professionals can lead and support training. Surdak shared research that shows the accuracy of ChatGPT is actually declining over time due to the lower quality data provided by end users and social media that trains the model.
"ChatGPT is throwing the best guess based on trainings," explained Surdak. "It is counting on feedback of users and users have to know if [the output] is incorrect."
Surdak reminded the audience that a computer can not be held at fault for getting answers wrong. This inability to hold someone accountable for inaccuracies presents an obstacle to the adoption of AI within organizations.
"Automation can't be accepted at 97% accuracy because you don't know who to sue or fire," Surdak quipped.
Focus on Authentication: The Missing Link in AI Governance
"In the whole governance discussion, one topic is consistently missing: authentication," said Surdak.
AI output must be reviewed by someone smarter than the machine reviewing the outputs because an AI tools does not know the difference between ethical and unethical behavior.
Surdak shared several critical questions to consider:
Is the data what it claims to be?
How can you be sure?
Who determines authenticity?
Who empowers them to make this determination?


A Preview of AIIM's Strategy
The latter half of the event was used for strategic discussions about AIIM and the industry. Participants debated orthodox beliefs that may present obstacles to AIIM and the industry's projection. The group also discussed the future of the industry in a foresight exercise. From this discussion, I was left with several takeaways:
AIIM has a unique strength in connecting its community to technology-enabled, forward-focused content and solutions. We help people solve information management problems.

AIIM is made up of likeminded people in information management with an affinity for technology. We understand and wholeheartedly accept that for some information management is a project or a discrete problem for their organization and not a profession. As such, AIIM is focused on inclusivity and helping anyone who needs to better manage and leverage information. "Information is not a role - it's a need," explained Karen Hobert. "Fewer young professionals are identifying as a record manager."

Information is a strategic asset and should be treated as such. Information is vital for better decision making and for functional, successful AI solutions. When you have good information that is used well, the possibilities and opportunities abound As a community of practice, we are focused less and less on compliance and risk and more on the positive benefits of superior information and information management. There was some discussion about how information management as a title sounds reactive and less strategic and doesn't reflect the importance of information.
AIIM will roll out its new strategy in early 2024.
Conclusion
I think Chris Surdak's statement best summarized my learnings from this event and my hope for our community of practice and the role AIIM will play in the future of AI and the digital workplace.
"We are the brakes on the car. We are the engineers that get the spaceship safely to Mars." - Chris Surdak
Thank you to the AIIM Florida Chapter and the event sponsors for helping us create a memorable event. Sponsors included P3iD Technologies, Shinydocs, KnowledgeLake, TCG Process, MyQ Solutions, Verve Corporation, and IDEM GLOBAL.
After the in-person event, AIIM Florida Chapter hosted a webinar recapping the program for those who were unable to attend in person. You can watch a recording of a webinar here.