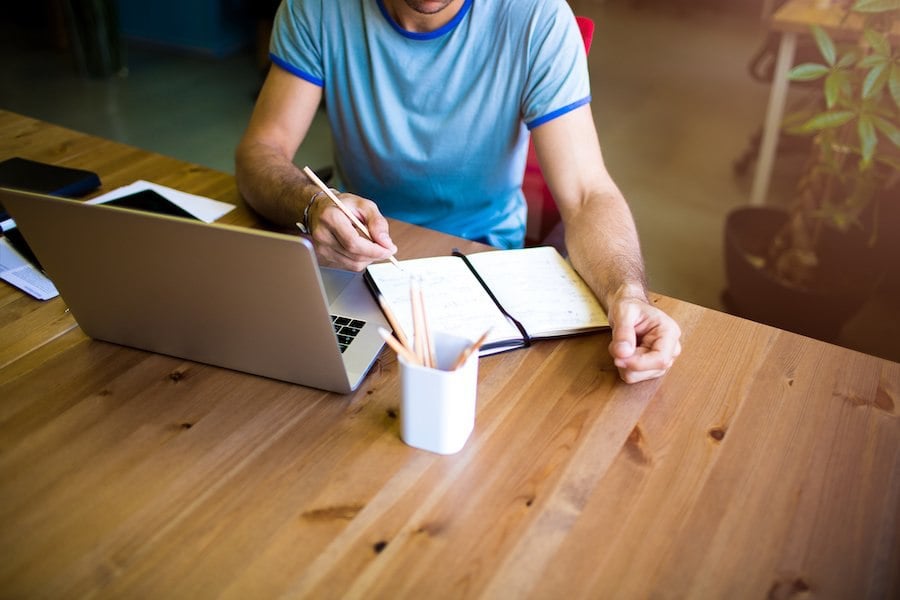 Subscribe
Enterprise World Recap – the Intelligent and Connected Enterprise
Intelligent Information Management (IIM)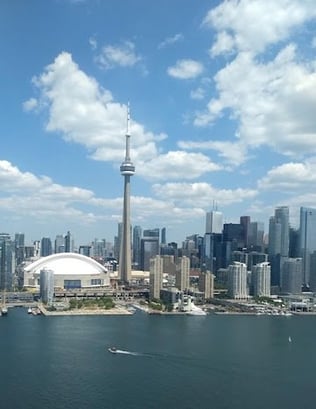 I recently spoke at the OpenText Enterprise World (#OTEW) Conference in Toronto. Savvy travelers can probably tell from the photo on the left that I flew into Billy Bishop Airport, which in itself is an enjoyable and unique experience. Imagine, you can WALK from the airport to the Convention Center. I thought I would share a few notes about the Conference. (As is my usual practice, these observations are just that -- observations -- not an endorsement).
The overall theme of Enterprise World 2018 was "the intelligent and connected enterprise," obviously very closely aligned with some of the themes we've been talking about at AIIM under the Intelligent Information Management banner. There were also many conversations centered around the powering of intelligent and connected enterprises by Artificial Intelligence and the Internet of Things. More on that in a minute.
My focus was on change within the content and information management space. As many know who have followed me, I believe that these are indeed challenging times for those entrusted with the task of managing, optimizing, and controlling the sweeping waves of content and information that are entering our organizations. Here are some of the themes I talked about in my keynote.
I was pleased to see this chart from our "The State of Intelligent Information Management: Getting Ahead of the Digital Transformation Curve" report used in multiple presentations by OpenText executives during the event. The point of the chart is to graphically depict the current state of Intelligent Information Management, with the size of the boxes indicating the number of organizations that currently report, "We have this capability."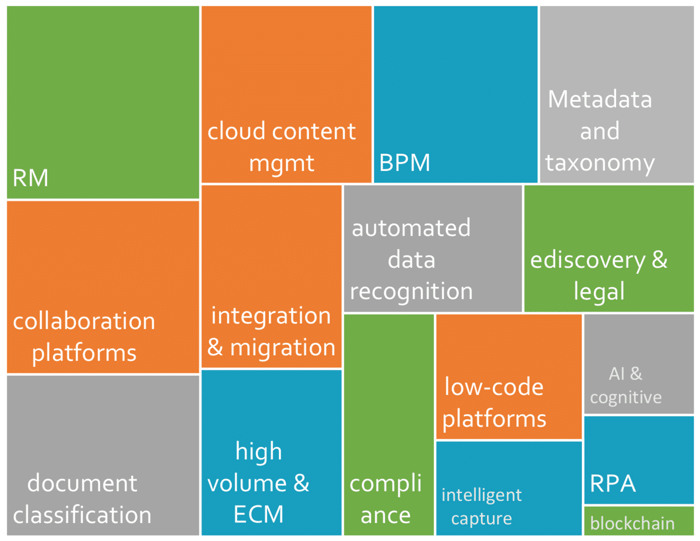 The color-coding in the chart refers to what we see as core practice areas or methodologies associated with building a Digital Transformation strategy and the key technology building blocks associated with each practice area.
Modernizing the information toolkit (orange)
Digitalizing core organizational processes (blue, although my wife would like to call this "aqua")
Automating compliance & governance (green)
Leveraging analytics & machine learning (gray)
---
---
The significance of this moving forward -- and its tie to where OpenText is going -- is reflected in how organizations answered this question for us -- "Over the next 18-24 months, where are you planning on spending MORE or A LOT MORE?"
The answers reflect two encouraging themes I'm seeing. First, a sense of "doubling down" on existing content investments and capabilities (top "more" answers = BPM, RM, Cloud, and Collaboration) and an encouraging "forward lean" (top "more" answers = data recognition and extraction, AI and cognitive, data classification and PII identification, and metadata and taxonomy).
Mark Barrenechea (Vice Chair, CEO, and CTO of OpenText) and Muhi Majzoub, EVP of Engineering and Cloud Services) talked a lot about how an intelligent, connected enterprise is, first and foremost, a secure one. At the core of their vision for Intelligent Information? 1) Automation, 2) AI, 3) APIs, and 4) data management -- and a challenge to view AI as "Augmented Intelligence" rather than "Artificial Intelligence." In other words, people + machines, not people vs. machines.
Mark focused on five main challenges that he sees as ushering in a "new world" for information management.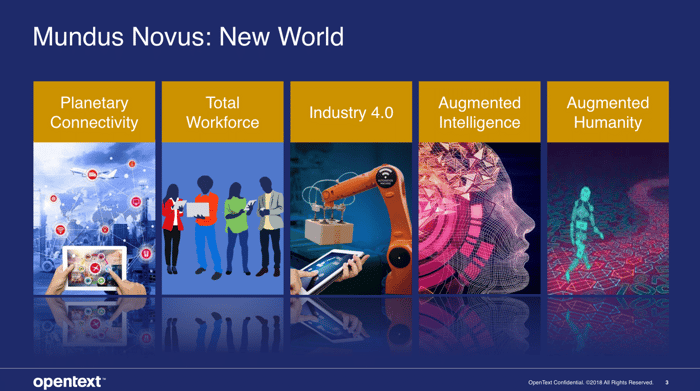 Muhi talked about the unique challenges of scale and security associated with managing information in an IoT world. For example, a driverless car will generate an average of 25G of data every single day. By 2025, @Gartner_inc says autonomous vehicles will upload over one terabyte of sensor data to the cloud every month.
This raises the core questions that must be addressed by every information professional -- 1) Is my platform secure? 2) Do I know where my content is? 3) How am I securing it? And 4) Do I have intelligence about my content?
On the product side, OpenText announced the availability of OT2, code-named "Project Banff" and mentioned at last year's conference. The platform brings together intelligent automation, security, and EIM applications. It's a self-service, hybrid platform that will allow users to access pre-built, hybrid applications that integrate deeply with their existing OpenText solutions, and brings together microservices for content collaboration, security, process automation, and analytics. Developers will be able to use either low-code or native development environments to build custom applications more quickly. One last theme mentioned by a number of speakers -- "Using Data for Good." The examples highlighted included a project using sentiment analysis to distill the complexities of the G7 Summit into manageable themes and actions. In the current somewhat unsettled security and privacy environment, specifically finding and highlighting the beneficial impact of technology on individual lives strikes me as a worthwhile endeavor for all of us in the information management space.