Automation | Information Governance
Digitally Transforming IS the Future Most organizations and departments have a mandate to continuously improve operations. A conventional change agenda involves better tools and technology, better behaviors, and better processes, all focused on generating better efficiencies and improved productivity - a transition called Digital Transformation.
There is a growing disconnect in organizations between their desire for process automation and the information that is needed to drive those processes. 54% of the information needed within a particular business application is stored within the application itself rather than within a dedicated content repository, a percentage that has remained remarkably consistent over the past five years.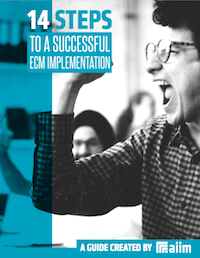 14 Steps to a Successful ECM Implementation
Making an ECM implementation successful requires planning and attention to detail. The best way to create the right solution is to identify organizational goals and priorities. Learn how to manage a successful implementation in our free guide.
Capture? Haven't we been doing this for years and years? Well…yes and no. Yes, organizations have been scanning paper into digital archives for a long time. And for 72% of organizations, scanning paper is still the most important part of their information capture strategy. The continued importance of simply getting rid of the paper is not just a function of laggard organizations; the struggle to get rid of paper is consistent across all levels of overall competence.
Capture and Imaging | Content Services
Multi-channel next-generation information capture is clearly the least mature of the four core Content Services technologies.
Content Services | Electronic Records Management (ERM) | Information Governance
The rising volume of information and its potential value to customer experiences is changing what is needed from records management and information governance. Organizations clearly understand that they have an information governance problem but are struggling with solutions as the tide of information chaos rises.
The past few years have created many new challenges for the Information Professionals who are entrusted with managing an organization's digital assets. Information is cascading down upon every organization in unprecedented volumes and forms, challenging traditional and manual concepts of records management and information stewardship. Every organization – regardless of industry – is now a technology organization. But rising information chaos is a very real and strategic threat to the ability of organizations to succeed, or even survive. An effective Content Services strategy is key to addressing these challenges.