automation | digital processes | document management | human resources | intelligent information management
Are your Human Resources processes intelligent? Before you try and answer that, let me explain more about what I mean.
AI | Artificial Intelligence | automation | document | document management
Artificial Intelligence (AI) is obviously all the rage. Consider the search traffic on "Artificial Intelligence" since early 2016. As a result, just about every technology product in the world now seems to have the artificial intelligence "label" attached to it.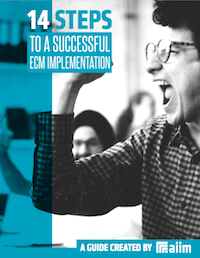 14 Steps to a Successful ECM Implementation
Making an ECM implementation successful requires planning and attention to detail. The best way to create the right solution is to identify organizational goals and priorities. Learn how to manage a successful implementation in our free guide.
digital transformation, | digitization | intelligent capture | parascript
Digital transformation can mean different things to different organizations. For some, it might mean simply getting rid of paper. But in these competitive times organizations need to look further.
automation | compliance | information governance | information security
As a preview to our upcoming multi-client market research report on the emerging intersection between information governance & security and analytics & machine learning, we asked 50 senior executives and decision-makers for their perspectives on five of the questions we'll be asking in our research (just a snapshot of the 20+ questions we'll be asking in the actual survey).
certification | certified information professional | certified information professionals | cip | information certification | intelligent information management | podcast
Digital disruption calls for digital leaders with the skills and experience to optimize information assets and transform business. The AIIM Certified Information Professional (CIP) designation has come to represent a badge of competency and knowledge for those entrusted with the task of building an information strategy. But, what do our CIPs say about the certification? How has it helped their work and impacted their career? On this podcast episode, Kevin sits down with three Certified Information Professionals to talk about about the certification, the benefits, the process, and their advice for those considering the CIP.
automation | content | digital processes | kodak alaris
Ultimately, AIIM believes Digital Transformation is more than conventional change. Digital Transformation is about using information in brand new ways. Digital Transformation success or failure fundamentally rests upon radically redefined experiences with customers, employees, and partners.