Electronic Records Management (ERM) | Intelligent Information Management (IIM)
How many times have you left a joint meeting of members of your organization's Information Management (IM) and IT teams thinking that everyone was on the same page, only to find out a few days later that the decisions your colleagues in the "other" unit took away were totally different from what your unit did? It happens more often than we think. And when it does happen, we should consider ourselves lucky if it takes only a few days for the inconsistent understanding to surface. The tough cases are those when the misunderstanding doesn't come to light for weeks or even months.
CRM | Intelligent Information Management (IIM)
Twenty years ago, the average consumer used two touchpoints when buying an item, and only 7% regularly used more than four. Today consumers use an average of almost six touchpoints, with nearly 50% regularly using more than four. (Marketing Week) And that's not including the after purchase touchpoints including, invoicing, billing, shipping, service and support, and feedback. With constantly changing customer experience expectations, it is necessary to put customers at the center of a multichannel strategy rather than letting each line of business (LOB) in an organization decide the communication touchpoint and channel. In fact, 86% of buyers are willing to pay more for a great, holistic customer experience, and the more expensive the item, the more they are willing to pay. (PwC) The opposite is also true. In another survey of 15,000 consumers, it was found that 1 in 3 customers will leave a brand they love after just one bad experience, while 93% would completely abandon a company after two or three negative interactions. (PwC)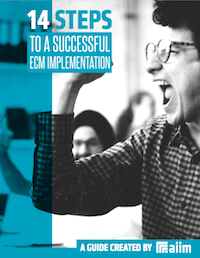 14 Steps to a Successful ECM Implementation
Making an ECM implementation successful requires planning and attention to detail. The best way to create the right solution is to identify organizational goals and priorities. Learn how to manage a successful implementation in our free guide.
AIIM on Air | Intelligent Information Management (IIM)
The workplace in 2021 will demand a different set of skills. Now more than ever, organizations need to embrace disruption as a springboard for competitive advantage and adopt new ways of working that invigorate organizational performance.
Intelligent Information Management (IIM)
Here at AIIM, we believe that information is a business asset. Your information has the potential to help you digitally transform and understand, anticipate, and redefine experiences for your customers. But, information is a different type of asset. An asset like money is much more straight-forward because it's easy to see its value and easy to understand. Your information is much different in that it needs attention in order to become an asset.
Information Governance | Intelligent Information Management (IIM)
As you already know, people are more likely to follow your rules after they buy in to the reasons behind them. But you can take it one step further, and provide your "rules" as solutions instead of orders. Amazon's Kindle publishing team understands this concept well. I was preparing the Kindle edition of my recent book, following the production of the softcover edition. The printed book is in full color and uses a rich burgundy to highlight text. As you may know, some Kindle models are restricted to shades of grey and sepia. If a book is going to be compatible with as many devices as possible, it needs to specify an alternative color for highlighting on monochromatic devices. Kindle could have handled it badly. They could have shown me a policy that looked like the following:
AIIM on Air | Intelligent Information Management (IIM)
There's no doubt that the world has changed as a result of the pandemic. In our personal lives, we've made the necessary changes to our daily routines, added a mask to our list of things to remember when we leave the house along with our cell phones, wallet, and keys, and moved many of our social gatherings online.