AIIM on Air | Intelligent Information Management (IIM)
2019 was a great year. We said goodbye to some of our favorite tv shows like Game of Thrones and The Big Bang Theory, cheered as the US Women's Soccer team won the world cup, and who could forget (insert YOUR favorite 2019 memory here).
Certified Information Professional (CIP) | Intelligent Information Management (IIM)
Do you want to earn your seat at the table for your organization's important strategic discussions? Maybe you're going for that next promotion and looking to round out your skillset. You might even just want to prove to yourself that you have what it takes to be among the industry's elite. There are a multitude of reasons why you may be interested in the Certified Information Professional certification. No matter the reason, one thing you'll want to know is how much it costs to get certified. With in-person vs. online testing, an array of options to prepare, and special discounts and free materials for professional members, it can easily become confusing. At AIIM, we've helped hundreds of people get CIP certified. Our goal with this article is to walk you through the costs of this exam so that you can make an informed decision on which is the right path for you.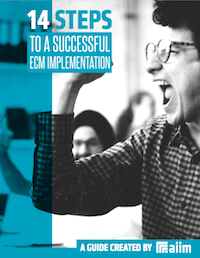 14 Steps to a Successful ECM Implementation
Making an ECM implementation successful requires planning and attention to detail. The best way to create the right solution is to identify organizational goals and priorities. Learn how to manage a successful implementation in our free guide.
AIIM on Air | Intelligent Information Management (IIM)
With the new year just a few weeks away, many have shifted their day-to-day focus to long-term planning and prioritizing their efforts for 2020. For most, it's likely that the new year will bring with it new technology and innovation. But, with all the developments in technology and changes in process and workflow these days, it can be difficult to translate innovation into real improvements for your organization.
AIIM on Air | Intelligent Information Management (IIM)
Quick disclaimer - if you stumbled onto this page because of an errant keystroke like I had when looking for a suitable image for this post and were actually looking for "The Best PodCATS"...without further ado, I bring you the best "podcat" I could find: But, if what you're really interested in learning about are the best podcasts on the topic of information management; then, you're in the right place. Since it's release, the AIIM On Air podcast has had over half a million downloads, averaging around 10,000 downloads per month. We work hard to deliver these 25-minute episodes exploring the methods, technologies, processes, and people on the front lines of information management. But, despite putting out two new episodes per month, we still get people asking for more. So, for those podcast bingers out there looking for more, we thought we would put a list together of our favorite information management podcasts to help keep your ears happy on your commute, at the gym, or anywhere else you listen to them. (*Note: To keep it neutral, we're using the listener ratings on Apple Podcasts.)
Intelligent Information Management (IIM)
I returned to downtown Washington, DC, last week to teach the AIIM Foundations of Intelligent Information Management (FIIM) course. The class started with some icebreaker exercises, including asking the students to define, in their own words, "What is information management?" There were some fantastic definitions generated from the students for this and other discussion questions throughout the course. However, there was one question that kept coming up over and over again during the course, "Where should information management live in the organization?" That is to say, where should the information management/records management/information governance job function be located within an organizational structure? I thought this was an interesting topic, and I'd like to share some of the thoughts and feedback from the class.
Capture and Imaging | Intelligent Information Management (IIM)
While digital information accuracy is important to all document preservation, some institutions benefit from it more than others. Intelligent Information Management (IIM) and paperless offices are sufficient for most businesses, but if the content is important for historical or informational purposes rather than a backup, the quick and easy options for digitization don't always do the trick. There are serious pitfalls of intelligent capture, especially if a precise representation of the document's content is important to a collection, such as legal documents, documents used for research and reference, or a historical document collection like a digital library. In these cases, human factors can never be replaced by technology because of the intelligence and problem-solving care experts possess. Whether the end result is for a paperless office or a collection of documents, the metadata, organization, and hands-on human approach can make the resulting digital library much more accurate and efficient.