Capture and Imaging | Intelligent Information Management (IIM)
According to AIIM research, 75% of the organizations we surveyed view digital transformation as "important" or "very important" to their organization. Survey respondents point to techniques like advanced data capture, machine learning, and process automation to provide the powerful potential to reengineer and improve core business processes. The trouble, however, is that that the majority of information capture and content management solutions on the market have been built to work with highly-structured and pre-determined information and workflows. Feedback from our AIIM community of practitioners tells us that working with unstructured information is one of the biggest barriers to digital transformation.
Capture and Imaging | Intelligent Information Management (IIM) | Robotic Process Automation (RPA)
There is a growing disconnect in organizations between their desire for process automation and the information that is needed to drive those processes. 54% of the information needed within a particular business application is stored within the application itself rather than within a dedicated content repository, a percentage that has remained remarkably consistent over the past five years.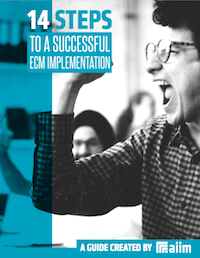 14 Steps to a Successful ECM Implementation
Making an ECM implementation successful requires planning and attention to detail. The best way to create the right solution is to identify organizational goals and priorities. Learn how to manage a successful implementation in our free guide.
Electronic Records Management (ERM) | Intelligent Information Management (IIM)
At the heart of any digital transformation journey is information. Information is the currency that fuels and funds innovation, process improvements, and organizational performance. As a result, an organization's information is its most valuable asset; the common denominator in customer experience, business agility, operational excellence, and automation.
Intelligent Information Management (IIM)
"To Fly. To Serve." That's the motto of British Airways, a carrier I have flown for many years. When I first saw those words displayed on a plaque in the cabin as I boarded my flight, I chuckled. At the time, they seemed rather pretentious for what has become a very commonplace, almost plebeian way to get folks from one place to another. Of course, the more I thought about it, the more I warmed to the seriousness with which somebody at BA viewed the enormous responsibility inherent in transporting hundreds of people across the Atlantic in a silver tube. I realized how much was riding on that bus!
Electronic Records Management (ERM) | Intelligent Information Management (IIM)
AIIM believes that every organization should be on a Digital Transformation journey and that Intelligent Information Management is the driver for that transformation. But how do you begin to put all of the pieces together into an approach that will make a difference? That is the subject of a new eBook from AIIM titled How to Become a Modern Records Manager (and a Business Enabler). It explores ways to build a modern records management program that will put the "intelligent" into intelligent information management.
Intelligent Information Management (IIM)
Several months ago, I developed a nagging pain in my right shoulder. Nothing much at first, but over time, it got worse. Initially, I ignored the pain and hoped it would resolve itself. But it didn't. So I tried several common over-the-counter remedies; the ones that everyone takes. They provided some improvement, but none resolved my problem.