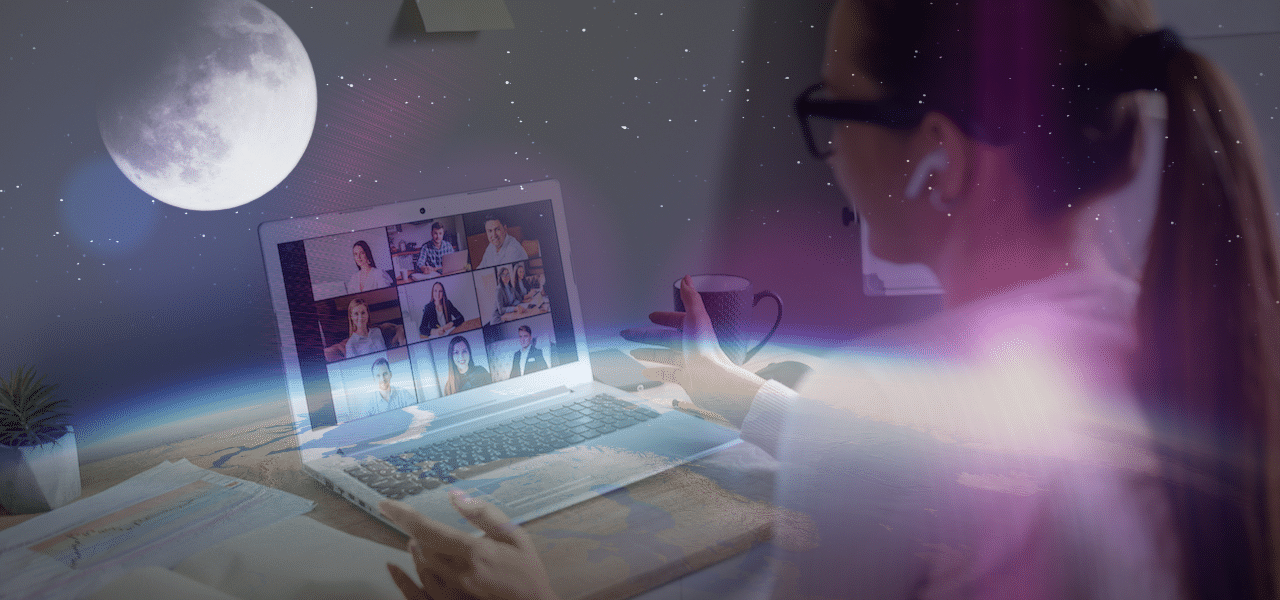 Subscribe
Take a Look Inside Our First Virtual Conference
"How do we translate an interactive in-person conference experience into a virtual experience?"
This was the big question that immediately hit me at exactly at 5:00PM on March 5th, 2020. I remember the moment – we had just closed off a fantastic week with the AIIM Tribe in Dallas, Texas, for The AIIM Conference 2020.
I've been leading the events team to produce and coordinate The AIIM Conference for a long time. It's not unusual for us to begin planning for the next year immediately following the event. But, generally, we're looking for awesome new conference features or looking for charities with strong messages to build into the agenda as a part of AIIM Gives Back.
This year, the focus was different. We knew at that point that AIIM21 would be digital, so the months that followed would be a full-on research assault to find the absolute BEST way to take everything that the AIIM Tribe has come to know and love about our in-person conference to the virtual platform.
From that point on, the AIIM Events Team ate, slept, and breathed this stuff. We spent countless hours researching different hosting platforms, scoured the internet for new and creative ways to use virtual aspects to create personal experiences, and promised ourselves we wouldn't stop until we found the best.
And guess what? After all that hard work – we've put together something that promises to be truly epic!
---
---
The AIIM Conference Goes Out of This World
Right from the start, we're shooting for the moon! Or, at least, so to speak. Our theme this year is a Galactic Digital Experience. We chose this theme because the sky's no longer the limit this year! That's how we're viewing this year's event as we embrace the benefits of the new virtual format to give you a conference that is light years ahead of its time.
Here's a trailer we released to tease out the theme and give you a taste of what's to come.

What Will the Virtual Conference Experience Be Like?
In a lot of ways, with virtual events, the hosting platform is like the hosting city. We always take care to pick a city to host the conference that offers a fun and exciting setting and backdrop for the conference. So, choosing a virtual event hosting platform was no easy choice. We wanted to make sure we found the perfect one.
Add to it that there was a rapid development of tons of new platforms since 2020 to review. Hours turned to days as we researched and evaluated platforms.
What Were We Looking For?
Extensive Modeling – We developed a model of what we wanted to provide to attendees in a virtual event. It's not a simple switch to make. Instead, we took the time to completely redevelop different aspects to ensure that we were providing many options for engagement but being sensitive to acknowledging how much time anyone can spend online at an event, with so many distractions going on around us all.


Integration - Like all good tools in information management, we needed to also think about integration to fit with our other systems to ensure a seamless experience for our users.


Peer-to-Peer Networking – This is one of the biggest aspects of the conference. If you've attended an AIIM conference before, you likely know what I'm talking about. We wanted to provide an experience that both delivered the great content of the event but allowed us to create some interactive sessions for peer-to-peer networking.


APP and Desktop Experience – We needed a platform that allowed our attendees to view from anywhere and share information and photos (who doesn't love the conference tradition of everyone sharing their pet pictures! See below from AIIM17). That meant we needed a platform that offered both an event app and a desktop experience.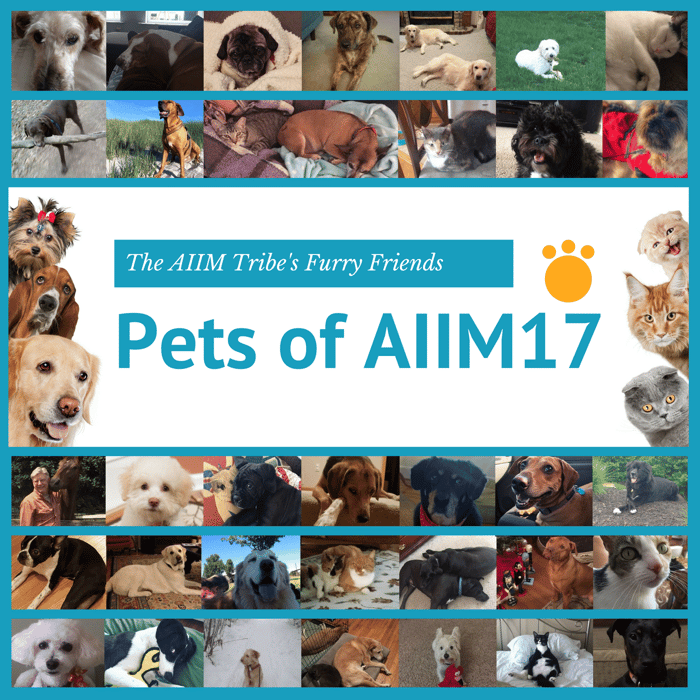 So, what did we come up with? Well, I'm pleased to report that after this extensive research, we found the perfect platform that checks all of our boxes.
What's New This Year?
Obviously, we aren't meeting in-person (boo), and we are all going to miss that interaction and family feeling created each time our AIIM Tribe gets together. But, you can guarantee as much love and detail will go into creating the event as if we were in person. In fact, it allows us many opportunities that being in a hotel doesn't. We've embraced the opportunity to redesign the event with a LOT to be excited about:
1:1 Appointments: One of the features we are excited about is the ability to create 1:1 appointments. These can be scheduled in advance and delivers a private experience between both parties for a meaningful conversation. Meet with other users and sponsors – a great way to connect.


New Session Formats: We've created some new session formats to provide a different level of engagement for attendees. We've taken the proven talk show interviewing format and used it to inspire a new way to deliver content. Don't expect to come to AIIM21 and be a passive listener; even us introverts can participate from behind a screen.


Inspired Event Partners: Our excitement is being echoed by our growing list of event partners. They too are leaning into the virtual platform with new and exciting ideas for delivering fun experiences and education. Being virtual opens up so many more ideas for immersive experiences that can be offered – never think of this as limiting; it actually opens so many more doors.


Reinventing the Swag Bag – Just because we can't actually hand you a conference bag with our usual array of goodies inside doesn't mean we don't have surprises planned. We just needed to rethink these offerings. This year, we are offering an AIIM at Home Kit that we'll be mailing to all VIP registrations (US mailing only). In the kit, we'll be including some fun goodies, but also a playbook that can be used throughout the event packed full of details about the content, places for notes, checklists, and tip sheets. Expect some fun games inside too.


A Mix of Live and On-Demand: All the content of the conference will be available for 60 days after April 29th. So no fear, if you miss anything on the day, you can grab a coffee or tea and take 20 minutes to view any session again, or ones you missed every day into June.

A note for our

Certified Information Professionals (CIPs)

this is a great way to build up those CEUs as we can track all those details inside the platform.
Why Now?
This is an exciting time for information management. As we look around at how companies are now doing business and adjusting their strategies for the future – information management and all that it stands for has been spotlighted. Working remote, protecting information, using information in new ways – these are some of the biggest themes of tomorrow. As professionals working with information, we have never been so relevant.
We're designing the conference to help information professionals to become even more vital to organizations. At AIIM, we believe that records and information management can go beyond just retention schedules and enable business with decisions around collaboration tools, working from home policies, process improvements, and more. We'll be showcasing some work by our members that has taken place in organizations during the pandemic.
More Accessible Than Ever
One of the things that we're most excited about with the new virtual format is that it means that travel is no longer a barrier. Traditionally, many of our friends and community members from far off areas wouldn't be able to join us due to travel challenges.
This year – that all changes as we bring the virtual conference to you!
The other exciting part of going virtual is the pricing. Our virtual pricing model allows the attendee to decide what they want from attending the event. Pricing is tiered with the lowest priced ticket ($49 for members). Our next tier, All-Access, allows for additional content and expanded networking opportunities. VIP Access provides everything from the lower tiers along with some extra personalized experiences, including the AIIM at Home Box.
Blast off With Us
Can you tell we're more than a little excited? Your friends here at AIIM have been working hard to make sure this event is everything you've come to expect from The AIIM Conference, plus SO much more. I sincerely hope you'll blast off with us on April 27th-29th!