"How do we translate an interactive in-person conference experience into a virtual experience?" This was the big question that immediately hit me at exactly at 5:00PM on March 5th, 2020. I remember the moment – we had just closed off a fantastic week with the AIIM Tribe in Dallas, Texas, for The AIIM Conference 2020. I've been leading the events team to produce and coordinate The AIIM Conference for a long time. It's not unusual for us to begin planning for the next year immediately following the event. But, generally, we're looking for awesome new conference features or looking for charities with strong messages to build into the agenda as a part of AIIM Gives Back. This year, the focus was different. We knew at that point that AIIM21 would be digital, so the months that followed would be a full-on research assault to find the absolute BEST way to take everything that the AIIM Tribe has come to know and love about our in-person conference to the virtual platform.
Say you're feeling a bit under the weather. Ache here, pain there, friends asking, "Are you ok? You look...tired." What's the first thing you'll do? Go to the doctor? Of course not. You Google your symptoms, so you can judge if 1) you can cure what ails you on your own, or 2) it's worth the hassle of going in to see your doctor. If you do end up going, you'll proudly share your diagnosis with her before she can even examine you just to make sure she doesn't waste your time.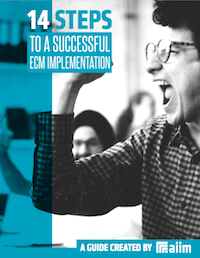 14 Steps to a Successful ECM Implementation
Making an ECM implementation successful requires planning and attention to detail. The best way to create the right solution is to identify organizational goals and priorities. Learn how to manage a successful implementation in our free guide.
AIIM Community | AIIM Conference
We introduced something new to The AIIM Conference in 2016, an element of social responsibility. As the VP of Events here at AIIM, it was incredibly important to me that we give something to a charity local to our host city of New Orleans that our attendees had created.