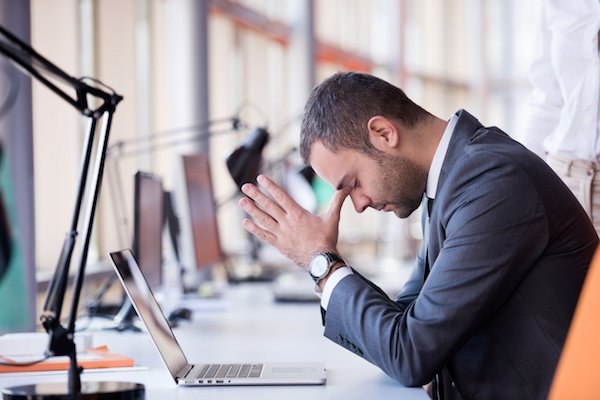 Subscribe
The Problem with SharePoint: Technology or People?
I hear people from around the globe, complain about SharePoint that it doesn't do this, or we thought it did that. Yet the AIIM Industry Watch Report titled "The Impact of SharePoint 2016" finds when it comes to SharePoint meeting organizational expectations, nearly half of our respondents are happy with SharePoint and the on-going product roadmap, with half also in agreement that SharePoint is providing good value for the cost.
Typically, these organizations have a focused plan, working as a cross-functional team rather than total reliance on IT to make it all happen. This should also be an on-going practice for every aspect of a SharePoint project from initial purchase through upgrades and expansion to ensure SharePoint is addressing the business needs and solving business problems and not put in place for technology's sake alone.
A Big Challenge
User adoption has been and continues to be something of an issue for 58% of respondents with indications that poor or inadequate training (67%) and lack of management support (64%) are still the perceived reasons for projects stalling or failing. (Figure 1) This is an indication of human deficiency, rather than technological deficiency. It is not the technology that is failing the organization in as much as it is the organization failing the technology.
Figure 1. Which of the following reasons would best apply to why your SharePoint project is stalled or failed?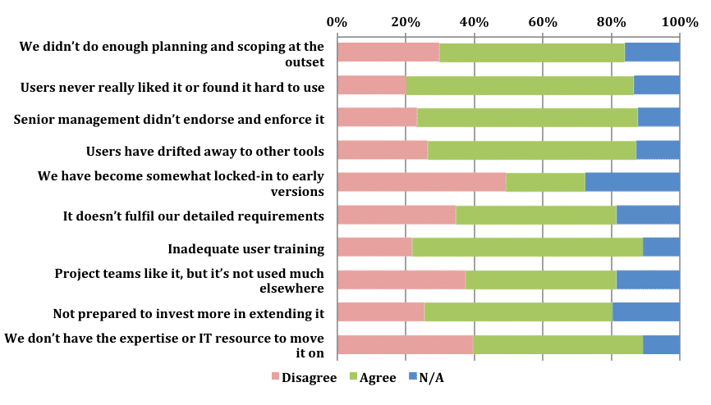 What can you do?
One of the things I always recommend is to get a better understating of where your organization fits in relation to others. Assuming you have a vision of where you would like to be, in this case with SharePoint, assess your current state against a baseline, for example, the benchmarking statistics in "The Impact of SharePoint 2016." Not only will this provide insight into how others are approaching SharePoint, it often opens new thoughts, ideas, or considerations that may otherwise have been missed.
Next, confirm with Senior Management what role SharePoint plays in the organizational strategy for ECM, DM, RM, and collaboration then focus on those areas. Look for opportunities to improve and enhance your business processes using SharePoint as the foundation or platform upon which you can build a solid information ecosystem.
Finally, and perhaps most important, as reflected in our survey, while technology training is needed for your users, do not discount the benefit from more generic training in content and records management practices. This will help correct previous mistakes with content classification, metadata and taxonomies, and better position your organization to align with SharePoint.