Information Governance | Sharepoint and Office 365
I know Halloween has come and gone, but I'd love for you to entertain a horrifying scenario for a moment. It's March 15, 2020, and the United States has just gone into lockdown in response to the COVID-19 pandemic. The Empire State Building in New York City, the Prudential Center in Boston, Willis Tower in Chicago, and office buildings across the country have become vacant ghost towns. Millions of companies and organizations have to figure out overnight how to conduct business outside the walls of their office for the first time. Now imagine cloud-based collaboration tools were never invented. There are no cloud storage solutions to safely share files across borders. There are no video meetings, digital whiteboards, or real-time document collaboration tools. There's no instant messaging or internal message boards. How does business get done? Can the world just completely stop for two years?
Information Governance | Sharepoint and Office 365
For millions of Microsoft 365 users, a substantial portion of the organizational knowledge is created, shared, and stored in SharePoint, Exchange email, or OneDrive. Teams offers yet another way to share content with colleagues and even customers, storing files in SharePoint and OneDrive separately. Organizations must oversee this activity across multiple jurisdictions. The information flow is complicated, and the governance implications are substantial.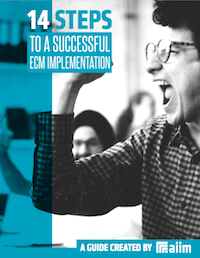 14 Steps to a Successful ECM Implementation
Making an ECM implementation successful requires planning and attention to detail. The best way to create the right solution is to identify organizational goals and priorities. Learn how to manage a successful implementation in our free guide.
With SharePoint now included in Enterprise Microsoft 365 subscriptions, it is now more accessible than ever before. It is tempting for organizations to just jump right in and start setting it up without much forethought. SharePoint, however, is a sophisticated content management system. As a leader in the content management space, it offers a robust set of capabilities. That depth and breadth of functionality works best with considerate planning up front for how you're going to use it. SharePoint also has deep integrations throughout the Microsoft 365 ecosystem. Learning how different services and applications work together can mean the difference between a successful implementation and a stagnant one.
In last week's article, we talked about the changing role of M365 within organizations, how it is governed, and how it connects with other content management solutions. Given its rapid evolution and adoption – particularly with the maturation of Office 365 and Cloud versions of SharePoint, we probably should have made a few points about brand terminology. With similar names, "Microsoft 365" and "Office 365" are sometimes used synonymously by users. They are actually different. What's the difference? Let's take a look: The confusion may have started in 2017 with Microsoft's release of Microsoft 365. This new offering bundled a group of their existing products under one license. One of the products included in the bundle is Office 365...you can see where terminology confusion set in. Let's clear things up with the infographic below:
As late as 2010, many end-users and solution providers viewed SharePoint as useful for project groups and document sharing – but more of an interesting tangent to the world of content management than "real" ECM. However, standalone ECM solutions at that time came at a very high cost. Many of these ECM solutions were built for high-volume scanning/capture applications and priced accordingly. So what about those who couldn't afford that investment? What about the middle market masses?
Collaboration | Sharepoint and Office 365
You know that saying, "When life gives you lemons, make lemonade"? It's something I try to live by. I'm a self-proclaimed eternal optimist and always try to look for the positive in everything. If you do it often enough, you'll soon find that there is always a positive way to look at things. It won't always turn the bad completely good, but it will always put a positive spin on it and make it easier to handle. Finding even a glimmer of hope through positivity can be enough to pull you through. This year, life didn't just give us lemons; it basically gave us a sea of lemons. The unexpected COVID crisis hit and changed…well, everything. In business, organizations were forced to rethink how they view remote work, remote workers, and the systems used to support them. And for the majority, we were unprepared: Only 34% of the organizations surveyed reported that their organization was "very prepared" for remote work prior to COVID.* Today we're going to look at this overwhelming sea of life's lemons and see if we can't squeeze out at least a glass of lemonade!