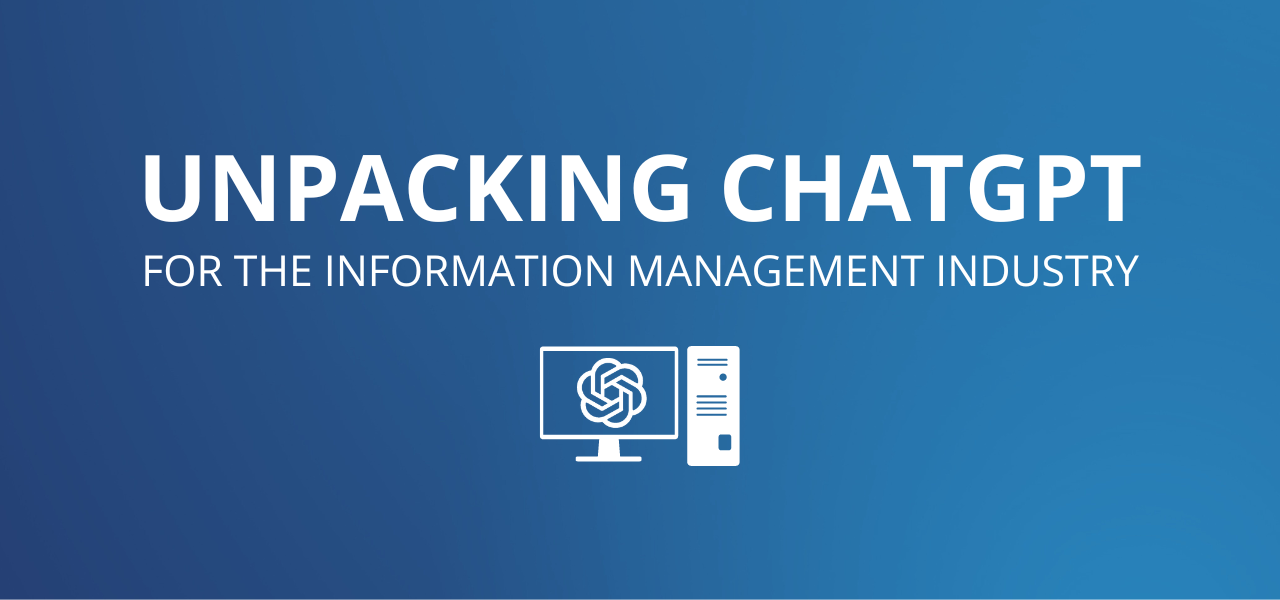 Subscribe
Unpacking ChatGPT for the Information Management Industry
Take a deep breath. This is another article about ChatGPT and Generative AI.
I'll be honest. I am the type of person that struggles to resist a good hype cycle. In 2021, I couldn't stop talking about the metaverse. I even organized a half-day workshop on the metaverse, with part of the event held in the metaverse. It was very meta.
I have learned to temper my enthusiasm with analysis, though. With any innovation or technology, here's how I respond:
Seek understanding. How does the new technology work? What is the business model, and how is the company earning revenue? What is the product's competitive advantage?

Identify use cases. What are the possible applications for this technology in my organization? Map feasibility and impact of use cases. What is the feasibility of implementing each use case based on the maturity of the technology, level of effort, resources, and other priorities? What impact would the use case have on the organization if successful (e.g., revenue increase, cost savings, etc.)?

Develop a strategy that considers the strengths and weaknesses of the new technology as well as the opportunities and threats it presents (i.e., a SWOT analysis). Imagine possible scenarios based on opportunities and threats. Identify the probability and impact of scenarios.
 The amount of time you spend on the analysis could vary depending on your level of concern or interest. Here's my first pass at thinking about Generative AI and its impact on the Association for Intelligent Information Management (AIIM) and its members.
---
---
Seek Understanding
Launched as a prototype in November 2022, ChatGPT is a chatbot capable of human-like conversation. It's built using Open AI's Generative Pre-training Transformer 3 (GPT-3) technology. GPT-3 is one of the largest language processing AI models with 175 billion parameters. OpenAI has a nice explanation of how ChatGPT works and how they're training the model. BBC Science Focus also has a nice breakdown.
Here's my take. ChatGPT's value is in its ever-growing data model. Users testing the free model are helping to grow the dataset, which will, in turn, improve the chatbot's breadth and accuracy.
ChatGPT's business model is harder to discern. Both Microsoft and Google have invested in generative AI, and it has a clear value proposition for improving the user experience when searching. Will that enhanced user experience be enough to increase search engine usage of Bing or Google, which could increase advertising revenue?
Use Cases, Feasibility, and Impact
I'm going to share one possible use case for AIIM.
Our marketing team could use Generative AI to develop content, a boon in a 24/7 content cycle where you are only as strong as your conversion funnel. This could save us staff time and allow our team to shift attention to quality control, content strategy, and content distribution. From a feasibility standpoint, I don't think we are there yet. ChatGPT has natural, well-written responses, but there are reported inaccuracies in the output, and ChatGPT struggles with niche content.
SWOT Analysis

Strengths
Weakness
Opportunities
Threats
We're in the Wild West era of generative AI. There will be exciting discoveries and startling scandals ahead. It may take years for generative AI to truly mature. If you think back to the early days of the internet, maturity came with standardization and regulation. When we have norms to govern generative AI, it will be easier to trust it to be a larger part of our professional and personal lives.