Artificial Intelligence (AI) | Information Management
When I was a kid in grade school, I always hated homework because it often stood in the way of going outside to play with my friends. I can remember joking around with them and saying that we needed to build a robot to do our homework for us. That way, we could spend our after school time riding bikes and playing together.
Artificial Intelligence (AI) | Cloud | Data Management | Information Management | content services
In today's world, where the consumer is king, excellent customer experience is imperative for the success of your business. To achieve this, your data cannot be fragmented, redundant, obsolete, or inaccessible. Most organizations are currently dealing with more information than they can handle. This can be expensive as resources on storing, protecting, and securing information are costly. It's important to understand what data you have, why you have it, and why you need it - it's then that your data can be leveraged as an asset. [FREE Webinar: Learn more from this Case Study on Leveraging Data to Transform Customer Experience]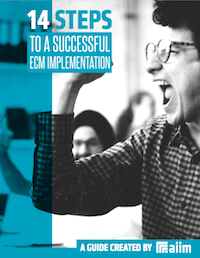 14 Steps to a Successful ECM Implementation
Making an ECM implementation successful requires planning and attention to detail. The best way to create the right solution is to identify organizational goals and priorities. Learn how to manage a successful implementation in our free guide.
Artificial Intelligence (AI) | Big Data | content services
Seven (yes, seven!) years ago, AIIM published "The Big Data Balancing Act - Too much yin and not enough yang?" The author of the report was none other than Nuxeo's David Jones, who worked as a business analyst for AIIM at the time.
Artificial Intelligence (AI) | machine learning
No matter where you turn, it seems you can't help but run into discussion about Artificial Intelligence being the future of Intelligent Information Management. In fact, when we surveyed the AIIM Community about it and found that: 81% of organizations reported that Deep Learning and Machine Learning are key to their future technology and business planning.
AIIM Conference | Artificial Intelligence (AI) | Information Management
AIIM19 is only a short time away and information management professionals from around the world will converge in San Diego for three days of sessions, sharing and fun. But what can you expect this year? In this continuing series of AIIM19 session previews we get a taste of what's to come. I spoke recently with Angela Watt about her session, co-hosted with Emily Speight, titled "Absolute Intelligence: Taking the Artificial out of AI," and I asked her to briefly summarize the topics.
AIIM Conference | Artificial Intelligence (AI) | Information Management
There are some important sessions planned for AIIM19 this year. Topics range from artificial intelligence to business process automation and data analytics and beyond. But none will be more informative than a session planned by David Jacopille from Massachusetts Financial Services titled "Bot Bootcamp: How to Manage Your Artificial Employees." I spoke recently with David and asked him to give us a preview of what to expect.