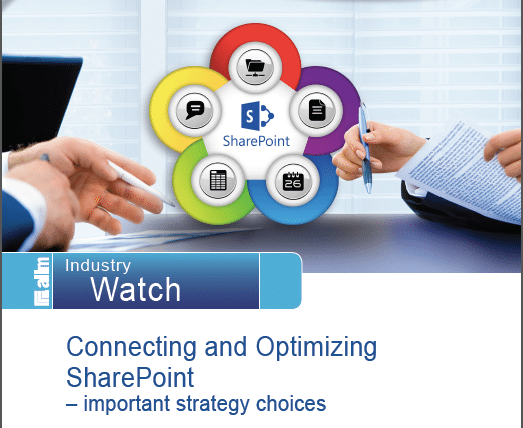 Download our new Industry Watch.
Connecting and Optimizing SharePoint – important strategy choices
The core conclusion of the study is that a) SharePoint is somewhat ubiquitous in just about any organization at scale and it likely isn't going away; b) organizations are increasingly restless and uncertain re figuring out where to go with it.
So there's plenty of insight and data for lovers and haters alike. Check it out; downloads are free for a limited time.
Data points for SharePoint lovers
1 -- In total, 75% remain committed to the platform.
2 -- 25% are committed to building their ECM, RM and collaboration around SharePoint.
3 -- For 22% it remains their ECM system of choice for the foreseeable future.
4 -- 28% will stick to it for the next few years.
Data points for SharePoint skeptics
5 -- 26% of respondents report that their SharePoint project has stalled
6 -- 37% have struggled to meet their original expectations
7 -- 37% are moving forward, but only 11% feel their project has been a success.
Data points for change management devotees
8 -- A failure of senior management to endorse and enforce SharePoint was the biggest reason for lack of success, followed by inadequate user training and a general lack of planning.
9 -- User resistance and a lack of investment and expertise are also quoted.
Data points for SharePoint partners and add-ons
10 -- A third use in-house or externally developed customization, and 36% use third party add-on products.
11 -- Workflow and BPM is the most popular add-on, followed by metadata and taxonomy management, collaboration tools, search enhancement and Outlook integration.
Data points for Cloud Worriers & Advocates
12 -- At 42%, SharePoint 2010 is still the most popular live version; 22% are live on 2013.
13 -- Regarding cloud, 6% are live on 365/Online, with 18% rolling out.
14 -- 43% are happy with Microsoft's product roadmap, but 49% are concerned about loss of focus on the on-prem version.
15 -- 20% feel SharePoint is under threat from more modern cloud systems.
16 -- Lack of mobile support and difficult external access has frustrated 35%.
Data Points for RM & InfoGov Peeps
17 -- 29% do not differentiate between records and other content.
18 -- 48% still have work to do to align SharePoint with their IG policies, and 19% are not aligned at all.
19 -- For 23%, SharePoint can match their records management needs (with careful set up), 15% are using specialist customization, and 16% use 3rd party add-ons.
20 -- 17% have a dedicated RM system but most (12%) are not connected to SP.
There has been a lot of change at Microsoft over the past year -- things are coming out of Redmond that one would never have expected prior to the arrival of CEO Satya Nadella. There is also a lot of change going on right now re Office365 and SharePoint as well for those who worry about things like content management and business processes and information governance. So let's have a bit of fun.
Answer the following by posting a comment -- "If I had 30 seconds with Satya Nadella (Microsoft CEO), what single thing would I like to tell him about the future of SharePoint?" Post your answer as a comment, and we'll create a blog post out of the responses.
----
5 great disruptive reads -- check them out.
Here's a quick video summary of the new Industry Watch report by my colleague, Bob Larrivee -- feel free to socialize...