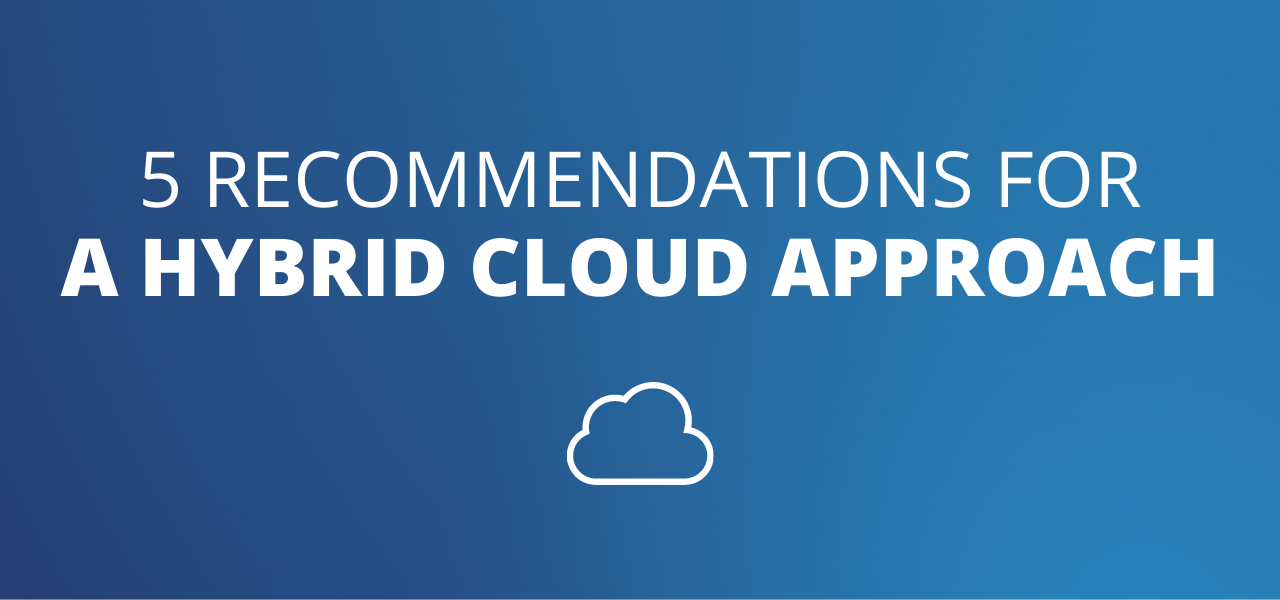 Subscribe
5 Recommendations for a Hybrid Cloud and On-Prem Approach
Cloud-based systems and applications are popular across organizations in all industries today and are largely regarded as a powerful platform for process innovation and improved organizational performance. According to the IDG 2021 Cloud Computing Survey, the majority (55%) of organizations are now using more than one public cloud. Cloud adoption has also reached more than two-thirds in every industry. Clearly, cloud technology has now established its predominance.
Yet despite rising adoption, not every business has made the jump to the cloud. IDC found that only about 9% of organizations are "cloud-only" and over half (54%) remain mostly on-premises with some cloud-based systems mixed in.
Why isn't everybody on Cloud Nine when it comes to the cloud? The truth is that it's just not realistic to assume that organizations will wholly replace their current in-house content repositories in favor of a cloud-only approach. It's more likely that most will be operating somewhere along a continuum, with some new applications and services being delivered and managed via the cloud while other systems and processes are being maintained using a variety of on-premises systems and solutions.
---
---
Moving to a Hybrid Cloud Approach
Many organizations are finding success with a hybrid cloud approach that leverages the best of both worlds in what could be called a mash-up of on-prem and off-prem resources. The advantage is that it allows workloads and data to move between private repositories and public clouds in a flexible way as demands, needs, and costs change, ultimately giving the organization greater flexibility and more options for content deployment and use.
When operating in a hybrid environment, it becomes even more important to have seamless access to information no matter where it is located. What is needed is a hybrid cloud environment using both cloud-based and on-prem systems.
The Advantage of a Hybrid Cloud Approach
"Hybrid cloud" refers to a mixed computing, storage, and services environment made up of on-premises systems and cloud services. Although cloud services can drive cost savings, their main value lies in supporting a fast-moving digital business transformation. But how does this play out in the real world?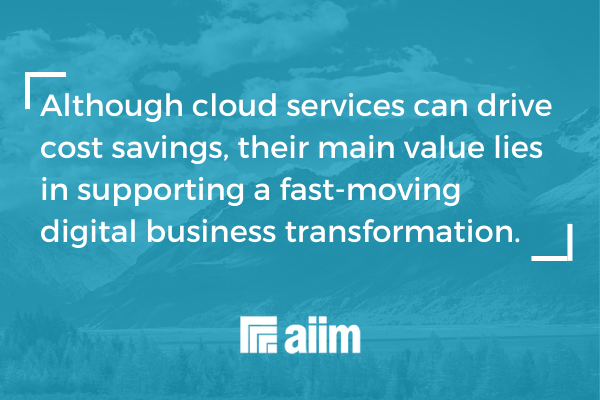 One specific example is the case of a large insurance company. I spent 14 years at Blue Cross/Blue Shield. Imagine having hundreds of offices and billions of records. And imagine the complexity of the systems and information that manage all of that. Repositories are often tightly coupled to specific business applications making it difficult to adapt and change. Migrating to the cloud can and would enable significant process improvements like increased agility, responsiveness, and savings. But companies like Blue Cross also have many critical legacy systems firmly rooted in the organization that are not going away any time soon. Rather than a rigid either/or line of attack, a hybrid cloud approach allows the firm to continue to maintain its existing systems and methods while gaining the freedom to innovate and improve by adopting new technologies and services in the cloud.
Take Advantage of Auto-Scaling in the Cloud
Another one of the benefits of using cloud-based resources is the ability to scale up or down depending on demand. This "auto-scaling" can result in lower costs because most cloud providers charge based on total usage rather than maximum capacity. Even for companies that cannot reduce their total compute capacity, auto-scaling helps by allowing you to run less pressing workloads on machines that get freed up during times of low traffic.
Consider the challenge for a Fortune 100 financial services company at tax time. Each year demand from customers requesting financial reports and other tax-related information peaks. In the past, the workflow could easily slow to a crawl as servers and systems struggled to keep up. Today, by moving to a hybrid cloud environment, organizations in this situation easily access greater capacity when needed. The result is a more nimble response when workloads are high.
Five Recommendations for a Hybrid Cloud Approach
Once you begin to target opportunities to use a hybrid cloud approach, the question becomes: how should you move forward in ways that will ensure your success? Here are five recommendations to consider.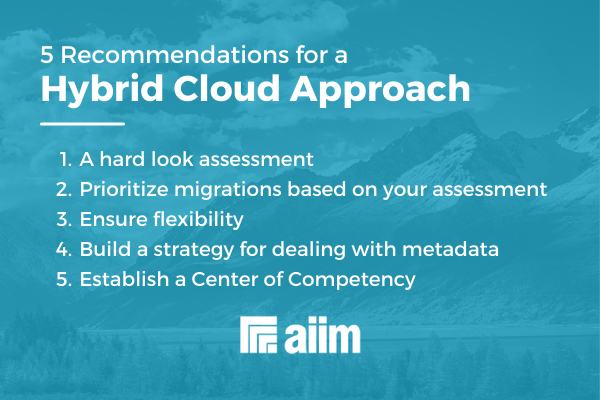 1. A hard look assessment – Before you do anything, it is important to evaluate the current process thoroughly. How does it perform today, where are the bottlenecks and roadblocks, and in what ways will a change in approach make a difference? It is critical to involve IT along with cross-functional teams consisting of business unit personnel and other stakeholders. In this way, your efforts not only address the technological changes that may need to happen but the business-focused and organizational aspects needed for improvement as well.
2. Prioritize migrations based on your assessment – With an assessment in hand, you are in a position to make better decisions regarding which systems should remain on-premises and which ones are good candidates for migration to the cloud. It is here that you can identify quick wins, assess the potential impacts of mergers and acquisitions, anticipate changes or future adoption of systems, and evaluate long-term implications from both a business and a technical view.
3. Ensure flexibility – Needs may change, so ensure flexibility that offers faster time-to-market and less upfront investment. Once you migrate content to the cloud, it is important to ensure that you can move it back again or from one cloud provider to another. Establish the flexibility to try new applications to "test the waters." Some providers make it difficult to reclaim ownership of your content once it's migrated, so look for solutions that remove those roadblocks and constraints.
4. Build an organizational strategy for dealing with metadata – One way to enable broader transformation is through the thoughtful use of metadata management, establishing a strategy that transcends where the information is located. This overcomes the physical barriers regarding whether or not the data is housed within the organization or in the cloud. Organizations are adjusting to and exploiting the variety and extent of the metadata supported in cloud-based systems and services to create a shared understanding across multiple domains.
5. Establish a Center of Competency – You can better leverage your investments, efforts, and expertise by working cross-functionally to replicate the capabilities and techniques found to be effective in one area to other applications within the enterprise. One way to do this is by establishing a Center of Competency, which at its core is both a planning methodology and a cross-functional forum where business analysts, IT support, and executives all work together on common goals and steps to leverage the advantages across the enterprise. In this way, organizations reuse the architecture of the solution and the expertise involved rather than reinventing the wheel every time.
Moving Forward
Organizations that benefit from the cloud will be the ones who are successful in adopting thoughtful strategies that bring together the organization's business needs and the technological transformations that need to take place. Look for providers and partners with the right mix of expertise, capability, and vision to help you make the most of your efforts.