Electronic Records Management (ERM) | Information Management
At the heart of any digital transformation journey is information. Information is the currency that fuels and funds innovation, process improvements, and organizational performance. As a result, an organization's information is its most valuable asset; the common denominator in customer experience, business agility, operational excellence, and automation.
Electronic Records Management (ERM) | Information Management
AIIM believes that every organization should be on a Digital Transformation journey and that Intelligent Information Management is the driver for that transformation. But how do you begin to put all of the pieces together into an approach that will make a difference? That is the subject of a new eBook from AIIM titled How to Become a Modern Records Manager (and a Business Enabler). It explores ways to build a modern records management program that will put the "intelligent" into intelligent information management.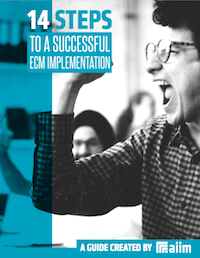 14 Steps to a Successful ECM Implementation
Making an ECM implementation successful requires planning and attention to detail. The best way to create the right solution is to identify organizational goals and priorities. Learn how to manage a successful implementation in our free guide.
Several months ago, I developed a nagging pain in my right shoulder. Nothing much at first, but over time, it got worse. Initially, I ignored the pain and hoped it would resolve itself. But it didn't. So I tried several common over-the-counter remedies; the ones that everyone takes. They provided some improvement, but none resolved my problem.
Change Management | Information Management
In my previous blog on change management, we examined the natural and inevitable cycle of change that people go through during times of change. We explored how resistance to change is often a more troubling problem than even the most complicated tangle of technology, and how project managers and systems integrators need to account for these human factors. Indeed, no matter how innovative new systems and technology are, or how thoughtfully we have put together our strategies, if people resist change and find ways to sabotage our efforts, it is unlikely that even the best technical implementation will have meaningful success.
Information Management | Paperless Office
Steps to Make Your Paperless Office Dream a Reality According to AIIM research, 75% of the organizations we surveyed view digital transformation as "important" or "very important" to their organization. But why? Most respondents pointed to operational savings as a result of a more digital and connected workflow. In other words: cut the paper, cut the inefficiencies.
Change Management | Information Management
It is common to take great care in the selection and implementation of new technology. Interactions between hardware and software are cautiously investigated; operating systems and network connections are carefully tested, and uptime on critical systems is painstakingly protected. But one very influential factor that is often overlooked is the natural and emotional reactions of people when things change. If people resist change, find ways to sabotage your efforts or become angry or withdrawn, it is unlikely that even the best technology strategies will have meaningful success.