New cloud-based approaches promise to transform workflow in ways that produce new levels of service, savings, and responsiveness. There are many strategic reasons for moving to the cloud. Organizations around the world have embraced the cloud as a way to fundamentally improve the performance of the business and dramatically improve customer experience.
Cloud-based systems and applications are popular across organizations in all industries today and are largely regarded as a powerful platform for process innovation and improved organizational performance. According to the IDG 2021 Cloud Computing Survey, the majority (55%) of organizations are now using more than one public cloud. Cloud adoption has also reached more than two-thirds in every industry. Clearly, cloud technology has now established its predominance. Yet despite rising adoption, not every business has made the jump to the cloud. IDC found that only about 9% of organizations are "cloud-only" and over half (54%) remain mostly on-premises with some cloud-based systems mixed in.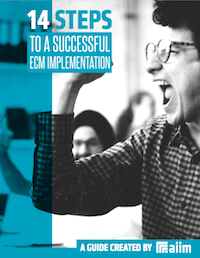 14 Steps to a Successful ECM Implementation
Making an ECM implementation successful requires planning and attention to detail. The best way to create the right solution is to identify organizational goals and priorities. Learn how to manage a successful implementation in our free guide.
Regardless of your industry, managing information intelligently requires the ability to find, store, and use information effectively and flexibly in order to get good results. It all boils down to: Finding the right information when you need it. Storing important information in a secure and compliant way. Using that information in ways that matter.
AIIM on Air | Digital Transformation
We hear a lot about "Agile" as a way to manage change and spur innovation. But what exactly is Agile? And how can we use it to make a difference? That was the topic of our AIIM On Air interview with Darrell Rigby. Darrell leads Bain & Company's Global Innovation and Agile practices and is the co-author of "Doing Agile Right." He's a frequent speaker and writer on innovation and Agile, and has appeared on CNBC, CNN, and Bloomberg, and has had his research published in Harvard Business Review, the Wall Street Journal, and the Financial Times.
Information Governance | Sharepoint and Office 365
For millions of Microsoft 365 users, a substantial portion of the organizational knowledge is created, shared, and stored in SharePoint, Exchange email, or OneDrive. Teams offers yet another way to share content with colleagues and even customers, storing files in SharePoint and OneDrive separately. Organizations must oversee this activity across multiple jurisdictions. The information flow is complicated, and the governance implications are substantial.
AIIM on Air | Robotic Process Automation (RPA)
There is a lot of excitement and interest in Robotic Process Automation (RPA) these days, and for good reason. Intelligent automation helps improve flexibility, response and service; all distinguishing capabilities in the age of digital transformation. As a result, business owners and executives from all industries are taking notice. According to one AIIM research study, 55% of organizations plan to implement some form of robotic process automation in the next 6-12 months. Over 80% say they plan on automating over the next 1-2 years.