Capture and Imaging | Paperless Office
What is Capture? Despite technology, most companies continue to struggle to manage the burden of paper in many important business processes. And while there are many technological approaches to digital transformation, the first step is often scanning. Also known as "capture," this capability is characterized by the ability to scan paper documents to store and use them in digital form instead of paper. First developed over 30 years ago, capture systems have evolved from simple solutions for basic scanning into sophisticated and expensive systems for enterprise-wide document automation. Therefore, it's important to understand and leverage scanning as a fundamental tool for business today.
It's easy to overlook email as 'old school,' but the fact is that we still use email extensively, especially in business. Radicati released updated figures early in 2019 that shows the total number of active email users has jumped to 3.9 billion. More than that, American workers will receive an average of 126 emails a day. And while most folks think of email mostly as transactional messaging, the marketing power of email is still going strong. A study by The Manifest found that 43% of businesses are expected to spend more money on email marketing in 2019. So for those of us in the information management business, the question becomes: how do you overcome the challenge of capturing, archiving, managing and making the most of our old friend email. Here is some advice and best practices from our CIP study guide that can make a difference.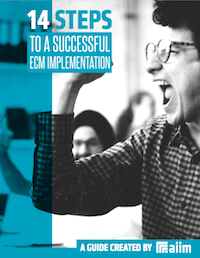 14 Steps to a Successful ECM Implementation
Making an ECM implementation successful requires planning and attention to detail. The best way to create the right solution is to identify organizational goals and priorities. Learn how to manage a successful implementation in our free guide.
There is a lot of interest and discussion about the cloud these days— and for good reason. As business leaders and department heads identify impediments to their teams' effectiveness, they are beginning to recognize that the cloud is not just about storage; it's about flexibility, process improvement, and savings. But it will take a balanced perspective to cash in. As with any important business decision, a crucial step is to weigh the pros and cons to determine its suitability for your unique use case. Here is a list to get you started:
Capture and Imaging | Intelligent Information Management (IIM)
According to AIIM research, 75% of the organizations we surveyed view digital transformation as "important" or "very important" to their organization. Survey respondents point to techniques like advanced data capture, machine learning, and process automation to provide the powerful potential to reengineer and improve core business processes. The trouble, however, is that that the majority of information capture and content management solutions on the market have been built to work with highly-structured and pre-determined information and workflows. Feedback from our AIIM community of practitioners tells us that working with unstructured information is one of the biggest barriers to digital transformation.
Electronic Records Management (ERM) | Intelligent Information Management (IIM)
At the heart of any digital transformation journey is information. Information is the currency that fuels and funds innovation, process improvements, and organizational performance. As a result, an organization's information is its most valuable asset; the common denominator in customer experience, business agility, operational excellence, and automation.
Electronic Records Management (ERM) | Intelligent Information Management (IIM)
AIIM believes that every organization should be on a Digital Transformation journey and that Intelligent Information Management is the driver for that transformation. But how do you begin to put all of the pieces together into an approach that will make a difference? That is the subject of a new eBook from AIIM titled How to Become a Modern Records Manager (and a Business Enabler). It explores ways to build a modern records management program that will put the "intelligent" into intelligent information management.