co-authoring | intelligent information management | oil and gas
Organizations today work with a great volume and variety of data. The trick is using that information in ways that improve the performance of the organization. One example is in the oil and gas industry where the stakes are extremely high; involving millions in revenue. Government approval for exploratory oil and gas rights are awarded to companies with the best technical application. The trouble is, assembling and authoring highly complex, high-value documents like exploratory proposals and regulatory submissions – which can often be thousands of pages – is a huge challenge.
FIle Shares | co-authoring | digital transformation, | intelligent information management
Prior to becoming involved with the content and information management industry, I spent several years in the high-volume printing industry. I was a mid-level executive for a large health insurance provider and was responsible for printing and mailing, pre-press and offset printing, and electronic book publishing across four states. And let me tell you, my teams concentrated on output. Tons of it. Twenty four hours a day, 365 days of the year. Imagine stacks of paper everywhere and truckloads of output being shipped and mailed nationwide. This is in great contrast to today and my current involvement in the enterprise content management industry (now Intelligent Information Management) where our attention is largely focused on input...with much less focus on output. We aggressively capture data, input that information into advanced systems and databases, and then safeguard it with methodologies and teams designed to collect and protect information.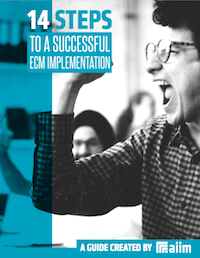 14 Steps to a Successful ECM Implementation
Making an ECM implementation successful requires planning and attention to detail. The best way to create the right solution is to identify organizational goals and priorities. Learn how to manage a successful implementation in our free guide.
cloud | digital transformation, | intelligent information management
Today's businesses run in the cloud. Organizations are embracing a new way of working in a cloud-native environment that enables content to move effortlessly between teams, partners and customers. This is a powerful way to run the business without compromising on security, governance, and compliance. A 2018 IDG Cloud Computing Study found that 77% of enterprises have at least one application or a portion of their enterprise computing infrastructure in the cloud, and adoption is climbing. Furthermore, according to our AIIM 2018 State of the Industry study, over 35% of respondents said that their organization was moving "more to the cloud" over the next 12 months.
content services | digital transformation, | intelligent information management
Recently, AIIM released an eBook titled, State of the Industry – Content Services that examines the current state of Content Services technologies and how user perceptions about them are changing. For this research study, we surveyed over 300 decision-makers from around the world about their focus on Content Services to answer these three core questions:
digital transformation, | intelligent information management
Recently AIIM released an industry watch report titled, The State of Information Management, Getting Ahead of the Digital Information Curve. In it, AIIM makes the case that every organization is on — or should be on — a Digital Transformation journey. At the heart of this transformation journey is the need to understand, anticipate and redefine internal and external customer experiences. This transformation depends on other important aspirations: business agility and innovation, operational excellence and automated compliance and information governance.
AI | AIIM19 | Artificial Intelligence | digital transformation, | intelligent information management
AIIM19 is only a short time away and information management professionals from around the world will converge in San Diego for three days of sessions, sharing and fun. But what can you expect this year? In this continuing series of AIIM19 session previews we get a taste of what's to come. I spoke recently with Angela Watt about her session, co-hosted with Emily Speight, titled "Absolute Intelligence: Taking the Artificial out of AI," and I asked her to briefly summarize the topics.