Regardless of your industry, managing information intelligently requires the ability to find, store, and use information effectively and flexibly in order to get good results. It all boils down to: Finding the right information when you need it. Storing important information in a secure and compliant way. Using that information in ways that matter.
AIIM on Air | Digital Transformation
We hear a lot about "Agile" as a way to manage change and spur innovation. But what exactly is Agile? And how can we use it to make a difference? That was the topic of our AIIM On Air interview with Darrell Rigby. Darrell leads Bain & Company's Global Innovation and Agile practices and is the co-author of "Doing Agile Right." He's a frequent speaker and writer on innovation and Agile, and has appeared on CNBC, CNN, and Bloomberg, and has had his research published in Harvard Business Review, the Wall Street Journal, and the Financial Times.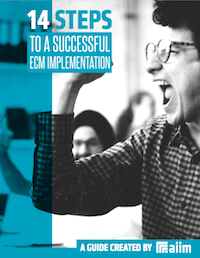 14 Steps to a Successful ECM Implementation
Making an ECM implementation successful requires planning and attention to detail. The best way to create the right solution is to identify organizational goals and priorities. Learn how to manage a successful implementation in our free guide.
Information Governance | Sharepoint and Office 365
For millions of Microsoft 365 users, a substantial portion of the organizational knowledge is created, shared, and stored in SharePoint, Exchange email, or OneDrive. Teams offers yet another way to share content with colleagues and even customers, storing files in SharePoint and OneDrive separately. Organizations must oversee this activity across multiple jurisdictions. The information flow is complicated, and the governance implications are substantial.
AIIM on Air | Robotic Process Automation (RPA)
There is a lot of excitement and interest in Robotic Process Automation (RPA) these days, and for good reason. Intelligent automation helps improve flexibility, response and service; all distinguishing capabilities in the age of digital transformation. As a result, business owners and executives from all industries are taking notice. According to one AIIM research study, 55% of organizations plan to implement some form of robotic process automation in the next 6-12 months. Over 80% say they plan on automating over the next 1-2 years.
AIIM on Air | Artificial Intelligence (AI)
The notion of Artificial Intelligence has pervaded both the business world and popular culture. And, while Hollywood often portrays AI in a future world of smart robots with super-human characteristics, the truth is that AI technologies are already at work fueling important changes in the way business is conducted every day.
The amount of data organizations must manage today is truly mind-boggling. Research shows that there are 2.5 quintillion bytes of data created each and every day. During the last two years alone 90% of the data in the world was generated. It's no wonder that many organizations struggle to simply keep pace. And moving mountains of data from older legacy systems to modern cloud-based repositories can seem out of reach for most, regardless of the potential advantages of modernization. But what can you do when you need to migrate? If leaving your data in place is not an option, and moving it makes you lose sleep at night, you can quickly feel overwhelmed by the chaos. Thankfully, there are some new approaches to data migration that may provide an answer. Which is the best approach for your project? Let's take a look at three common approaches to migration to compare them.