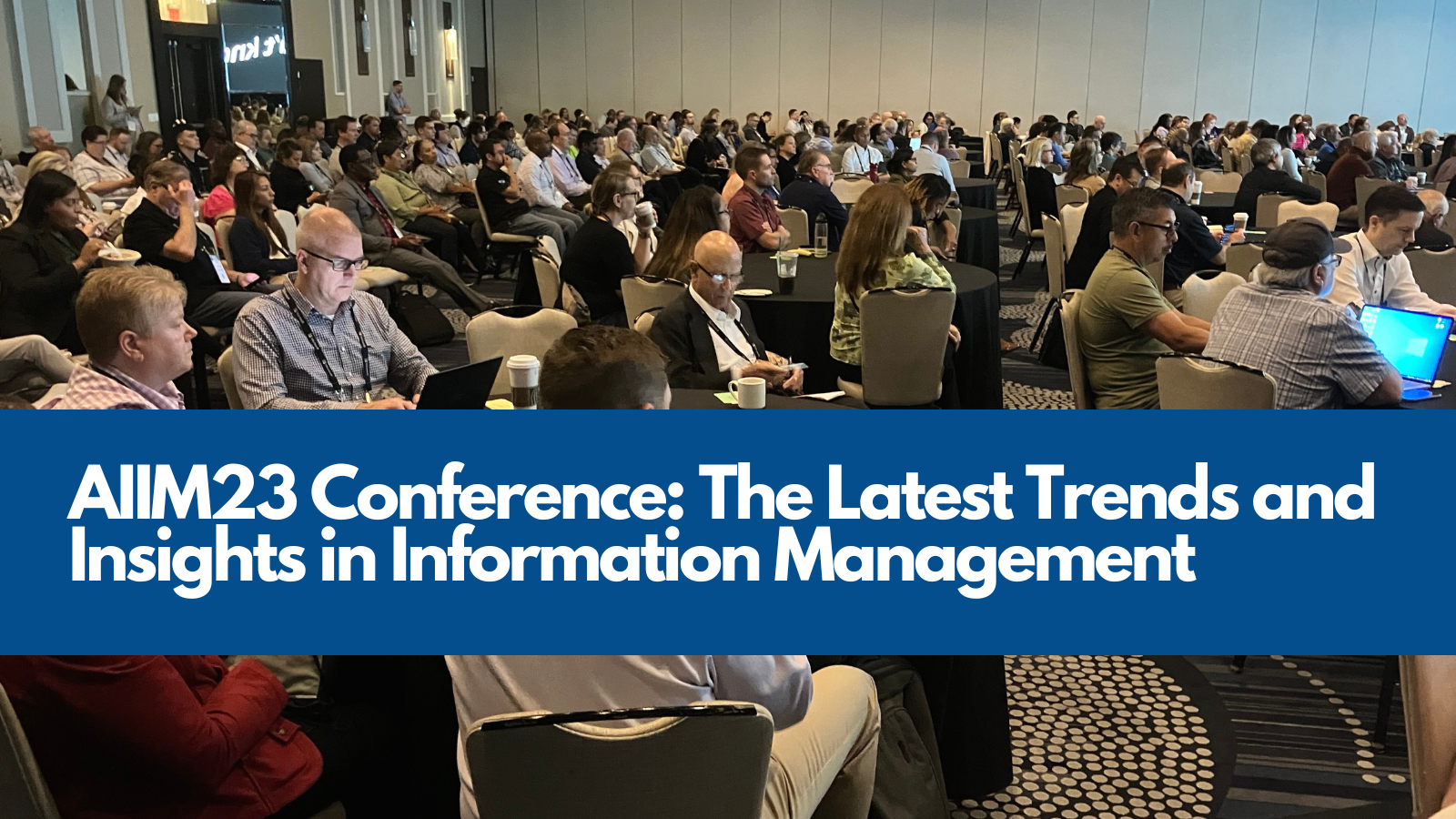 Subscribe
AIIM23 Conference: The Latest Trends and Insights in Information Management
The AIIM 2023 Conference boasted a first-time attendee percentage of 61% and was graced by representatives from 28 countries. The overall agenda featured more than 80 sessions, so many topics and perspectives enriched the attendee experience. All the keynotes and general sessions were well-attended and ranged from discussing orthodox beliefs in the industry; the value of storytelling in IM; perspectives on artificial intelligence; and the C-Suite's take on Information Management.
The opening keynote featured a panel of thought leaders discussing the Future of Information Management and the surprising results from AIIM's latest Industry Watch research. AIIM's closing keynote introduced its first "Fail Fest" – when things go wrong, they can go really wrong, and the panelists shared their humbling lessons learned. It was helpful to see how people and organizations recover from unsuccessful projects and to incorporate those pearls of wisdom into our own operations.
The top 10 most popular sessions were:
The Top Skills for IM Pros of the Future

Records Management on Steroids! How ChatGPT Will Reshape Knowledge Management

Transform Content into Actionable Information with AI

The Next Generation of Information Management Professionals

How the World's Largest Companies Deploy Microsoft Purview Records Management + Microsoft Syntex

Mission Impossible? Embracing 365 Governance

Modernizing and Automating Records Management with Microsoft Purview Records Management at Cummins

The Future Looks Bright, Just Different. What does the future of Intelligent Information Management

Business Case Design: Get What You Need from Leadership

The 3 C's: Top Skills IM Professionals Need to Succeed



You can see that there is still much discussion on Information Governance and Records Management, yet there were some topic breakouts that warrant separate mentions.
One of the most prominent themes at AIIM 2023 was artificial intelligence (AI). As the field of AI continues to grow, it is having a significant impact on information management. Over a dozen sessions were dedicated to exploring strategies for professionals to thrive in this new era. These included discussions on the role of AI in classification and extraction, intelligent document processing (IDP), tagging unstructured content, knowledge management, and more. Speakers also highlighted the benefits of low-code tools and ways to eliminate AI bias.
Migration and decommissioning of legacy systems were also of strong interest. These remain complex topics for many stakeholders in organizations. Discussions included examining the need to connect and consolidate various systems within the enterprise, which was supported by AIIM's latest research.
There was a healthy debate over compliance and risk vs. business outcomes as key drivers for IM improvements and digital transformation. Thought leaders recognize that different stakeholders have different priorities and that these top drivers cycle in importance due to the economy, regulatory changes, and other more tangible business goals, I.e., collaboration and customer service/experience.
Another important topic that arose was the need to encourage and engage the next generation of information management professionals. Instigated by the AIIM State of the IIM Industry report, discussion arose on the aging demographic of today's practitioners and the crucial need to attract new and younger practitioners to the field. Without such initiatives, the industry may face a significant skills shortage in the next 5-15 years. To showcase the opportunity and potential of the younger generation, AIIM invited student delegations from Tulane, Dillard, and Louisiana State University, and 11 students attended the full conference. Their enthusiasm and active participation were a testament to the future possibilities of our industry.
The Solutions Lounge and Solution Showcase sessions were notable with the presence of Diamond sponsors: AvePoint, IBM, Iron Mountain, Microsoft, OpenText, and Ricoh. Eighteen Gold sponsors included: C5insight; Cadence Solutions, Colligo, Datamatics, DocStar/Epicor, Gimmal, Helux, KnowledgeLake, LeadTools, Opex, Proventeq, Recordpoint, Ripcord, Shinydocs, TCG, Uxopian, VRC, and Zia.
The conference presentations are available in the online Conference Hub to all who registered for AIIM23.
AIIM had the privilege of inducting Martin Birch, Dave Jones, Jeffrey Lewis, and Candace McCabe into the esteemed Company of Fellows. In addition, the highest honor, the Award of Merit, was bestowed on John Newton, whose outstanding achievements in the field of information management have set a benchmark for future generations. It's inspiring to see how these individuals have shaped the industry, and their accomplishments will undoubtedly continue to inspire others to strive for excellence.
This was also the opportunity to meet AIIM's new CEO, Tori Miller Liu. Tori's experience as a CIO was evident in her participation in several of the keynote and general session panel discussions.
Overall, AIIM23 in New Orleans was an amazing experience. We invite you to join us for AIIM24 in San Antonio, Texas, next April.