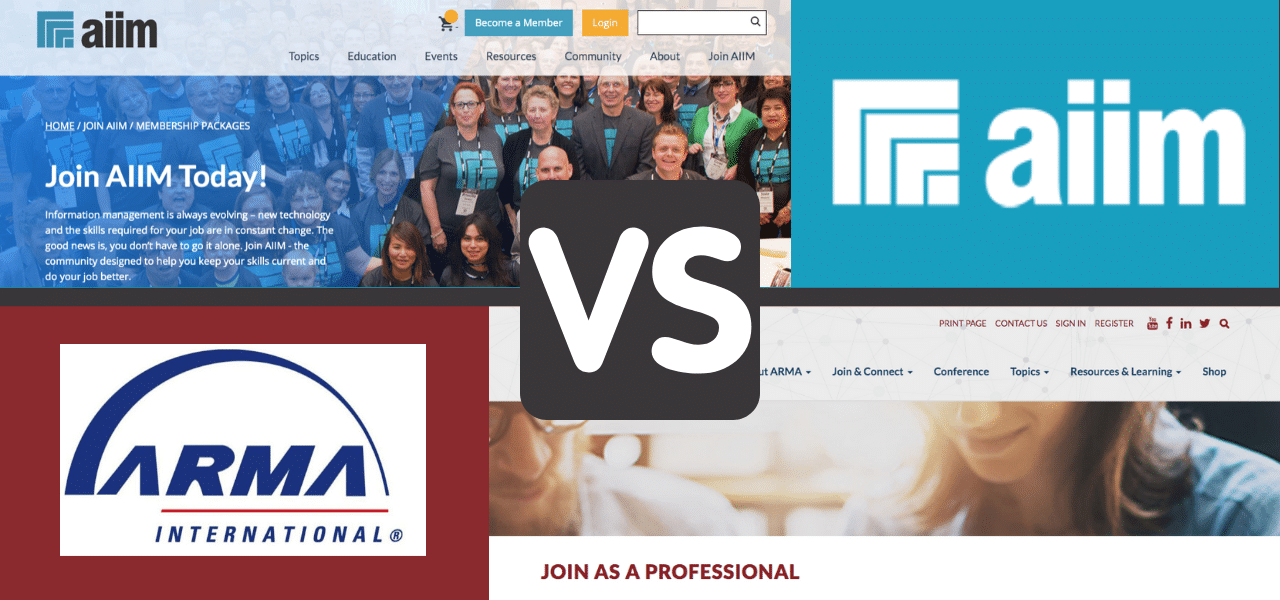 Subscribe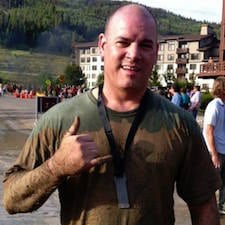 AIIM vs. ARMA: An Honest Comparison of Membership
I regularly get asked questions about AIIM and ARMA – which one's "better," which one's the right one, what's the difference, etc. I've been a paid professional member of both since 2001 – August 2001 for AIIM, September 2001 for ARMA. I've also served on both organizations' Board of Directors (2004-2005 for AIIM, 2007-2010 for ARMA). I have thoughts on both and will compare them in several key areas, including:
Focus
Types of Membership
Cost of Membership
Benefits
Chapters and Local Events
Number of Members
Before we get started, in the interest of total transparency, I serve as AIIM's VP of Training and Certification. With that in mind, our goal with this article is to be unbiased and provide those considering membership with the facts needed to make a decision.
1. Association Focus
Probably the most important thing to consider when deciding where to spend your membership dollars is whether the association will provide value to you. I believe that there is quite a bit of overlap today between ARMA and AIIM, particularly with regard to resources relevant to records managers.
ARMA's Association Focus: Historically, ARMA has focused on the professional practice of records management. In recent years, they have shifted their focus to information governance, as evidenced by the development of the Certified Information Governance Professional (IGP) certification, the acquisition of the InfoGovCon conference, and the rebranding of the annual ARMA conference to ARMA InfoCon. ARMA still offers a number of resources to practicing records managers, including job descriptions, core competencies, a glossary, and the Generally Accepted Recordkeeping Principles.
AIIM's Association Focus: AIIM also offers educational content and training on records management, but, historically, the focus has been on broad information management best practices and the technology tools that support them. With the relaunch of The AIIM Conference and the launch of AIIM Training, AIIM's focus has been more specifically on research and education. AIIM's educational content targets emerging information management issues and practices such as analytics and artificial intelligence, process automation, and managing structured and semi-structured data effectively.
AIIM's broad approach to holistic information management is a practice called Intelligent Information Management which is represented by five core foundational areas which include:
Creating and Capturing Information
Extracting Intelligence from Information
Digitalizing Core Business Processes
Automating Governance and Compliance
Implementing an Information Management Solution
2. Types of Membership
ARMA offers three tiers of individual membership:
Professional - Full benefits
Associate - Reduced benefits
Student - Limited to full-time degree-seeking students
In addition, ARMA offers a Chapter Membership available for an additional fee per chapter; some chapters offer free student memberships.
AIIM offers two tiers of individual membership:
Professional - Full benefits
Student - Limited to full-time degree-seeking students
AIIM chapter membership is included as part of the membership fee.
Corporate Memberships
Both AIIM and ARMA offer corporate memberships. These are often custom packages and custom pricing, but for both associations, they generally include a number of individual professional memberships and access to member-only resources.
ARMA offers separate corporate/group and industry memberships; the corporate membership also includes two passes to the annual conference and two Essentials of RIM certificate courses.
AIIM offers two tiers: Preferred Provider and Leadership Council. Leadership Council membership includes access to attend two of four Leadership Summits for two attendees. Leadership Summits are an organized think tank for industry vendors to come together to discuss the future of the industry.
3. Membership Costs
For ARMA:
Professional membership is $175 per year
Associate membership is $95 per year
Student membership is $25 per year
For AIIM:
4. Membership Benefits
ARMA Professional and Student members enjoy the following benefits:
Discounts on training, the ARMA Bookstore, and the annual conference
Access to members-only iMasters virtual roundtable events
Listing in the ARMA online member directory
Access to the online career center
Leadership opportunities at the local, regional, and national level
Ability to vote in association elections
Free subscription to ARMA Magazine online
Free access to white papers, webinar archive, and select resources including the RIM Core Competencies and Glossary in PDF format
AIIM Professional and Student members enjoy the following benefits:
Discounts on training, the CIP exam and exam renewals, and the annual conference
Access to members-only webinars
Access to AIIM's job board
Access to AIIM's online community and discussion board
Leadership opportunities at the local and national level
Ability to vote in association elections
Free access to white papers, research, webinar archive, the CIP Study Guide, and select other online resources
5. Chapters and Local Events
ARMA currently lists 103 chapters on their website, though 6 of the chapters listed have no links. Of the remaining 97 linked, 29 had not been updated in 2020 as of March 29. ARMA has chapters in the majority of major metropolitan areas in the U.S. and Canada.
AIIM currently lists 16 chapters in their online community, including but not limited to Germany, Russia, Washington, DC, and Boston, MA. Of these, only two have had any activity in 2020. AIIM also offers 11 special interest groups (SIGs), which are organized by interest, industry, or role. For example, there are SIGs for Women In Information Management (WIIM), Certified Information Professionals, Records Managers, Oil & Gas, etc.
In locations where both AIIM and ARMA chapters exist, it is not uncommon for the same people to serve on both local chapter boards at one time or another and, sometimes, even at the same time. And local chapters generally seem to work pretty well together in terms of cross-promoting events.
6. Number of Paid Members
ARMA has a little over 6,000 paid Professional members and around 100 student members.
AIIM counts 4,781 paid Professional and student members.
Where to Spend Your Membership Dollars
If you're a regular reader, you'll know what comes next: It depends. I've maintained paid professional membership, out of my own pocket, in both associations for nearly 20 years, and I don't expect that to change. For me personally, I do get different things out of each:
I think that ARMA has done a good job over the years of emphasizing their chapters.
The pricing and types of benefits are about the same.
I personally prefer AIIM's conference and training (Reminder: I serve as AIIM's VP of Training and Certification). This is because my role is more of a broad information management consultant than a focused RM or IG practitioner. Therefore, AIIM's offerings have remained more relevant to me over the years in terms of the content and the solution providers.
ARMA is Typically a Better Fit if You:
Are new to records management or actively looking to learn more about RM as a practice
Value physical gathering of like-minded professionals in your area
Want education very specific and limited to RM/IG
AIIM is Typically a better Fit if You:
Are more interested in education around a holistic view of information management
Want to stay on top of new trends
Are interested in special interest groups, organized by interest, industry, or role
As a longstanding member of both organizations, I ALWAYS recommend that if you're lucky enough to have the funds, join both as I did!