This week I taught the AIIM Modern Records Management Master Class in Washington, DC. As with previous classes, there was a question that generated significant discussion among the students. In this instance, the question was about a system implementation that was not successful: "When you have a failed implementation, should you stick with it and try to make it work, or should you replace it with a better system?"
Document Management | Electronic Records Management (ERM)
When I teach, questions often come up about the differences and similarities between document management and records management. Is there any difference? Does it really matter? Which one is best? The answers are, respectively, yes, yes, and it depends. Let's take a look at each.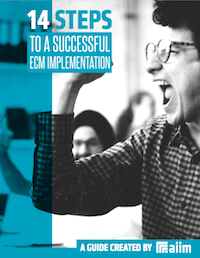 14 Steps to a Successful ECM Implementation
Making an ECM implementation successful requires planning and attention to detail. The best way to create the right solution is to identify organizational goals and priorities. Learn how to manage a successful implementation in our free guide.
Certified Information Professional (CIP) | Electronic Records Management (ERM)
Since the creation of AIIM's Certified Information Professional (CIP) program, we've certified over 1,500 information professionals. Throughout the years working with students to help them prepare for the CIP, I often get asked about other good certifications for records managers. But, when there are literally thousands of certifications in the marketplace, and dozens that have some connection to records or information management – how can you determine which one is right for you? Here are a couple of different ways to think through this:
Intelligent Information Management (IIM)
I returned to downtown Washington, DC, last week to teach the AIIM Foundations of Intelligent Information Management (FIIM) course. The class started with some icebreaker exercises, including asking the students to define, in their own words, "What is information management?" There were some fantastic definitions generated from the students for this and other discussion questions throughout the course. However, there was one question that kept coming up over and over again during the course, "Where should information management live in the organization?" That is to say, where should the information management/records management/information governance job function be located within an organizational structure? I thought this was an interesting topic, and I'd like to share some of the thoughts and feedback from the class.
Electronic Records Management (ERM) | Intelligent Information Management (IIM)
Defining a New Era of Records Management Records management has traditionally been significantly focused on compliance. Compliance is important; to be sure; the more highly regulated an organization is, the more important compliance is. Every organization has to comply with something, even if it's just tax and personnel regulations. And it's complicated – every year seems to bring more laws and regulations, not less. As a reflection of this, in the original AIIM Electronic Records Management course, we identified 4 business drivers, and the first one listed was compliance (along with continuity, effectiveness, and efficiency). But while compliance is important, it's insufficient as a business driver. Compliance doesn't get management excited and eager to pour resources into it until there is a problem – and once the problem goes away, so does the focus and availability of resources. We argued in the AIIM 2019 State of the Industry – Content Services that "[information management] is better sold indirectly – as a byproduct of automation and customer experience – than head-on."
Certified Information Professional (CIP) | Electronic Records Management (ERM) | Intelligent Information Management (IIM)
You're interested in an information management certification, and you've narrowed it down to two; the Certified Information Professional (CIP) vs. the Certified Records Manager (CRM). Both certifications are well-known, respected credentials in the information management industry. So what's the difference and which is right for you?