Electronic Records Management (ERM)
It's become trite to note the speed at which technology changes, and that the speed of those changes continues to increase. But just because it's trite doesn't mean it's not true. This means that, for records managers to continue to remain relevant, we need to ensure that we are on top of new developments in records and information management that will significantly impact our organizations. I wrote about individual professional development plans in another post. In that post I make the case that information professionals need to develop and maintain knowledge and skills in three areas: information management foundations, their industry domain, and professional or "soft" skills. I should probably add a fourth – information management technology and how it applies to a particular role or function. For the remainder of this post, I'm going to identify what I believe to be the most important skills records managers need to have in that domain, and then some brief additional suggestions.
Certified Information Professional (CIP)
We've been offering the Certified Information Professional exam in a proctored online format for about a year now. In that time, we've noticed some common pitfalls that cause issues with candidates or even prevent them from completing the exam. Here are the top three issues candidates run into and how to avoid them: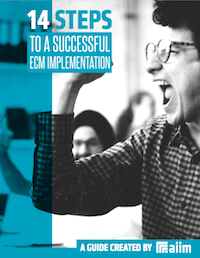 14 Steps to a Successful ECM Implementation
Making an ECM implementation successful requires planning and attention to detail. The best way to create the right solution is to identify organizational goals and priorities. Learn how to manage a successful implementation in our free guide.
We regularly discuss the value and importance of information governance - at our conference, in our training courses, in our virtual events. And we're by no means alone - every association and consulting firm in the industry has been making the same points for years. And if you're reading this post, you probably get it already. But what if your bosses still don't care? How can you move your organization's information governance program forward in the absence of management support or interest? There are two ways to approach this.
Everyone has a process for onboarding new hires, contractors, consultants, etc. There's a checklist to follow: issue the badge, issue the keys to the office and the parking garage, and of course set up the Active Directory account, the email account, and all the other information management system set-up tasks.
Certified Information Professional (CIP)
I've been thinking a lot lately about the role of solution providers in the information management industry, specifically as applied to education and professional development. In this post I am focusing on the members of solution providers' staff that are marketing to customers, selling to customers, acting as the voice of the customer, and implementing and supporting customers' solutions.
Certified Information Professional (CIP)
Welcome back to the last post in this series on the updated Certified Information Professional (CIP) exam. In this post, I'll be focusing on Domain 5, Implementing an Information Management Solution. You can review the previous posts in this series here: Domain 1: Creating and Capturing Information Domain 2: Extracting Intelligence from Information Domain 3: Digitalizing Core Business Processes Domain 4: Automating Governance and Compliance We end this series by looking at how to implement an information management program. Such a program includes more than just technology, though that is often a part of the overall solution. But it's also assessing the current state of the organization, making the business case for change, and designing a solution that will support and enable its goals and objectives.