Even though I've been an AIIM staff for more than 9 years, I continue to pay for my professional membership out of my own pocket. So it's pretty obvious that I see the value of an AIIM membership, but you're here to figure out if it's worth it for YOU. My goal with this article is to give you a transparent look at both the pros and cons of an AIIM membership. I outlined the general value of memberships in a previous post. In this post, you'll learn some of the specific pros & cons associated with AIIM membership. Many of these would apply to other associations as well. As I noted in the previous post, I would definitely encourage you to consider whether your association offers these benefits.
"It's 2020," you might be thinking, "Who needs associations?" Associations and professional memberships can often be thought of as a relic of the past or a resume builder, but not as a valuable personal development tool. For an introvert, I'm a pretty social, member-y kinda guy. I've been a paid professional member of both AIIM and ARMA for nearly 20 years. I've held memberships in lots of other different groups and associations over the years. And I've even been a member of the United States Marine Corps Drill Instructor Association since 1993. There are many reasons for becoming a member of an association. In some cases, it's to take advantage of discounts or gain access to member-only resources. Membership lists themselves are frequently limited to members. While those are nice, one of the key reasons I join any particular association is because I consider myself to be a professional in that industry or discipline.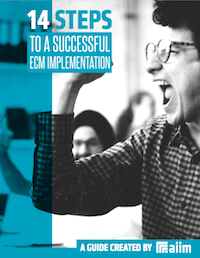 14 Steps to a Successful ECM Implementation
Making an ECM implementation successful requires planning and attention to detail. The best way to create the right solution is to identify organizational goals and priorities. Learn how to manage a successful implementation in our free guide.
Intelligent Information Management (IIM) | Metadata | Paperless Office
Like many other areas around the country and around the world, my daughter's school has joined the "learn from home" movement. I've been a teleworker for nearly 16 years, so we already have the technology infrastructure required, including an older but still useful laptop and fairly robust Wi-Fi. But it's come with more than a few challenges, some of which are the same types of information management challenges we all struggle with at times in the world of business. The back story: On March 16th, my daughter's school made the decision to have all the kids work from home for at least the next two weeks. At least one parent for each family had to go into the school that day to get set up on Google Classroom, have expectations set about attendance and performance, clean out lockers so they could be deep-cleaned, and pick up homework.
I regularly get asked questions about AIIM and ARMA – which one's "better," which one's the right one, what's the difference, etc. I've been a paid professional member of both since 2001 – August 2001 for AIIM, September 2001 for ARMA. I've also served on both organizations' Board of Directors (2004-2005 for AIIM, 2007-2010 for ARMA). I have thoughts on both and will compare them in several key areas, including: Focus Types of Membership Cost of Membership Benefits Chapters and Local Events Number of Members Before we get started, in the interest of total transparency, I serve as AIIM's VP of Training and Certification. With that in mind, our goal with this article is to be unbiased and provide those considering membership with the facts needed to make a decision.
Digital Transformation | Paperless Office | Process Automation
Many of us find ourselves working from home – often rather suddenly and unexpectedly. Organizations of all sizes and in all industries are now in the position of figuring out how to ensure that the business of the business continues while staff stay home and practice effective social distancing. The good news is that the technology needed for effective working from home exists and is generally mature – though some providers have found that the sudden surge in volume can cause issues with particular solutions or capabilities. But there's a much more significant issue that will prevent many employees from being as effective as they possibly could be in their home offices: paper. No, not the paper products that have been scarce for weeks now, but all the paper documents and records that are still prevalent in so many organizations. There are a number of issues associated with keeping information in paper format – or worse, printing born-digital documents – and I'll address some of them later in this post. But in this context, the key challenge is that your paper documents are at the office, where you can't get to them. Now what?
Certified Information Professional (CIP)
It's no secret that I'm passionate about training and information management. I delivered the first AIIM public training course in the U.S. in January 2006. Since then, I've delivered more than 400 workshops, seminars, breakout sessions, and training courses relating to information management – almost all in person. Enter the coronavirus and COVID-19. As cities, states/provinces, and entire countries seal their borders and prohibit large in-person gatherings, we've had to rethink...well, almost everything in our daily lives. Universities and schools have gone entirely virtual on very short notice, panic buying has made bathroom tissue and other paper products scarce indeed, and in business, organizations are having their staff work from home.