Business Process Management (BPM) | Process Automation
Times change. And that's one of the biggest reasons there's now a resurgence in business process management. Globally, firms are reaching a point where they don't feel they can eke out any more efficiencies from their current processes. At the same time, they understand that new entrants are coming into the marketplace with dramatically different business models. In the insurance industry, for example, companies such as Progressive have developed an online Internet service that has had an obvious impact on older insurance companies and their business model. Examples like that exist throughout this industry, and just about every industry throughout the world. New competitors come online and throw a "spanner in the works" to existing business models. Times change, and organizations have to change with them.
The international standard on records management, ISO 15489 defines migration as the: "Act of moving records from one system to another, while maintaining the records' authenticity, integrity, reliability, and usability." But, migration is much broader than just records. Essentially, any time a legacy system is decommissioned, it should be reviewed to determine: What information is stored there? Does this information still need to be actively accessible?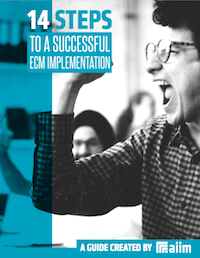 14 Steps to a Successful ECM Implementation
Making an ECM implementation successful requires planning and attention to detail. The best way to create the right solution is to identify organizational goals and priorities. Learn how to manage a successful implementation in our free guide.
Even though I've been an AIIM staff for more than 9 years, I continue to pay for my professional membership out of my own pocket. So it's pretty obvious that I see the value of an AIIM membership, but you're here to figure out if it's worth it for YOU. My goal with this article is to give you a transparent look at both the pros and cons of an AIIM membership.
"It's 2020," you might be thinking, "Who needs associations?" Associations and professional memberships can often be thought of as a relic of the past or a resume builder, but not as a valuable personal development tool. For an introvert, I'm a pretty social, member-y kinda guy. I've been a paid professional member of both AIIM and ARMA for nearly 20 years. I've held memberships in lots of other different groups and associations over the years. And I've even been a member of the United States Marine Corps Drill Instructor Association since 1993.
Digital Transformation | Intelligent Information Management (IIM)
Like many other areas around the country and around the world, my daughter's school has joined the "learn from home" movement. I've been a teleworker for nearly 16 years, so we already have the technology infrastructure required, including an older but still useful laptop and fairly robust Wi-Fi. But it's come with more than a few challenges, some of which are the same types of information management challenges we all struggle with at times in the world of business. The back story: On March 16th, my daughter's school made the decision to have all the kids work from home for at least the next two weeks. At least one parent for each family had to go into the school that day to get set up on Google Classroom, have expectations set about attendance and performance, clean out lockers so they could be deep-cleaned, and pick up homework.
I regularly get asked questions about AIIM and ARMA – which one's "better," which one's the right one, what's the difference, etc. I've been a paid professional member of both since 2001 – August 2001 for AIIM, September 2001 for ARMA. I've also served on both organizations' Board of Directors (2004-2005 for AIIM, 2007-2010 for ARMA). I have thoughts on both and will compare them in several key areas, including: Focus Types of Membership Cost of Membership Benefits Chapters and Local Events Number of Members Before we get started, in the interest of total transparency, I serve as AIIM's VP of Training and Certification. With that in mind, our goal with this article is to be unbiased and provide those considering membership with the facts needed to make a decision.