certified information professional | information professionals
Once you stop learning, you start dying. -- Albert Einstein By now, you've probably heard all the statistics on how much information we create, how much faster we create it, and how much harder it is to manage. While these statistics are all true, there's an opportunity for information professionals in all this chaos. Organizations desperately need someone to help them clean up their digital landfills. But where do you begin?
certification | certified information professional | certified information professionals | cip | information certification
Why choose certification? For me, it's about proof (to myself and to employers) of my expertise. The Certified Information Professional (CIP) started with a group of industry experts and focus groups that worked together to define the body of knowledge necessary for information professionals to be successful in the digital economy. From there, AIIM worked to build a certification exam based upon this body of knowledge - and the CIP was born. Fast forward to present day and the list of CIPs is growing daily and from all over the globe. I had a chance to sit down with one of our CIPs, Devon McCollum, Corporate Records and Information Manager for Members 1st Federal Credit Union. I wanted to pick his brain to see what advice and tips he had for others considering certification.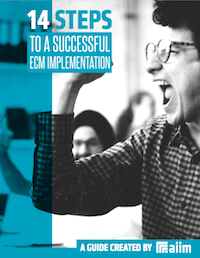 14 Steps to a Successful ECM Implementation
Making an ECM implementation successful requires planning and attention to detail. The best way to create the right solution is to identify organizational goals and priorities. Learn how to manage a successful implementation in our free guide.
certification | certified information professional | certified information professionals | cip | information certification
I am pleased to announce that we have introduced another exam option for CIP candidates. To recap, there are now three ways you can take the CIP exam: At any Kryterion exam center world-wide. At an AIIM-taught CIP prep course. Online proctored via Kryterion. Online proctoring has been available for years, but has sometimes suffered from confusion with online certificate programs and the perception that "it's just an online exam." I've shared that sentiment myself; at the same time, I completed about 35% of my bachelor's degree online in 2001, and in 2018 there are any number of programs including master's degree programs that are 100% online.
electronic records management | erm | records management
Every business is in the business of the business. In other words, every organization - public sector or private, small or gigantic, and regardless of structure or geographic location, has a mission and organizational goals and objectives upon which it focuses.
governance | information management | office365 | sharepoint
It's hard to overestimate the impact of SharePoint on the information management market. Since its humble beginnings in 2001, it has grown to nearly 200 million seats and is found in every industry sector. If you're reading this blog post, you likely have SharePoint in your organization. But SharePoint can't magically make your information more accessible. There is no SharePoint fairy that assesses all your information, uploads just the valuable stuff to SharePoint, applies appropriate access controls, and fills in the metadata. In fact, most organizations with SharePoint aren't particularly satisfied with it - through no fault of SharePoint or its capabilities. Rather, there are two main issues.
certified information professional | cip | ecm | electronic records management | enterprise content management | information management | project management
As part of our Certified Information Professional Spotlight series, I chatted with Baba Majekodunmi, Business Analyst for Payment Products & Service at Pentagon Federal Credit Union, for his story on becoming a CIP.