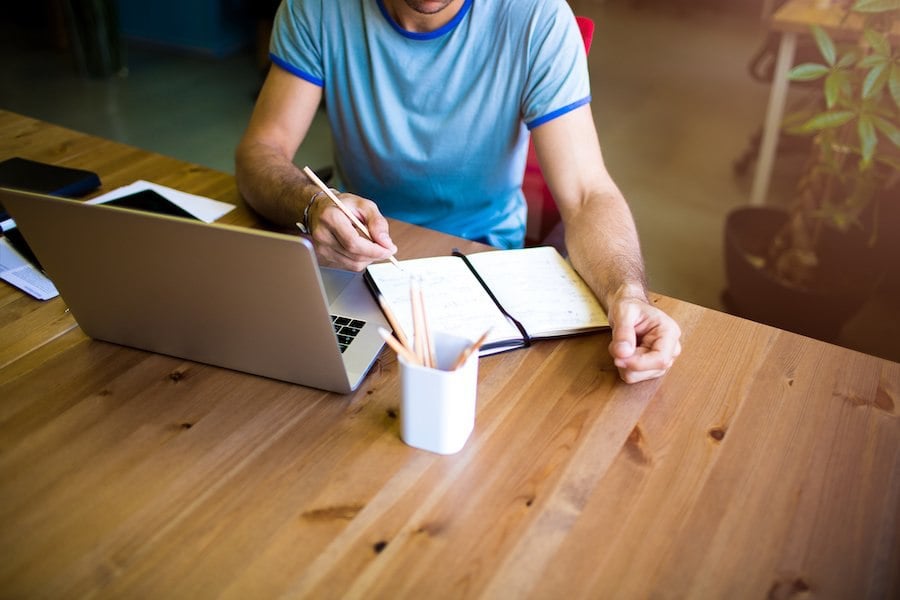 Subscribe
Disruptive Technologies Create a Need for Information Professionals
Intelligent Information Management (IIM) | Certified Information Professional (CIP)
The Certified Information Professional (CIP) has come to represent a badge of competency and knowledge at the top of the knowledge worker pyramid for those entrusted with the task of building an information STRATEGY in a time of digital disruption. Broader than Records Management and Information Governance, Information Professionals are charged with these questions:
Who owns the BIG PICTURE for how information is managed in our organization?
Who owns our information management STRATEGY?
Who can helps us treat information as the critical business asset it has become?
The accelerating pace of Digital Disruption makes this role more important -- and different -- than ever. But before going there, how exactly is the emerging era of Digital Transformation different from where we are now?
While the concept of professionalism was emerging at AIIM and ARMA, back in the real world, a lot of AMAZING technology changes were going on.
I have spoken for the past few years about three key disruptors:

Disruptor #1 -- CONSUMERIZATION is transforming what users expect from applications and how we deliver them. We are now in the era of user-centric IT.
Disruptor #2. CLOUD AND MOBILE are creating an expectation of anywhere, anytime access, and transforming how we engage with customers and employees.
Disruptor # 3. THE INTERNET OF THINGS is generating massive amounts of new data and information creating enormous new challenges and opportunities.
And now, to make things even more challenging, the impact of these disruptors is accelerating, with profound implications for how organizations manage their information assets.
Klaus Schwab, World Economic Forum: "The speed of current breakthroughs has no historical precedent."
Steven Kottler: "For the first time in history, the world's leading experts on accelerating technology are consistently finding themselves too conservative in their predictions."
Dion Hinchcliffe: "The old days of doing it all ourselves using traditional IT projects are receding and even counterproductive much of the time."
I think one way of thinking about the radical disruption that is upon us is to think about how "Life in the Mainstream" is different from "Life at the Edge" across four variables:
MINDSETS -- "How do we look at things?"
MESSAGES -- "What stories do we tell when we get together?"
MONEY -- "Where is the money going?"
MACHINES -- "What are our technology building blocks?"
In each case, I will talk about three representative data points that describe what life looks like in the mainstream, and compare this to what life looks like at the edge. This is not to imply that life in the mainstream is universally bad or undesirable, or that life at the edge is universally good and desired. Rather, the point is to highlight how things are changing and urge organizations to think through the dimensions of this change and how it manifests itself in your particular organization.
So let's start with MINDSETS and how we look at things.
Life in the Mainstream vs Life at the Edge
In the mainstream, if we have a technology need, we think these terms: 1) Set up a meeting with IT; 2) Make sure we control the information we have; and 3) Look at how we might update our legacy systems.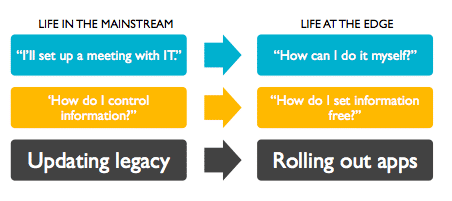 Compare this to life at the edge. At the edge, we think in very different terms: 1) How can I do it myself without IT intervention? 2) How do I set information free and put it to work? And 3) How can I quickly roll out an app -- without being dragged into endless discussions about updating a legacy system?
Similarly, the MESSAGES we use to communicate in the mainstream -- the stories we share -- tell a lot about our fundamental assumptions with regards to technology.
In the mainstream -- when we get together around expense-account lunches and around the water cooler -- when it comes to collaboration, we often talk about SharePoint. We also talk about how we might take traditional processes like bank teller facilitated deposits -- these typically cost $0.65 each -- and how we might automate that process. Linked to both of the above, our IT Heroes are those that bring greater efficiency into the organization.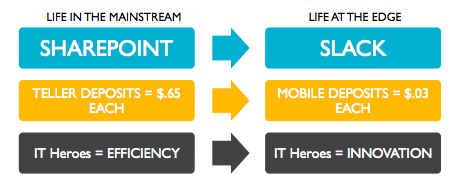 Compare these messages and stories to the ones that we tell at the edge. The Cool Kids on the Block are all talking about Slack, an enterprise collaboration platform that, in the span of less than 18 months, has grown to a market valuation of over three billion dollars. Now Slack may very likely not be the solution for many large Enterprises, but the way of thinking about the problem of collaboration that surrounds Slack -- its nimbleness and openness -- needs to be part of the way that we rethink collaboration.
Taking the example of bank deposits, at the edge, the focus is on mobile deposits, which typically cost less than $0.03 each. Mainstream organizations try desperately to automate a core set of processes and services that have $.65 as their foundation. Edge organizations seek competitive redefinition by ignoring mainstream processes and reinvent the banking industry around processes with $.03 as their foundation. These types of market disequilibriums are occurring in countless processes and industries throughout the economy. This translates into a new set of IT Heroes -- those who can quickly bring innovation and value into our organizations.
Let's turn now to MONEY. Where is the money going, and what does this mean?
In the mainstream world, the market valuation for General Motors is $55 billion. At the edge, Uber is now valued at $68 billion. In the physical world -- in the bricks-and-mortar world -- we seek to add digital capabilities to our existing physical business models in order to compete with companies that are natively digital. That is challenging enough. But the challenge is about to accelerate as digital companies like Amazon seek to open up physical storefronts and as digital companies like Uber seek to extend their value proposition into logistics and package delivery.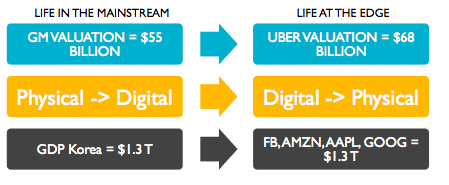 It is worth thinking about how fundamental Facebook, Amazon, Apple, and Google have become to our collective economic future and what their models of success say about the future. These four companies alone have a market value of $1.3 trillion. This is the same as the GDP of Korea. These four horsemen of the digital world provide perspectives on what life at the edge looks like that we need to incorporate into our mainstream thinking.
Lastly, let us turn to the question of MACHINES. What are our technology building blocks?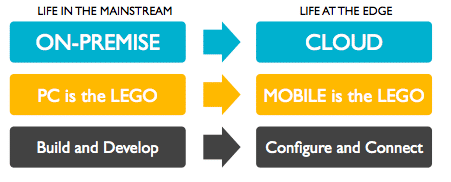 In the mainstream, the focus is still on on-premise applications built on and for the PC. The core skills that are valued in the mainstream are focused on building and developing systems. At the edge, the focus shifts to the cloud, mobile technologies become the Lego building blocks of systems, and the skill sets that are valued within our IT staffs shift from building and developing to configuring and connecting.