Certified Information Professional (CIP)
It's no secret that I'm passionate about training and information management. I delivered the first AIIM public training course in the U.S. in January 2006. Since then, I've delivered more than 400 workshops, seminars, breakout sessions, and training courses relating to information management – almost all in person.
Certified Information Professional (CIP)
You might think that here at AIIM we'd say everyone is a good candidate for the CIP designation. But, as the architect for the most recent updates to the Certified Information Professional (CIP) certification, a teacher of the CIP prep course, and a CIP pin-wearing member since its release in 2011, I don't think it's always a perfect fit.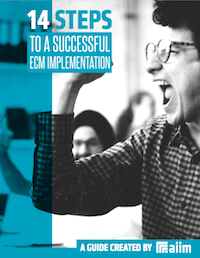 14 Steps to a Successful ECM Implementation
Making an ECM implementation successful requires planning and attention to detail. The best way to create the right solution is to identify organizational goals and priorities. Learn how to manage a successful implementation in our free guide.
Certified Information Professional (CIP)
The Certified Information Governance Professional (IGP) from ARMA is another certification in the information management field and one that's attracted a lot of interest from records managers. Although I work for AIIM, which is the sole provider of the CIP certification; I've held both certifications since their inaugural beta exams and promise to remain neutral in this unbiased review. We will evaluate the 7 key differences between them, including: Exam Content and Development Exam Price Exam Preparation Exam Experience Digital Badging Certification Maintenance Industry Acceptance
Certified Information Professional (CIP)
Do you want to earn your seat at the table for your organization's important strategic discussions? Maybe you're going for that next promotion and looking to round out your skillset. You might even just want to prove to yourself that you have what it takes to be among the industry's elite. There's a multitude of reasons why you may be interested in the Certified Information Professional certification. No matter the reason, one of the many questions you may have on your mind is how much it costs to get certified. With in-person vs. online testing, an array of options to prepare, and special discounts and free materials for AIIM+ members, it can easily become confusing. At AIIM, we've helped thousands of people get CIP certified. Our goal with this article is to walk you through the costs of this exam so that you can make an informed decision on which is the right path for you.
Certified Information Professional (CIP) | Electronic Records Management (ERM)
Since the creation of AIIM's Certified Information Professional (CIP) program, we've certified over 1,500 information professionals. Throughout the years working with students to help them prepare for the CIP, I often get asked about other good certifications for records managers. But, when there are literally thousands of certifications in the marketplace, and dozens that have some connection to records or information management – how can you determine which one is right for you? Here are a couple of different ways to think through this:
Certified Information Professional (CIP) | Electronic Records Management (ERM)
You're interested in an information management certification, and you've narrowed it down to two; the Certified Information Professional (CIP) vs. the Certified Records Manager (CRM). Both certifications are well-known, respected credentials in the information management industry. So what's the difference and which is right for you?