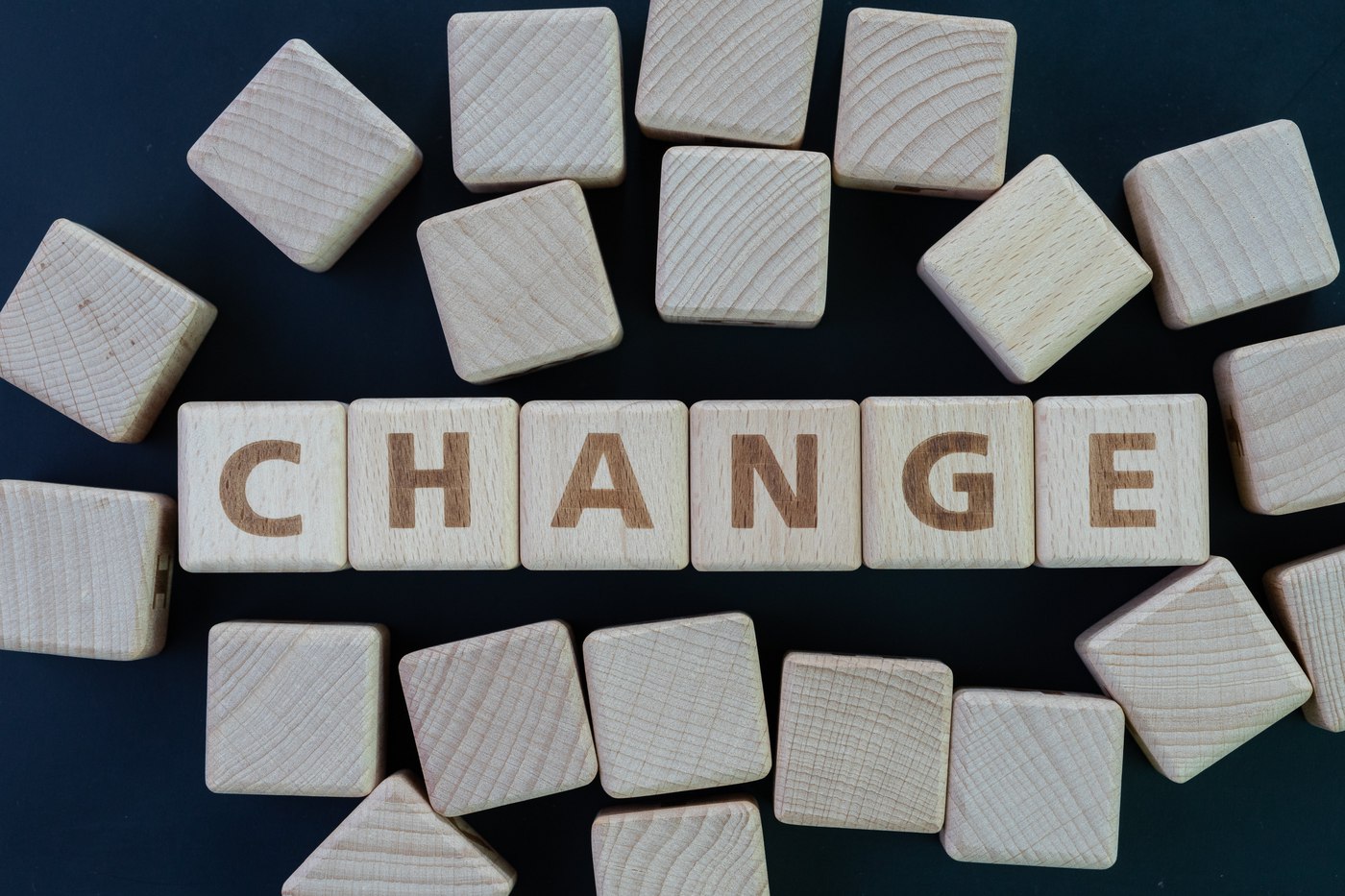 Subscribe
How to Help Teams through the Cycle of Change
It is common to take great care in the selection and implementation of new technology. Interactions between hardware and software are cautiously investigated; operating systems and network connections are carefully tested, and uptime on critical systems is painstakingly protected. But one very influential factor that is often overlooked is the natural and emotional reactions of people when things change. If people resist change, find ways to sabotage your efforts or become angry or withdrawn, it is unlikely that even the best technology strategies will have meaningful success.
Resistance to change is often a more troubling problem than even the most complicated tangle of technology. To make matters worse, rapid innovation in technology is forcing people to face change at an ever-quickening pace. As a result, most people automatically resist change.
How can you mitigate the negative effects of people's reactions as you implement changes in technology, processes, and workflow? One way to start is by understanding the Cycle of Change.
Resistance to Change is Natural
People facing change often go through a cycle of emotions similar to those experienced when faced with the death of a loved one. By understanding the "grieving" process people use to deal with change, you will be better prepared to lessen some of the potentially damaging consequences.
Consider this cycle of emotions that people are likely to experience when faced with change.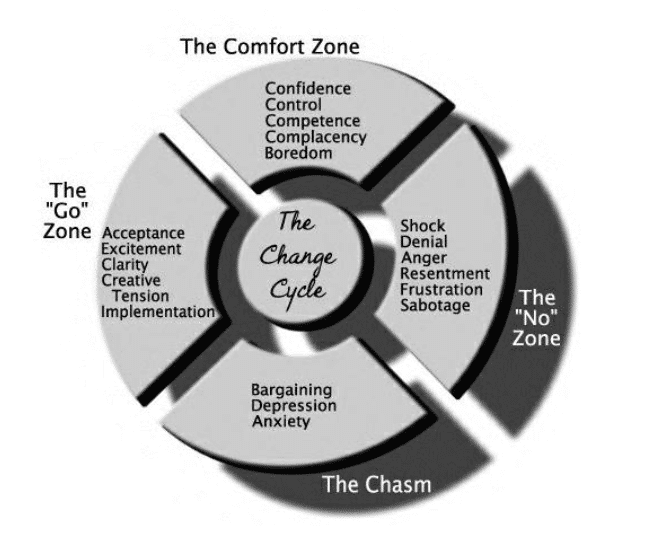 The Comfort Zone
"The Comfort Zone" is where people reside emotionally before dramatic change occurs. When people are in their comfort zone, they feel in control of their lives and work. Generally, they are happy and comfortable with the way things are. They are confident in their abilities and feel capable of handling whatever situations arise. Will you disrupt employees' comfort zones by changing the methods and routines of their work?
To assist you in the Comfort Zone:
Notice the situations in which you experience ease and comfort.
Notice the situations in which you experience stagnation and a lack of growth.
Create a development plan for the situations you want to change.
To assist others in the Comfort Zone:
Encourage creativity and cross-functional innovation.
Acknowledge, celebrate and reward success.
Plan for future changes.
---
---
The No Zone
"No!" is the common reaction of people who face departure from their comfort zone. The "No Zone" is the beginning of the end of the way things always have been and is characterized by several reactions. First is shock. People often become psychologically paralyzed at the news of change in their work-lives; and this affects their performance. Next is denial. It is not uncommon to hear comments like: "This won't affect our department," or "I give it six months and it'll pass." People may become angry, and a person who is angry affects everyone. Some of the anger people feel may manifest as resentment, frustration, or sabotage. People may resent you for upsetting their comfort zone. They may secretly envy those in charge and feel frustrated that their control has been eroded. They may become passive-aggressive and subtly sabotage efforts by doing nothing, hoarding information, or providing erroneous information. The "No-Zone" is an emotional phase and resistance to change is at its peak.
To assist you in the No Zone:
Identify the reality of the situation.
Acknowledge the losses you are experiencing.
Reframe "danger" into "opportunity."
To assist others in the No Zone:
Give information about the purpose for the change.
Provide a picture of the expected outcomes.
Listen to worries and fears.
The Chasm
People in "The Chasm" are people in limbo. They know they can't go back, but each wonders: "How do I fit in this picture?" You must help people to understand how they are a part of things. Do this with education and training, and by planning people-specific roles. It is imperative that you establish a vision for the future and communicate that. Now is the best opportunity to bring fence-sitters through the chasm to acceptance.
To assist you in The Chasm:
Discover what you want for the future.
Get necessary information and support.
Don't let the naysayers drag you down.
To assist others in The Chasm:
Communicate the vision for the future and where people fit in.
Create temporary procedures.
Create new ways for people to communicate and share information.
The Go Zone
The "Go Zone" is when everyone is truly on board and ready to go. If people have enough time and are given some help in working through the previous stages they eventually come to a feeling of acceptance with a certain degree of expectation. It is important to note that some people never reach the necessary stage of acceptance. It is imperative that those people who have been sitting on the fence, and unwilling or unable to get enrolled in the change, either get on board or get out. You and your sponsor must take determinative action or risk undermining the commitment of those who have already come to accept change.
To assist you in the Go Zone:
Take action on issues within your area of control.
Let go of what you cannot control.
Visualize yourself (positively) in the new paradigm.
To assist others in the Go Zone:
Clarify purpose and desired outcomes.
Involve the people affected by the change in planning and implementation.
Celebrate small successes; publicly recognize new ideas and how they have been implemented.
Moving Forward
People will go through this cycle at varying rates and their reactions will be dynamic – not a steady progression. They may skip certain emotional experiences or linger longer in some more than others. If you recognize and understand the emotional implications of change, as well as the technological hurdles that must be overcome, you will be more likely to bring about meaningful and beneficial change in your organization.