Change Management | Information Management
In my previous blog on change management, we examined the natural and inevitable cycle of change that people go through during times of change. We explored how resistance to change is often a more troubling problem than even the most complicated tangle of technology, and how project managers and systems integrators need to account for these human factors. Indeed, no matter how innovative new systems and technology are, or how thoughtfully we have put together our strategies, if people resist change and find ways to sabotage our efforts, it is unlikely that even the best technical implementation will have meaningful success.
Change Management | Information Management
It is common to take great care in the selection and implementation of new technology. Interactions between hardware and software are cautiously investigated; operating systems and network connections are carefully tested, and uptime on critical systems is painstakingly protected. But one very influential factor that is often overlooked is the natural and emotional reactions of people when things change. If people resist change, find ways to sabotage your efforts or become angry or withdrawn, it is unlikely that even the best technology strategies will have meaningful success.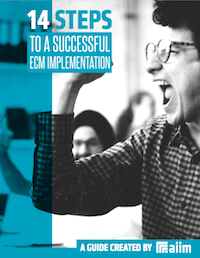 14 Steps to a Successful ECM Implementation
Making an ECM implementation successful requires planning and attention to detail. The best way to create the right solution is to identify organizational goals and priorities. Learn how to manage a successful implementation in our free guide.
Change is never easy and can be difficult and even down right frightening. A new process or technology being introduced can bring up thoughts of: How is this new process going to change what I do? Will the organization still need me with the new technology? The way we did this has worked, why should we change something that isn't broken?
Change Management | Electronic Records Management (ERM) | Enterprise Content Management (ECM) | Sharepoint and Office 365
Records and Information Management in Big Data By Dennis Kempner Organizations, both large and small, are burdened with a high volume of data to store. In order to efficiently run a company, important data must be accessible, manageable and easily retrievable. The phrase "Big Data" refers to information and data that is too large for companies to manage and process on their own. Big Data is valuable for companies in that it can help to determine and fulfill customer needs thereby maximizing a company's operational efficiencies. Companies with a lot of data need a team of professionals to manage this information. One effective solution to manage big data is Records and Information Management (RIM). Full article HERE - Records and Information Management in Big Data The importance of community management By Angela Ashenden A major area of debate and concern for organisations considering how to establish, grow and manage an online community is the importance of the community manager, and what exactly the role entails. As a general rule, every online community should be allocated a facilitator or community manager; while some communities will require more facilitation than others as they mature, this role is extremely important in the early days in order to encourage and stimulate activity and adoption, and to ensure the growing community remains focused on its primary objectives. Full article HERE - The importance of community management The Hybridization of EFSS and ECM By Chris Walker Consumer and enterprise file synchronization and sharing popped up because people needed a way to easily share and collaborate on business content. This gave rise to the "Dropbox problem", which is just stupid and ignores the real problem; organizations didn't provide their people with policies and tools that allowed them to get stuff done . Today there are plenty of options, consumer and business grade, that provide a cool experience with the security and controls that business and IT need. Organizations that haven't sanctioned business grade file sync and share are foolish and open to a world of pain. Full article HERE - The Hybridization of EFSS and ECM Email Management: Beyond Volume By Lisa Ricciuti Working as an information management consultant I have definitely developed a new appreciation of email management challenges. Prior to consulting, I spent most of my time focused on what appears to be the biggest problem, volume. However, I now have a new understanding of the complexity involved with email management. There is no single "magic-bullet" solution that will resolve all the challenges. Most of the professional resources I read about email are focused on volume, how to manage it, and how to capture business records. When I think about the email problem and how it impacts my clients, the volume is really just a symptom of something much more. Full article HERE - Email Management: Beyond Volume Why PDF/A should matter to you By Jose Machado One very important part of any Information Governance strategy is how long documents need to be kept in the organization, before being destroyed. These rules are influenced by various aspects, such as local legislation (retention period required by law), technical limitations (how much storage space is available), business factors, etc. Retention periods can be very long. Some examples in the UK: Human resources medical records must be kept for periods up to 40 or 50 years, in some situations. Government records (for building, accounting, health & safety, etc.) retention obligations are seldom under 10 years. Full article HERE - Why PDF/A should matter to you People are at the Center of Change By Christian Buckley Why is change so difficult? From an administrative perspective, it can mean giving up control, and letting go (at least that's the perception). It may also be a recognition of the gap between the philosophical idea of allowing people to manage their own sites and content, and the reality that, in general, these unmanaged environments are messy (especially when you later upgrade or migrate). Collaboration itself can be a difficult concept for people to embrace. It takes time to incorporate new tools and processes into your corporate culture, and many of the exciting new features that convinced your management team to adopt a technology may be counter-intuitive. Full article HERE - People are at the Center of Change Mid-Year Market Summary from A SharePoint of View By Mike Alsup This post summarizes market developments in the SharePoint, Office 365, and ECM ecosystems over the last quarter. I was fortunate to attend a variety of events recently, including the Microsoft Worldwide Partner Conference (WPC), and events hosted by AIIM, Lexmark, Nintex and the DLM Forum in Europe. Microsoft continues to strengthen its mix of products with Windows 10 and EMS for iOS and Android. They made a number of acquisitions this quarter that aimed to provide a more capable Office 365 and Azure environment that equally supports Windows, iOS and Android. At WPC, they said that their EMS software which manages multiple BYOD devices has been growing. Full article HERE - Mid-Year Market Summary from A SharePoint of View ----- ----- And more! 11 Cool Quotes About Big Data Who the heck cares about content analytics, anyway? 6 Must Knows About Content Analytics
AIIM Conference | Change Management | Information Management
[ This is a guest post from Neale Stidolph, Head of Information Management, Lockheed Martin UK. Neale will be speaking at The AIIM Conference in San Diego on Information Management in the Oil & Gas Industry. ] People often seem to think oil & gas companies are leading-edge and have enough money to invest in whatever systems they like, and that they live in a World of 3D models, data and analytics. The real picture is often very different. Exploration and production companies, who search for and extract hydrocarbons, see information systems and information management as something necessary but not something that excites the interest of the board. Data is certainly much in evidence, but information overall is not treated as 'the new oil' by the industry. Much of the focus on data is within the geoscience discipline, from the creation of seismic surveys to reservoir modelling and interpretation. The techniques have changed a bit, but mostly we see increases in resolution, frequency and speed of analysis. This clearly improves the odds of making a discovery and reduces the financial risks of drilling. Engineering is the domain where there are pockets of data and certainly plenty of systems and methods that could help, but it isn't working very well for many businesses. Most oil companies do not achieve data-centric engineering and do not practice engineering lifecycle management, though they may believe their engineering contractor does this form them. Records, drawings, specifications, datasheets and other documents are variously controlled, uncontrolled, lost, out of date, duplicated, rendered and generally not in an acceptable condition or one that can be used to advantage. The data is there, data which could provide for faster, less risky and cheaper engineering projects. It is not readily available in the right form, cannot always be trusted and spans incompatible systems often involving several firms in the oil supply chain, with inconsistent or missing metadata. Value is being eroded or destroyed and opportunities are being missed. In most other sectors that would be game-over, and tragically in some cases we see fatal consequences. Why does it persist in oil? Because the industry has been profitable enough to be inefficient and just works around the problems. So, what's the issue? Nothing stays the same and what worked in one era may not work in another. The current oil & gas business environment is very challenging. It is tough enough finding and exploiting reserves, be it oil sands, fracking, high-pressure / high-temperature, deep water and often unstable geopolitics. Add to that the problems of huge swings in oil price, fast-rising costs and falling production volumes in mature provinces and you have a perfect storm. The sector is challenging with huge projects and lots of legacy information changing hands over the life of assets. The digital age is suffering from rising information chaos, scale of growth and pace of change. A documents and records approach is only partially working and does not support easy use of underlying data. Data is the key to analytics and better decision making. This will be the future as resources diminish, risks rise and returns fall. 1. Tackling legacy information Oil feels like a modern industry but it is one that has existed through a time of great technological change. We have gone from drawings made with pen and paper, to primitive CAD systems, smarter systems with 3D capability and engineering data warehouses. Many firms are holding information spanning these technical generations, archives of paper, microfiche, scanned image files and a range of electronic files or tape media some of which were made by systems that no longer exist, so can't be easily opened or converted. Value still exists but you have to know where to look and how to do it. Legacy projects can take many years and be very labor intensive and that will not suit the board. If you are in a firm that acquires an oil field from another firm you should expect a very large and diverse range of information and are unlikely to be given much guidance or structure. That presents a major risk. This first phase is about discovery, what do you have, in what forms and what are the areas of greatest value? 2. Mining data from documents Once there is an appreciation of what documents or drawings to target it is time to get tactical and deploy appropriate techniques that will make them more useful. Common safety-critical documents include piping and instrumentation diagrams (P&IDs), isometrics, and line lists. If you are working with a scan you can use OCR, but it isn't easy to do well, you may need to have it re-drawn or at least manually checked by someone with appropriate engineering or document control skills. That takes time and money. You will also need to validate if the drawing version control is correct as drawings are often marked up for changes but never re-mastered or 'as-built', sitting in backlogs that can last years. You will also need to look at current processes to make sure appropriate data capture exists for new drawings, otherwise your legacy stack will just increase. What we are looking to do is relate engineering objects, such as a pump with a tag number, to drawings and other documents. We would also then like to know what class of pump it is, details of its technical and physical features and have the ability to link all that to a maintenance plan and spare parts inventory. This will all support safety cases and ultimately the license to operate. Poor asset lifecycle management will lead to issues such as poor handover from projects to operations, where gaps in information will cause delays, extra costs and inefficiency. We must remove the problems that are leading to duplicated effort and costs. 3. Using data analytically This is where the action is, where we get the real returns for all our efforts. Much of the labor of information management is about governance, or in other words building a stable foundation for our information. That is a tough and thankless task. Many fall short of even this level of maturity. It is not a popular line to pursue for the CIO, he won't be making friends. So, we answer it with analytics. Show the business the money to be saved, risks avoided and improved decision making. From the previous example of our pump, analytics can ingest all forms of information concerning this single item. We can use inspection reports (free text), maintenance systems (database), sensor readings (real-time data), images and more. What do we get? Historical analysis and future prediction. We could just replace that pump after a number of hours use as per manufacturer guidelines, but what we really want to do is know exactly how it is performing, how best to manage it and the most cost-effective yet safe way of proceeding. The benefit across an oil business may result in a few percent savings in operations and maintenance. Sounds small? Given that this is often the largest area of expenditure for the business the savings can be very large indeed. One day of lost production can cost millions of dollars. Skilful information management can play a leading role in improving production efficiency and delivering competitive advantage. It all hinges on digging into the data and being smart. My AIIM 2015 presentation will cover the range of points made in this blog and provide some practical suggestions on solving them. [ Thanks for reading! See Neale and many other wonderful speakers March 18-20 at The AIIM Conference 2015 in San Diego. ]
AIIM Conference | Change Management | Information Management
[ This is a guest post from Laurie Fischer from the Huron Consulting Group. Laurie will be speaking at The AIIM Conference in San Diego on Change Management. ] Change permeates and envelopes us, and is the one constant in our lives. Think of all the workplace changes in just the past few years related to how we create, use, share, retain and dispose of information. Our ever-increasing need to collaborate and communicate, to analyze and innovate, and to "be mobile" has led to sometimes massive change to existing technologies as well as new solutions that enable us to attain our objectives. Since change is inevitable, then why is the lack of managing that change the number one reason technology projects fail? The oldest and strongest emotion in mankind is fear, with fear of the unknown topping the list. So perhaps it is fear of the unknown that is behind the failure to adopt, accept and enable change. Often, change management efforts focus on process changes, and training employees on those revised processes required by the implementation of new technologies. There is so much more to change management, however, than a training plan and a communication protocol. Where change management is really needed is on the "people side" of change. What are some obvious signs of employee resistance to change? Decline in productivity as employees feel de-motivated Key employees get frustrated and quit Work-around's (often very creative!) escalate A culture of failure grows and employees ask themselves "why bother?" Deterioration in morale and employees spend a lot of time sharing in the misery A mistrust of management and leadership due to a lack of transparency and availability Employees proactively try to sabotage the system Let's look at the other side of the coin now, where change is embraced and integrated. The impact to the bottom line can be significant. Adapting to change (and doing so quickly) in response to marketplace needs or technology innovation can result in a competitive advantage, increased market share and profits. Organizations that refuse to change get left behind. Of course, not all change management efforts are the same. The magnitude of the change (type, scope, size, number of employees affected, etc.), the potential resistance, and a vision of what the change will look like are all significant factors in determining the complexity of a change management strategy. An initial impact analysis will help define the capacity for change. However, if there is one key critical success factor to all change management initiatives, it is the clear demonstration of leadership support. Is there a leadership team that is accountable for the success of the change? Do leaders invest their personal time and attention to following through on actions related to the change? Come join me at AIIM where, straight from the trenches, I will share real life examples of successful change management efforts as well as epic failures. We'll investigate the winning formula for successful integration of change into the organization – whether it's a change in information management roles and responsibilities, process and procedures and / or technology. Incorporating key change management principles will increase the success of change management initiatives by applying a structured framework of methods, tools and processes, to manage the change from current to future state, and realize real ROI.