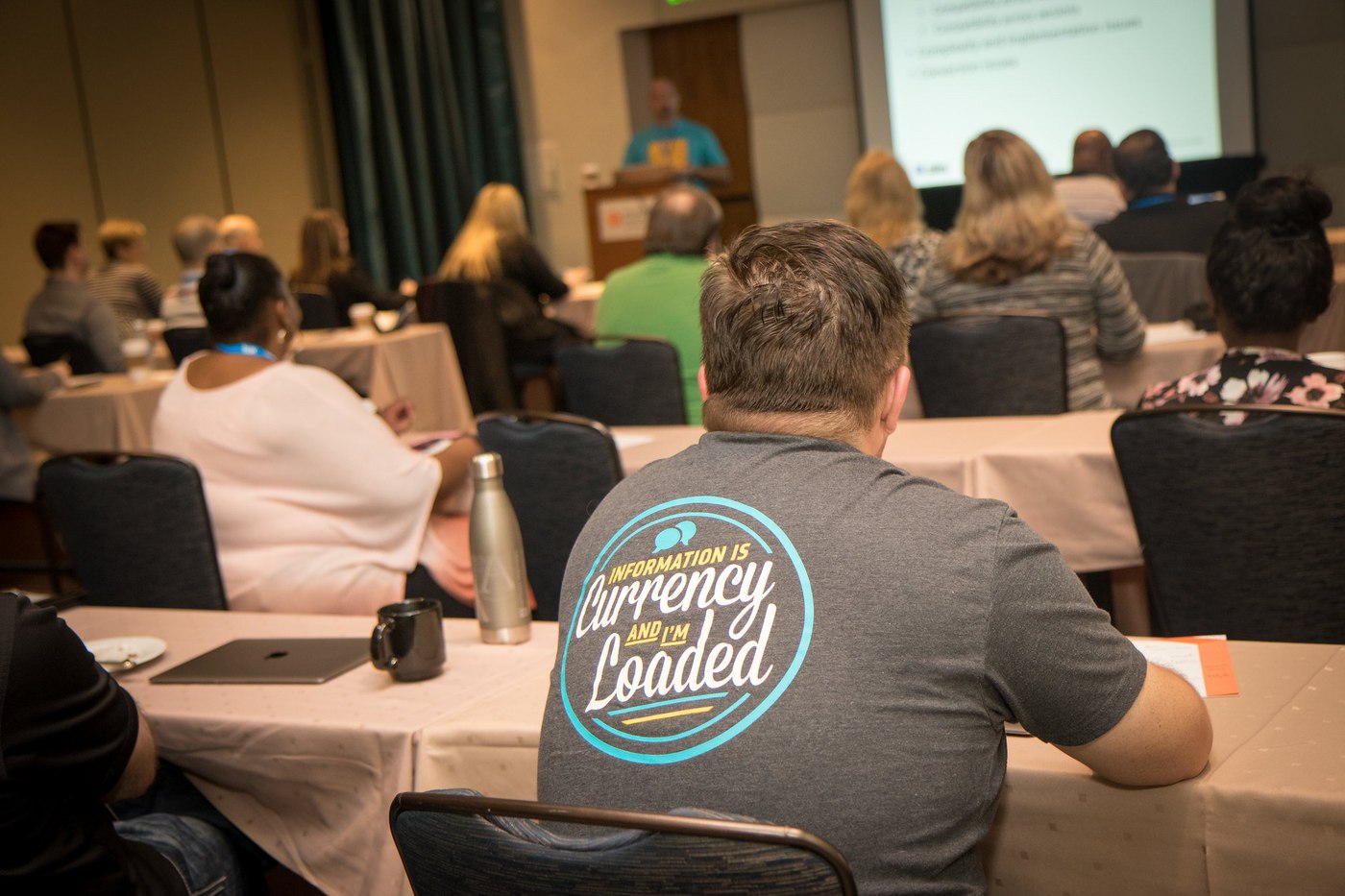 Subscribe
AIIM's Information Management Training - Cost, Options, and FAQs
Intelligent Information Management (IIM)
In several posts, we've talked about professional development options for information management professionals and provided guidance on how to determine whether a particular course or certification is a good fit. For the most part, we've stayed away from blogging about AIIM's training for two reasons.
First, we wanted these blog posts to be informative and insightful, rather than be perceived as self-aggrandizement. And second, we figured that most people reading these posts would already know AIIM's offerings.
It turns out that that's not the case. We regularly get questions about AIIM training – what course is right for a particular person, role, or circumstance, what the courses cover, what they cost, etc. So we thought it might be of value to do an overview of AIIM's training offerings.
When Did AIIM Start Offering Training?
AIIM training has a long history, going back to 2001 when AIIM developed the Fundamentals of ECM System Implementation course. But we didn't truly formalize our educational programs until 2006, when we released the AIIM Enterprise Content Management (ECM) and Electronic Records Management (ERM) courses.
Since then, we've developed dozens of more courses – some broadly targeted and successful, some of more narrow interest, and some that, well, for whatever reason, just didn't hit the mark. You may not know that we had developed a 4-day Email Management class in 2008 or a 2-day Social Media Governance course in 2011. Unfortunately, they were not successful – apparently, we were a little bit ahead of our time in our thinking.
How Often are AIIM's Training Courses Updated?
As processes and technologies change, so do our courses. We try to update our courses every three to five years to ensure they remain relevant to current standards, processes, technologies, and, ultimately, business outcomes. Sometimes a course becomes so dated that we simply retire it and move on.
In October 2021, we relaunched our training program, and every course was completely updated and redesigned. We did this to ensure the content was relevant and the delivery of the courses followed modern learning best practices to give our students the best possible experience.
An Overview of AIIM Training in 2021
Today, we offer a number of courses, each focused on different aspects of information management and targeting different roles and perspectives. In this post, I'll provide a brief rundown of what we offer today. You can always find additional details on specific courses by going to AIIM's training page.
For Individuals: AIIM+ Pro

In the past, you had to purchase each of AIIM's training courses individually. The cost of each course was between $299 and $1,499, and the time commitment ranged anywhere between 4 and 26 hours. Those days are now long gone!

With the launch of AIIM+ Pro, you can get on-demand access to all of AIIM's training for as long as you want and need.

When we launched in October 2021, we started with 19 courses:

How to Capture Digital Documents
How to Conduct a File Share Cleanup Initiative
How to Conduct a Successful System Migration
How to Conduct a System, Information, and Process Inventory
How to Create and Nurture a Digital Workplace
How to Decommission Legacy Systems
How to Determine The Appropriate System of Record
How to Develop a Data Privacy Strategy
How to Develop a Digital Preservation Strategy
How to Develop a Digitization Strategy
How to Develop a Migration Strategy
How to Develop a Multi-Channel Capture Strategy
How to Digitize Paper Documents
How to Improve Information Security
How to Improve the Document Collaboration Process
How to Manage and Automate the Retention and Disposition of Information Throughout Its Lifecycle
How to Manage Email Effectively
How to Manage Legacy User Information Stores
How to Select the Right File Formats to Meet Business Needs
With new classes being added every month!

Each course focuses narrowly on a single task, process, or business problem information professionals are responsible for.

Your subscription also includes access to AIIM's online forums and dozens of members-only workshops and meetups every month.

Cost: $490 per year (or $49 per month)

For Teams: Intelligent Information Management Mastery

IIM Mastery is an intensive 12-month learning program for teams comprised of leadership coaching and instructor-led team training to help you master the essential elements of your information management strategy.

Your team's personalized learning plan consists of six steps:

Step 1: Strategy Session with Your Coach
Once you begin working with your coach, you'll define the outcomes and milestones that your specific business needs to hit and start to address the root causes of your current challenges. This will ensure that your entire team is aligned as you move forward.

Step 2: Develop a Learning Plan
Your coach will then develop a customized learning plan for your team that aligns with your organization's needs and priorities.

Step 3: In-person or Virtual Workshop
Your coach will host a workshop for your entire team to hone their skills and align their efforts with your organization's information management strategy.

Step 4: Interactive Progress Check-ins (30-Day and 90-Day)
Two interactive meetings with your whole team of students focused on answering the questions specific to their learning. Your coach will ensure your team's understanding of the material, benchmark where they are in their educational journeys, and facilitate a Q&A to answer any questions they might have.

Step 5: Intelligent Information Management Mastery
By this stage, our goal is for your team to demonstrate complete mastery of the Intelligent Information Management methodology. You should see a significant improvement in your organization's performance from the transformation of the way you manage your information.

Step 6: Sharpen the Saw
As Stephen Covey says in his famous book, The 7 Habits of Highly Effective People, you must keep your skills sharp. The IIM Mastery comes with a one-year subscription to AIIM+ Pro, so your team can continue learning about information management and fill any gaps in their skills.

Cost: $14,500, plus $300 per student
Which Training is Right for Me?
When we say our mission is to help you solve your information-driven business challenges, we mean it. We really do believe information is your most important asset and that there are best practices that can be applied to manage information in support of business outcomes. AIIM training is based on industry standards and best practices and is broadly applicable regardless of industry sector, geography, technology, or solution provider.
There are a lot of other great training providers in the marketplace as well. You should always look closely at any course and training provider you choose to move forward with to ensure that both will meet your needs and help you to improve your organization's business outcomes.