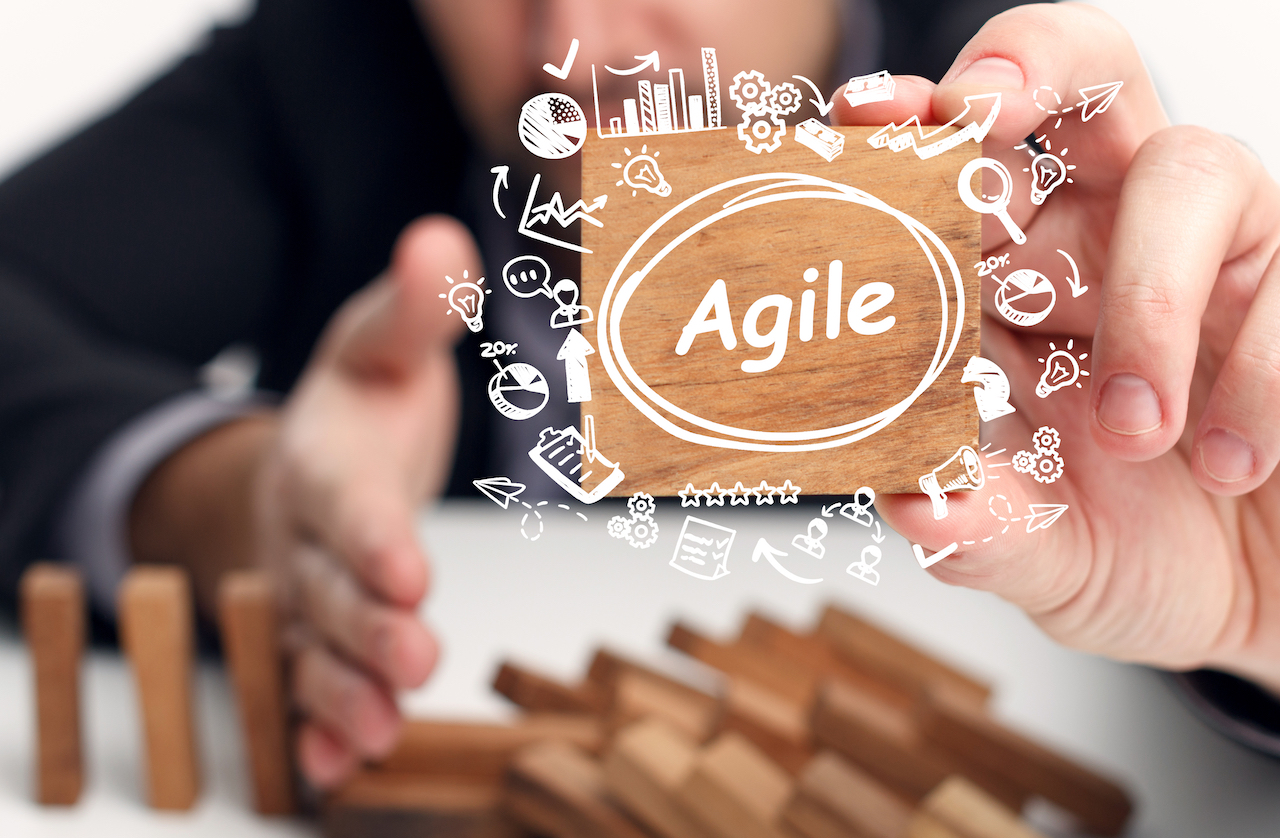 Subscribe
[Podcast] Doing Agile Right - Transformation Without Chaos
AIIM on Air | Digital Transformation
We hear a lot about "Agile" as a way to manage change and spur innovation. But what exactly is Agile? And how can we use it to make a difference? That was the topic of our AIIM On Air interview with Darrell Rigby. Darrell leads Bain & Company's Global Innovation and Agile practices and is the co-author of "Doing Agile Right." He's a frequent speaker and writer on innovation and Agile, and has appeared on CNBC, CNN, and Bloomberg, and has had his research published in Harvard Business Review, the Wall Street Journal, and the Financial Times.
"Executives are naturally gravitating toward many Agile principles and practices," says Darrell. "The reason is because Agile is about adapting to change rather than following obsolete plans." Indeed, according to GoRemotely, 71% of companies are adopting Agile approaches, and 80% of CMOs have noticed an increase in productivity as a result.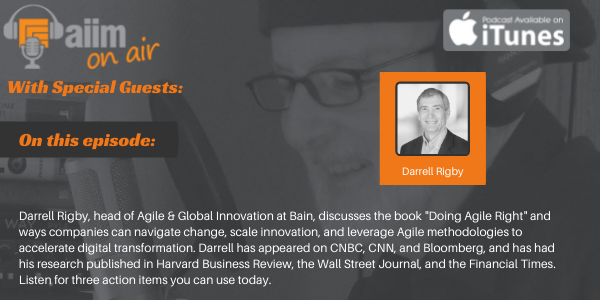 While many organizations have some form of Agile process in place, Darrell says practice maturity and adoption remain a work in progress, especially when it comes to C-Suite perspectives and leadership. "Success often depends on shifting management principles and practices from traditional predicting, demanding and controlling, to ones focused on learning, and adapting, and unleashing people's potential."
How can you make the most of your efforts and do Agile right? Darrell discusses three best practices in depth. Listen to the complete interview here. But for now, consider these tips:
Prioritize and sequence your actions – "Pick the things that will have the greatest impact. Test and learn. And then move on to the next thing," says Darrell. "This technique will triple the productivity of any team."
Learn and adapt – "Agile breaks big complex problems into smaller problems to enable rapid learning and adaptation," says Darrell, who suggests that we take a small part of innovation, develop a solution to that piece, test it, and adapt from there.
Capitalize on collective intelligence – Darrell explains that collective intelligence capitalizes on the power of diversity in teams. "In innovation, we need diverse areas of expertise and diverse ways of thinking and that it all works together."
One of the myths is the idea that Agile can reshape an organization all at once or that it should be used in every function and for all types of work. But it is important to scale Agile properly in order to reap its full benefit. Listen to Darrell Rigby below for more advice and best practices for your success using Agile methodologies to accelerate innovation and digital transformation.