Following on from our previous article where we identified how digital disruption is breeding new roles in the project and business landscape. We are now going to focus on the hands-on Digital Project Sponsor.
digital transformation, | information security | legal | paperless | podcast | privacy
No, you read that title right – seventy THOUSAND boxes of paper in the highly restrictive environment of legal services. That's what Susan Gleason, Manager of Records and Information Governance at Shipman & Goodwin and her team were up against.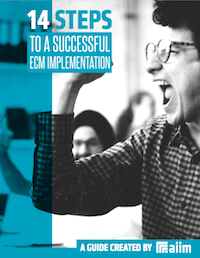 14 Steps to a Successful ECM Implementation
Making an ECM implementation successful requires planning and attention to detail. The best way to create the right solution is to identify organizational goals and priorities. Learn how to manage a successful implementation in our free guide.
Artificial Intelligence | digital transformation, | machine learning | training
Disruptive Technologies are changing existing landscapes Technology has had a profound impact on the business world. Simply walk into any business, no matter the size, and you will see the prolific adoption of technology. Digital project boards, virtual teams scattered across the globe; are all indicators of business reliance on this "fourth industrial revolution." From industry data and anecdotal evidence, this tech utilization is on an exponential increase.
automation | digital transformation,
Life for the owner of a startup can be stressful and filled with rapid-fire choices that can hobble progress and add an undue burden. Luckily for startup owners everywhere automation has become a ubiquitous technology and is innovating in the business sector every day.
digital transformation, | digitization | robotic process automation | rpa
Our third and final installment of our virtual event sneak peak is here. We are so close to unveiling "Going Digital: Strategies for Digitalizing the Enterprise"! Take a look at what you can look forward to:
digital transformation, | digitization | robotic process automation | rpa
This is the next installment of our sneak peak posts in anticipation for our virtual event, "Going Digital: Strategies for Digitalizing the Enterprise". Here's what our speakers had to say: