AIIM on Air | Electronic Records Management (ERM)
It's no secret that the business landscape is changing. Here at AIIM, we've talked a lot about how the volume, variety, and value of business information has - for lack of a better term – exploded in recent years. According to our research, the volume of business data is expected to go from X to 4.2X in just the next two years! As the volume, velocity, and variety of enterprise information continues to grow, so does the need for well-thought-out and evolving strategies for records management.
AIIM on Air | Intelligent Information Management (IIM)
Quick disclaimer - if you stumbled onto this page because of an errant keystroke like I had when looking for a suitable image for this post and were actually looking for "The Best PodCATS"...without further ado, I bring you the best "podcat" I could find: But, if what you're really interested in learning about are the best podcasts on the topic of information management; then, you're in the right place. Since it's release, the AIIM On Air podcast has had over half a million downloads, averaging around 10,000 downloads per month. We work hard to deliver these 25-minute episodes exploring the methods, technologies, processes, and people on the front lines of information management. But, despite putting out two new episodes per month, we still get people asking for more. So, for those podcast bingers out there looking for more, we thought we would put a list together of our favorite information management podcasts to help keep your ears happy on your commute, at the gym, or anywhere else you listen to them. (*Note: To keep it neutral, we're using the listener ratings on Apple Podcasts.)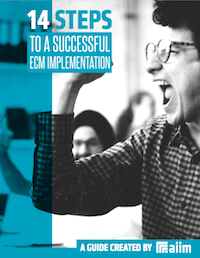 14 Steps to a Successful ECM Implementation
Making an ECM implementation successful requires planning and attention to detail. The best way to create the right solution is to identify organizational goals and priorities. Learn how to manage a successful implementation in our free guide.
AIIM on Air | Paperless Office
The dream of going paperless has been on the minds of businesses of all sizes and industries for years. The idea is simple - minimize the use of paper to reduce costs and carbon footprint while at the same time increasing operating efficiencies and profitability. But just because a concept is simple doesn't mean it's easy to implement. And so for many, the dream of a paperless office continues to be just that…a dream.
Connecting with peers in your industry can be one of the most valuable uses of your time in terms of return – both on a business and personal level. It's a great way to keep up-to-date on industry news and trends, thought-leadership, and special events. But, it's also a great way to share knowledge, help or be helped with a project, and make new friends.
On this episode of the AIIM on Air Podcast, you host Kevin Craine continues the "I Am AIIM" interview series with a look at Intelligent Information Management (IIM) in the Transportation industry. What are the challenges and opportunities with IIM in this industry? To find out, Kevin met up with two AIIM Members coming from completely different perspectives of the industry – public sector and private sector.
On this episode of the AIIM on Air Podcast, your host Kevin Craine dives into the world of Intelligent Information Management in the Utilities Industry continuing the series of "I Am AIIM" member interviews. Kevin chats with two AIIM members from the Utilities Industry – Joanna Hammerschmidt, an Information Management Coordinator at a public water utility in Kansas City and John Daly, an Information Governance Manager for the Metropolitan St Louis Sewer District.