AIIM on Air | Intelligent Information Management (IIM)
The workplace in 2021 will demand a different set of skills. Now more than ever, organizations need to embrace disruption as a springboard for competitive advantage and adopt new ways of working that invigorate organizational performance.
Over the past several years, I've had the pleasure of interviewing hundreds of guests for AIIM On Air. It never fails to impress me that the level of knowledge and leadership among AIIM members and supporters is the best in the business. Each month we cover a variety of topics – from the latest in automation and innovation, to pressing and emerging challenges and opportunities that tell the story of the current state of IIM today.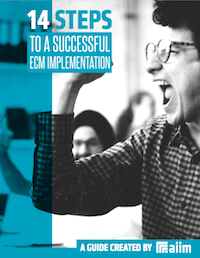 14 Steps to a Successful ECM Implementation
Making an ECM implementation successful requires planning and attention to detail. The best way to create the right solution is to identify organizational goals and priorities. Learn how to manage a successful implementation in our free guide.
AIIM on Air | Accounting and Finance | Low-code Development Platform
It's no secret that the continuing coronavirus pandemic has disrupted businesses everywhere, and the financial services industry is no exception. Indeed, the financial services industry is at a tipping point—either disrupt or get disrupted. Even before Covid-19, many areas within banking and capital markets were already experiencing serious existential threats. The industry is being transformed. What is the future of the banking industry in 2021 and beyond?
AIIM on Air | Digital Transformation | Enterprise Content Management (ECM)
More and more records managers in state and local government operations tell me that their job is changing. In addition to stacks and stacks of scanned files, and a confluence of different types of electronic files, the inclusion of audio and video records are becoming more and more common. Indeed, many managers now must capture, store, and manage things like audio from 911 dispatch, police camera footage, and other documentary evidence that fall outside the typical scope of "records."
AIIM on Air | Digital Transformation
In this episode of AIIM On Air, I speak with Sue Trombley, Managing Director of Thought Leadership for Iron Mountain. We discuss the biggest impacts on the workplace from Covid-19 and the challenges and opportunities of the new normal of business today.
AIIM on Air | Machine Learning
In this episode of AIIM On Air I am joined by Greg Council, VP Marketing and Product Management at Parascript. Greg is a member of the AIIM leadership council and an expert in digital transformation using tools like advanced data extraction, taxonomy, and search.