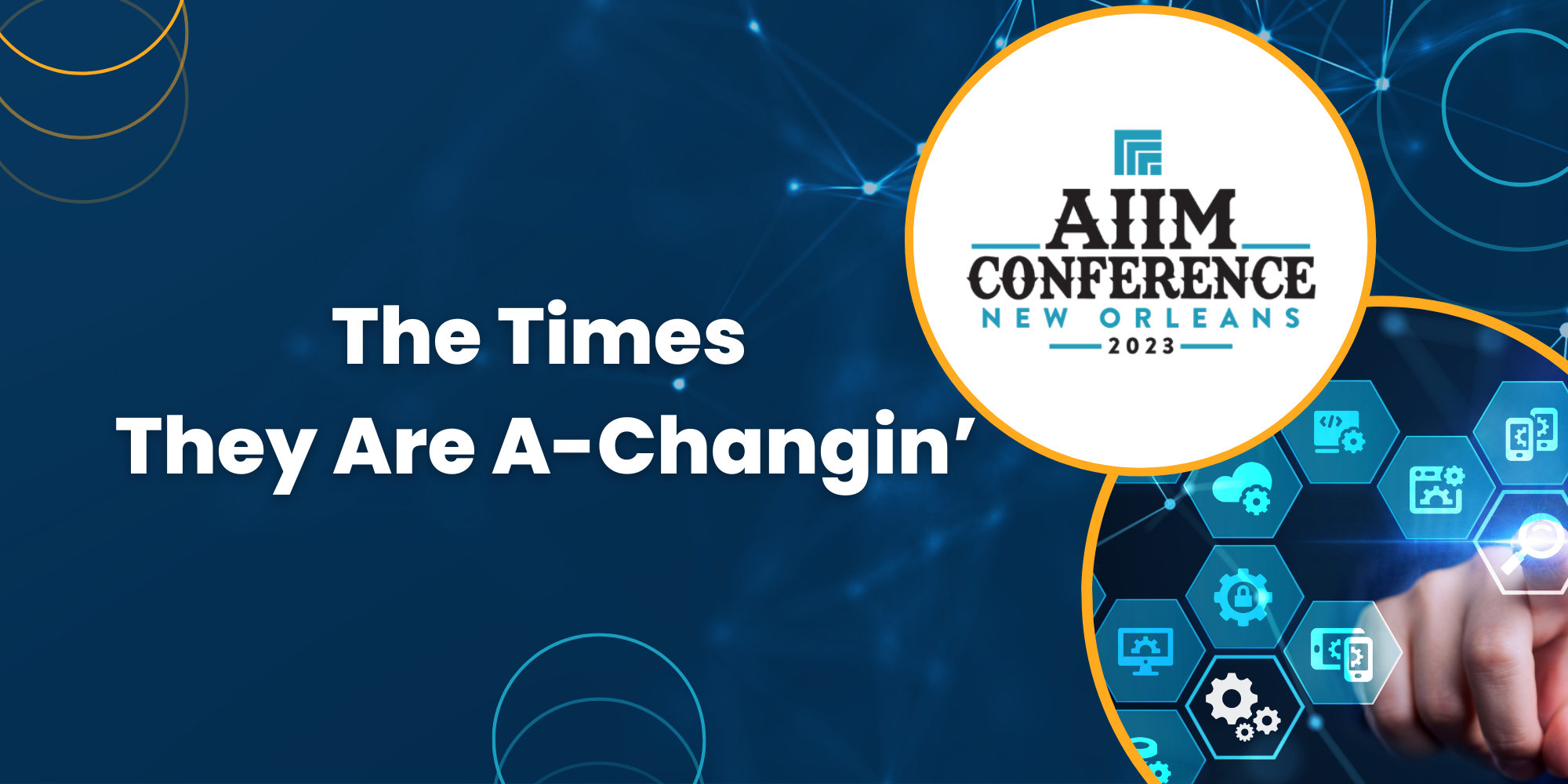 Subscribe
The Times They Are A-Changin'
AIIM Conference | AIIM Community
Then you better start swimmin'
Or you'll sink like a stone
For the times they are a-changin'.

When Bob Dylan wrote his famous song "The Times They Are a-Changin" in 1963, it was an anthem for the era and the civil rights movement. Dylan's ageless lyrics still resonate today as we navigate political, economic, societal, and technological changes.
The information management industry is also undergoing pivotal change due to AI, increasing information chaos, emerging workplace trends, and changing demographics.
Explaining the Sea Change in Information Management
As I've talked to members and read through our research, there are four trends that I believe have the largest impact on the future of information management:
Age of Artificial Intelligence.

We are now fully in the age of Artificial Intelligence, with AI set to become even more prevalent in our lives and profession going forward. According to Global Market Insights, between 2022 and 2030, global enterprise adoption of AI is projected to grow at a compound annual growth rate of 38.1%.
Increasing Information Chaos. We are also managing more information than ever before. Close to 80% of respondents in the 2023 AIIM State of the Intelligent Information Management Industry Report agreed that technology usage is driving the vast volume, velocity, and variety of information flooding organizations.
Emerging Workplace Trends. Remote work and hybrid work have fundamentally changed information security and governance. Gallup reports that 59% of employees would prefer a hybrid workplace.
Changing Demographics. The demographics of the workforce are also changing. Generation Z (people born between 1997-2012) will account for 30 percent of the U.S. civilian labor force by 2030, according to the U.S. Bureau of Labor Statistics. Yet, eighty-six percent of survey respondents to the AIIM State of the Industry report were over the age of 30.
Navigating the Sea Change at #AIIM23
It's undeniably a lot to navigate. I believe the balm to chaos is resiliency, and we, as an industry, are more resilient through a commitment to continuous learning, foresight, and diversity.
At the 2023 AIIM Conference in New Orleans, April 25-27, we are embracing these principles.
Continuous Learning
You'll have access to 65 immersive sessions designed to equip you with the knowledge and skills you need to thrive in the ever-evolving information management industry. Sessions cover the five pillars of the Certified Information Professional exam, and each session maps to a pillar. Pro Tip: the conference is a great way to prepare for the CIP exam!
Foresight
In our first keynote at the conference, you will also hear about the importance of using foresight to develop sustainable strategies for our future. Throughout the conference, there are also sessions on important emerging technologies and trends, like artificial intelligence, machine learning, and ethics.
Diversity
Finally, diversity is critical to the longevity of our industry and AIIM and innovation. Thirty-seven percent of this year's speakers are women. We also are hosting three delegations of students from local universities. Throughout the conference, we are encouraging diverse voices and perspectives into the conversations.
Stronger Together
By staying committed to continuous learning, foresight, and diversity, we can navigate the sea change and emerge even stronger. This conference provides the perfect opportunity to expand your knowledge of information management best practices, hear the latest trends and forecasts, and connect with a diverse community of passionate professionals.
The other key to resilience is community and knowledge sharing. Together, we are stronger and better equipped to navigate the ever-changing landscape of information management. I look forward to meeting you in New Orleans and seeing what we can achieve together!