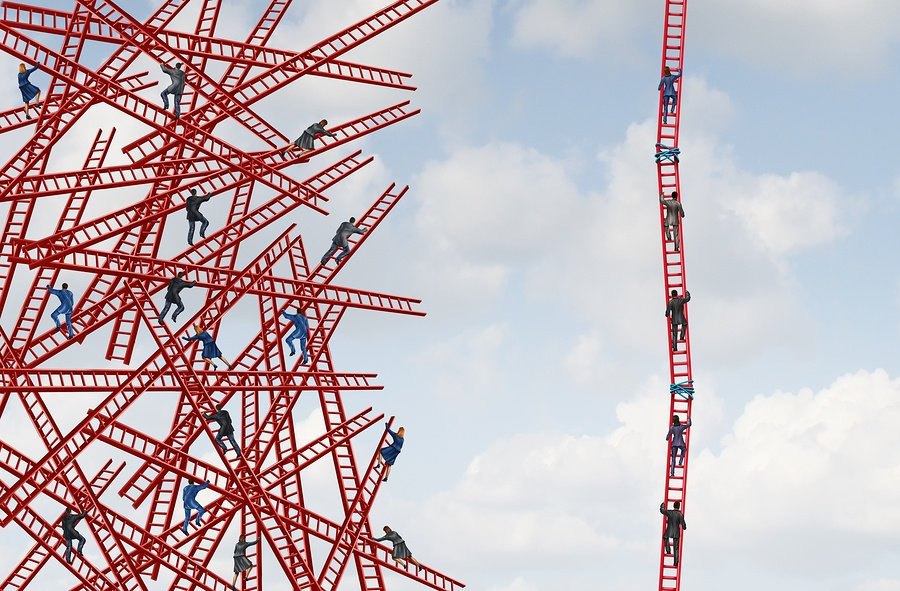 Subscribe
9 Ways Uncontrolled Information Stands in the Way of Your Digital Transformation Plans
Intelligent Information Management (IIM) | Digital Transformation
Most organizations are on some sort of Digital Transformation journey. Everyone wants it. But what exactly is it? And how do you get there? How can you navigate the changes Digital Transformation brings while staying focused on business growth? How do you avoid disenfranchising employees and losing customers to more digitally savvy competitors?
There are TONS of Digital Transformation conferences for C-Suiters. Every C-Suite executive worth his or her salt has gone to an executive seminar over the past few years, heard a presentation on "Digital Transformation," and come back to their organization with a mission to do "something" about Digital Transformation.
In the Hype Around Digital Transformation Continues, Manish Bahl describes the challenge facing many executives as they struggle to turn Digital Transformation wishes into Digital Transformation reality:
"I believe leaders are already overwhelmed and probably confused by the hype surrounding digital. They are still trying to separate the signal from the noise. If you were to ask 20 executives, "What is digital?" you would receive 20 different responses based on each individual's understanding of the structure of digital organizations, their vision, and culture."
One reason that Digital Transformation initiatives fail – along with their second cousin, Big Data initiatives – is that the raw materials for these initiatives – content and data – are simply out of control. So before gathering the senior staff for an executive retreat at some fancy resort to discuss a visionary Transformation agenda, organizations should look at the current state of information management in their organization and take concrete steps to bring information under control.
Here are nine things you need to know.
1. Paper is still a problem.
The reality for many organizations is that uncontrolled information – and especially paper -- still has a stranglehold on day-to-day activities. Many tasks requiring review and approval still require physical interactions with paper-based information. Paper is still with us despite everything - only 43% of organizations say paper is decreasing in their organizations. 65% of organizations say they are still "signing" on paper.
2. Scattered, non-integrated repositories are all around us.
AIIM reports that 52% of organizations have three or more ECM/DM/RM systems and 22% have five or more systems. The problem is even more challenging at the largest organizations, with 38% reporting more than five ECM/DM/RM systems in operation. Of course, the information that is officially in ECM/DM/RM systems is only part of the information management story in most organizations.
3. We are in the middle of a generational transition in content management technologies.
A new generation of content management solutions is hitting the marketplace. This has created pressure in many organizations to take advantage of these solutions. However, given than most ECM solutions perform a mission-critical function, simply yanking them out and replacing them is not a decision to be taken lightly. Forrester notes, "Most organizations struggle with migrating legacy content from old ECM systems."
---
---
4. Single-purpose SaaS silos are popping up everywhere.
The SaaS revolution started by Salesforce – making enterprise-grade process automation available to companies of all sizes – is still in its early stages. The "business" now has the power to implement single-process solutions – often without a lot of IT involvement. While this eases immediate process pain, it also raises long-term questions about the availability of content assets for processes outside of the target SaaS application. Most processes connect with other processes, and most content assets are needed in more than one process.
5. We need new approaches to content and information management problems.
On the one hand, as organizations make their plans for the next 18-24 months, they can clearly see the attractiveness of cloud content management solutions and the imperative of making these solutions a more important part of their infrastructure. On the other hand, they likely have older legacy ECM systems – likely multiple systems – performing critical functions that can't just be turned off without suffering lots of business disruption.
6. The worlds of data and content are converging.
For over two decades, these disciplines of content management and data management have existed in somewhat parallel universes. This disconnect has manifested itself in a lack of integration between data-centric business systems and ECM systems. 27% of organizations with ECM systems report no integration between their ECM system and other core business systems. 61% report no connection between their ECM and ERP Systems.
7. Organizations can no longer afford to look at data management and content management disciplines in isolation.
The next generation of business problems require a 360-degree view of information and access to it – both data and content, in geometrically increasing volumes, and regardless of where it is stored. Traditional ETL (Extract, Transform, Load) approaches focused on bring data and content into a common data warehouse are proving to be too expensive, too complex, and too slow. Traditional relational/SQL databases are straining to meet big data demands and new semantic, NoSQL approaches are arising. And the world of content management is being transformed by concepts and disciplines from this new world of big data.
8. Uncontrolled information means disengaged employees.
Disengaged employees are everywhere. Read just about any Dilbert comic strip and you get a sense of the impact that boring, redundant, and repetitive work has on employee engagement. According to the Gallup Organization, "A staggering 87% of employees worldwide are not engaged. Many companies are experiencing a crisis of engagement and aren't aware of it." Gallup further notes, "Companies with highly engaged workforces outperform their peers by 147% in earnings per share."
9. Simply finding information, never mind optimizing it, is a huge problem and requires new approaches.
Enterprise search with semantic enrichment provides a framework to rethink the enterprise search value equation. The first step is using statistical analysis to think through our taxonomies and identify synonyms so we begin to understand that dissimilar terms can mean the same thing. It also means using semantic metadata to help answer the question, "What is the meaning of this content?" in a way that computers can process so that they can find, filter, and connect information from both inside and outside the organization.
A survey of 1,000 UK business leaders and senior directors by Code Computerlove concluded that while more than 86 percent of business leaders think digital transformation is necessary within their organization, only half feel that they fully understand it. A 2016 Forbes article contended that 84% of companies fail at digital transformation. Organizations serious about Digital Transformation need to start with the basics – bringing uncontrolled information under control so that you can actually begin the transformation process.