information security | internet of things
IoT, or the Internet of Things, is a grand ambition of the most influential kind. It is a unified goal that seeks to create an internet age of unity and equality that we may not ever see in any other industry. In this article, we will explain why cybersecurity will save IoT and let us progress well into the future with greatly reduced hazard.
Business Process Management (BPM) | Project Planning | agile
A great project development team can only be great with the right tools. Through the numerous project management methodologies and top-down inferences, there is one constant; management tools. Even the best managers can't work efficiently without them. They range from the micro to the macro and cover all of the aspects of a project's lifecycle. They create an atmosphere of greater cooperation and productivity. This makes them even more valuable to the heads. All leaders want effective teams and all effective teams use project management tools. In this article, we are going to cover some of the very best tools on the market today.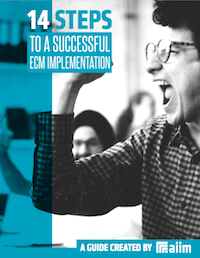 14 Steps to a Successful ECM Implementation
Making an ECM implementation successful requires planning and attention to detail. The best way to create the right solution is to identify organizational goals and priorities. Learn how to manage a successful implementation in our free guide.