gdpr | information security | privacy | security
One of the most vexing problems for organizations is mitigating GDPR compliance risks when dealing with third parties, particularly the nature and extent of obligations between data controllers and processors. By virtue of the GDPR accountability principle, organizations are required to adhere to the six fundamental principles of safeguarding privacy rights that impact the collection, processing and disposition of personally identifiable information. These obligations extend beyond the walls of an organization to third parties that process personally identifiable information. Also, GDPR provides for a broad definition of processing and imposes stringent requirements on organizations that engage third parties to process personally identifiable information.
electronic records management | gdpr | information governance | information security | privacy
A potentially problematic challenge for industry and legislators is the apparent tension between privacy rights and the rapid adoption of blockchain-based applications which are expected to reach $10.6 billion in revenue by 2023.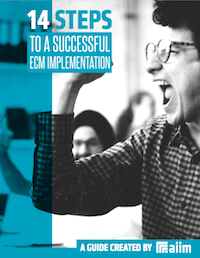 14 Steps to a Successful ECM Implementation
Making an ECM implementation successful requires planning and attention to detail. The best way to create the right solution is to identify organizational goals and priorities. Learn how to manage a successful implementation in our free guide.
data privacy | governance | information governance | information security | security
Data Privacy Day takes place annually on January 28th in recognition of the January 28, 1981 signing of Convention 108, the first legally binding international treaty concerning privacy and data protection. This day, led officially by The National Cyber Security Alliance (NCSA), is an international effort to "create awareness about the importance of respecting privacy, safeguarding data, and enabling trust".
governance | information governance | information security | security
In today's digital world, the chance of information-related security breaches is high. Is your company's data security plan up to date and bullet proof?
information security | internet of things | security
IoT, or the Internet of Things, is a grand ambition of the most influential kind. It is a unified goal that seeks to create an internet age of unity and equality that we may not ever see in any other industry. In this article, we will explain why cybersecurity will save IoT and let us progress well into the future with greatly reduced hazard.
digital transformation, | information security | legal | paperless | podcast | privacy
No, you read that title right – seventy THOUSAND boxes of paper in the highly restrictive environment of legal services. That's what Susan Gleason, Manager of Records and Information Governance at Shipman & Goodwin and her team were up against.