The unprecedented COVID-19 pandemic has, almost overnight, forced many organizations to modify their business practices and transition to a remote workforce. Of course, the first focus during this transition is deploying the connectivity and infrastructure necessary to support your remote workers. Don't, however, lose sight of the fact that information scattered across a dispersed workforce can significantly raise the risk of a data breach or other security concerns.
AIIM on Air | Information Security
Remote working comes with a number of benefits both for the employee and the employer. Employees enjoy a better work-life balance, the comfort of their home office, and can avoid the stress of a commute. Businesses can save money, improve employee retention, and more. But, new challenges also arise with the recent boom in remote working, including cybersecurity threats like ransomware, data hacking, viruses, and more. At the office, typically somebody else takes care of the cybersecurity measures. But, when employees are working remotely on their home wifi systems, it's a bit of a different story. On this episode of the AIIM on Air Podcast, we take a look at what you can do to keep your systems safe and your company and private information protected.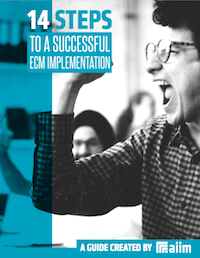 14 Steps to a Successful ECM Implementation
Making an ECM implementation successful requires planning and attention to detail. The best way to create the right solution is to identify organizational goals and priorities. Learn how to manage a successful implementation in our free guide.
Thanks to the internet and the connected world we live in, working remotely is increasing in popularity for a good reason! The benefits of working from home have been good for both organization and their employees. On the one hand, organizations can hire talent despite the geographical issue and provide a flexible work schedule, minimized exposure to germs, and so on! On the other hand! For employees, working from home will reduce the commuting time, empower workers in their own environments, and provide the convenience of things like virtual meetings. 40% of people say that the top benefit of working remotely is the flexible schedule. But, as people say, with great benefits, come great risks!
Electronic Records Management (ERM) | Information Security
Only 3 of the worst 10 data breaches of all time happened in 2019, but it was still not a good year for data security. According to CNet, the primary culprit was "unsecured database." However, one significant contributing factor in many of them was that organizations collected and retained data they generally didn't need – and if they did, they didn't need to retain it as long as they had.
Artificial Intelligence (AI) | Information Security | Privacy
According to the 2019 IDC study of spending on Artificial Intelligence (AI), it's estimated to reach $35.8 billion in 2019 and is expected to double by 2022 to $ 79.2 billion representing an annual growth rate of 38% for the period 2018-2022. The economic benefits and utility of AI technologies are clear and compelling. No doubt, applications of AI may address some of the most vexing social challenges such as health, the environment, economic empowerment, education, and infrastructure. At the same time, as AI technologies become more pervasive, they may be misused and, in the absence of increased transparency and proactive disclosures, create ethical and legal gaps. Increased regulation may be the only way to address such gaps.
GDPR | Information Security | Privacy
One of the most vexing problems for organizations is mitigating GDPR compliance risks when dealing with third parties, particularly the nature and extent of obligations between data controllers and processors. By virtue of the GDPR accountability principle, organizations are required to adhere to the six fundamental principles of safeguarding privacy rights that impact the collection, processing and disposition of personally identifiable information. These obligations extend beyond the walls of an organization to third parties that process personally identifiable information. Also, GDPR provides for a broad definition of processing and imposes stringent requirements on organizations that engage third parties to process personally identifiable information.