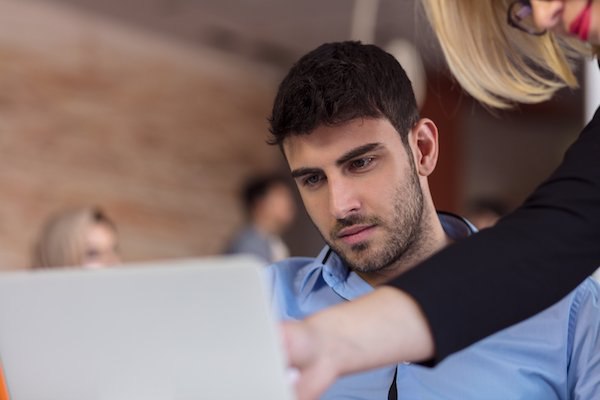 Subscribe
Digitalizing your content - How do you change employee behavior?
Change Management | Business Process Management (BPM)
You have led the pack in creating a digital transformation strategy but how do you get your employees to engage and help your organization realize its goals? Embracing new technology is not the major challenge – human behavior is a significant factor in the success or failure of such projects. In this article, we look at five ways to change your employees behavior and drive digital transformation in your organization.
The VIPs of Digitalization
As we know, scan workflows can transform manual, disconnected processes into streamlined workflows, removing the complexity, freeing up physical storage space, simplifying file sharing and enabling team collaboration. While such digital technologies can be used to connect divisions, stakeholders, processes, information, goals and resources, it is easy to forget about the human element. Technology is useless without it being used correctly, and that is only going to happen if you can change the behaviors of your employees - the VIPs of digitalization. It is natural for employees to want the following questions answered:
How is this going to impact me?
How is my job going to change?
Do I have the skills I need?
These questions must be answered, and you may well experience some resistance to change, but there are a number of ways in which you can encourage employees to embrace the digitalization process.
---
---
Empowerment, Education and Engagement
By changing employee behavior you can expedite adoption and achieve your digital transformation objections.
Leadership: Changing behavior needs to be modeled by leadership teams. You need to inspire, empower and engage your employees and work alongside them. Leaders need to be the game-changer as well as supporting their employees to change. While you cannot force someone to change, as a manager you can help guide and motivate.
Communication: Employees must be kept informed and engaged in the adoption of new technologies, activities and processes. This involves an open stream of communication of the benefits, impact, and opportunities which new technologies present. One way to address potential fear and anxiety which comes with change is through communication. Clear, open and visible communications can demystify change and using a variety of methods of communication can reassure and engage your workforce.
Demonstrate value: You need to clearly demonstrate and communicate the added value of digitizing your content in order to engage and educate employees. From time saving, ease of file location, added security and improved efficiency, show your employees the many benefits to experience from digitalizing your content.
Training: You need to use a variety of methods and styles of training to support your employees. Demonstrating the ease of use, added value and the time saving capacity of the technology should be used alongside training to focus on nurturing the agility, re-skilling and adaptability of employees. Putting new ways of working in place will ensure a process of continuous education, change and improvement.
Cultural change: Your organization must adopt a digital culture to break down silos , and employees need to learn how to collaborate, be more customer focused, manage their time, learn new skills and change in an ever changing digital world. By incorporating digital transformation in the day to day operations you will develop a culture conducive to digitalization. You need informed and adaptable employees, immersed in a culture which is agile and encourages calculated risks.
Above all is the user experience. Technology is complicated and not intuitive to everyone. You'll need to make sure the technology chosen has the user in mind – a simple, clear user interface and an overall enjoyable experience. The five actions listed above will be wasted effort if the day-to-day use by employees is cumbersome and confusing.
Get Automated
The two key human elements required to realize your digital transformation goals are adoption and personal added-value. If employees do not want a technology to succeed, it will not work. There is a real danger for organizations to become fascinated with technology and in the process forget that people are critical to its success. While it is difficult to change behaviors, the combination of empowerment, education and engagement of your workforce alone can support your digitization to bring the efficiencies, security, cost savings and productivity of which the technology is capable.


About Wouter Koelewijn
Wouter Koelewijn is Senior Vice President, Managing Director, Y Soft Scanning Division and an outspoken advocate for simplifying scanning on MFD's (Multifunction Devices). Prior to working with Y Soft, Mr. Koelewijn founded X-Solutions in late 2002 which was later acquired by Nuance in 2009. Prior to X-Solutions, Wouter was the CTO and co-founder of a Xerox concessionaire in the Netherlands from 1994-2002. Mr. Koelewijn is married and has two children. He enjoys skiing, swimming and sailing.