Business Process Management (BPM) | Process Automation
Times change. And that's one of the biggest reasons there's now a resurgence in business process management. Globally, firms are reaching a point where they don't feel they can eke out any more efficiencies from their current processes. At the same time, they understand that new entrants are coming into the marketplace with dramatically different business models. In the insurance industry, for example, companies such as Progressive have developed an online Internet service that has had an obvious impact on older insurance companies and their business model. Examples like that exist throughout this industry, and just about every industry throughout the world. New competitors come online and throw a "spanner in the works" to existing business models. Times change, and organizations have to change with them.
Business Process Management (BPM)
Businesses looking for ongoing growth and scalability try to achieve these goals through different approaches that can provide "that extra advantage." One such approach is business process management, which aims to find and make ongoing improvements in the operations of a business. This is currently a popular tactic in the business world, featuring various applications, techniques, and tools which make it a complex field of business development.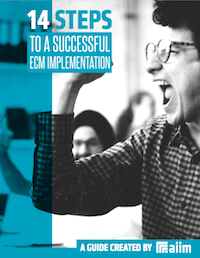 14 Steps to a Successful ECM Implementation
Making an ECM implementation successful requires planning and attention to detail. The best way to create the right solution is to identify organizational goals and priorities. Learn how to manage a successful implementation in our free guide.
AIIM on Air | Business Process Management (BPM) | Privacy
As we enter into a new decade, it's hard not to look back and reflect on how different everything is now. Twenty years ago, the world was a completely different place than it is today.
Business Process Management (BPM)
Flowcharting is one of the first tools used in analyzing an existing business process. The purpose of a flowchart is to document the tasks within a particular process, and their sequencing, visually.
Business Process Management (BPM)
Content, documents, and information are at the center of all organizations, of all sizes, and in all industries. But once your clients need to review, approve, sign a document, or receive some information— efficiency is key. That is when you need your organization and processes to shine.
Business Process Management (BPM) | CRM | Enterprise Resource Planning (ERP) | Human Resources
I've been working on a project over the past few weeks focused on the role that content plays in core business processes, specifically Human Resources (HR), Customer Relationship Management (CRM), and Enterprise Resource Planning (ERP).