Business Process Management (BPM) | Collaboration | Project Planning
Sometimes a little too much of a good thing can be a bad thing. An overabundance of motivation can lead to stress, fatigue, and burnout. According to the Harvard Business Review, the majority of managers now spend over 85% of their work time checking emails, checking up on meetings, connecting with people over the phone, and checking their phones for important, work-related updates. This is a staggering 50% jump in just a decade's time. Clearly, we need better ways to manage time.
Business Process Management (BPM)
As a project manager that specializes in digital software products, I will let you in on a secret about a new role, a new type of person that is emerging in the ranks—and it's all good news for your project. This particular role actually inspired this series of articles about new roles that were emerging in the project life cycle due to digital disruption. The previous articles in this series are: The Servant Leader, Team Doctor, Technically-Comfortable Agile Project Manager The Connected, Inspired, Hands-on Project Sponsor – Leading the Digital Charge The Emergence of the Elusive Digital Unicorn As a project sponsor or agile project manager, you should definitely be on the lookout for this person, because if you can find them and secure them for your team, you will have given yourself a much-needed advantage in ensuring you ship a quality product. The person is the new type of QA engineer.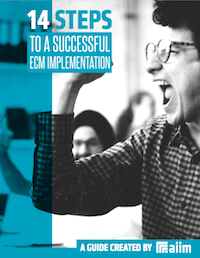 14 Steps to a Successful ECM Implementation
Making an ECM implementation successful requires planning and attention to detail. The best way to create the right solution is to identify organizational goals and priorities. Learn how to manage a successful implementation in our free guide.
Business Process Management (BPM) | agile
Agile project management is an effective way to manage complex projects. Why is agile so well-suited for long, complicated projects? The agile mentality underscores the importance of communication, collaboration, and continuous improvement. Agile project management is truly an amazing framework that has successfully transformed lagging organizations. Making coworkers feel more connected and engaged with each other and the project means ideas are more easily exchanged and improved upon. Teams are more cohesive, flexible, and adaptive, creating a company culture that fosters growth on every level.
Business Process Management (BPM) | Digital Signatures | Information Management
Content, documents, and information are at the center of all organizations, of all sizes, and in all industries. But once your clients need to review, approve, sign a document, or receive some information— efficiency is key. That is when you need your organization and processes to shine. Allen Bonde, an analyst at Forrester, defines "The Magic Moment" as the moment of communication between your organization and your customer. At that moment, they are reminded of the power of story-telling, relationship-building, and creating lasting impressions. One of the most significant benefits of creating Magic Moments is the improvements companies see in their customer retention. The real question is, what can your organization do to achieve this Magic Moment? The easiest place to start is with your customer-facing business processes. Intelligent processes are key to creating a Magic Moment and that is where the digital transformation of your content and information can help.
Business Process Management (BPM) | CRM | Enterprise Resource Planning (ERP)
I've been working on a project over the past few weeks focused on the role that content plays in core business processes, specifically Human Resources (HR), Customer Relationship Management (CRM), and Enterprise Resource Planning (ERP).
Business Process Management (BPM)
"Ideas are a commodity. Execution of them is not"-Michael Dell.