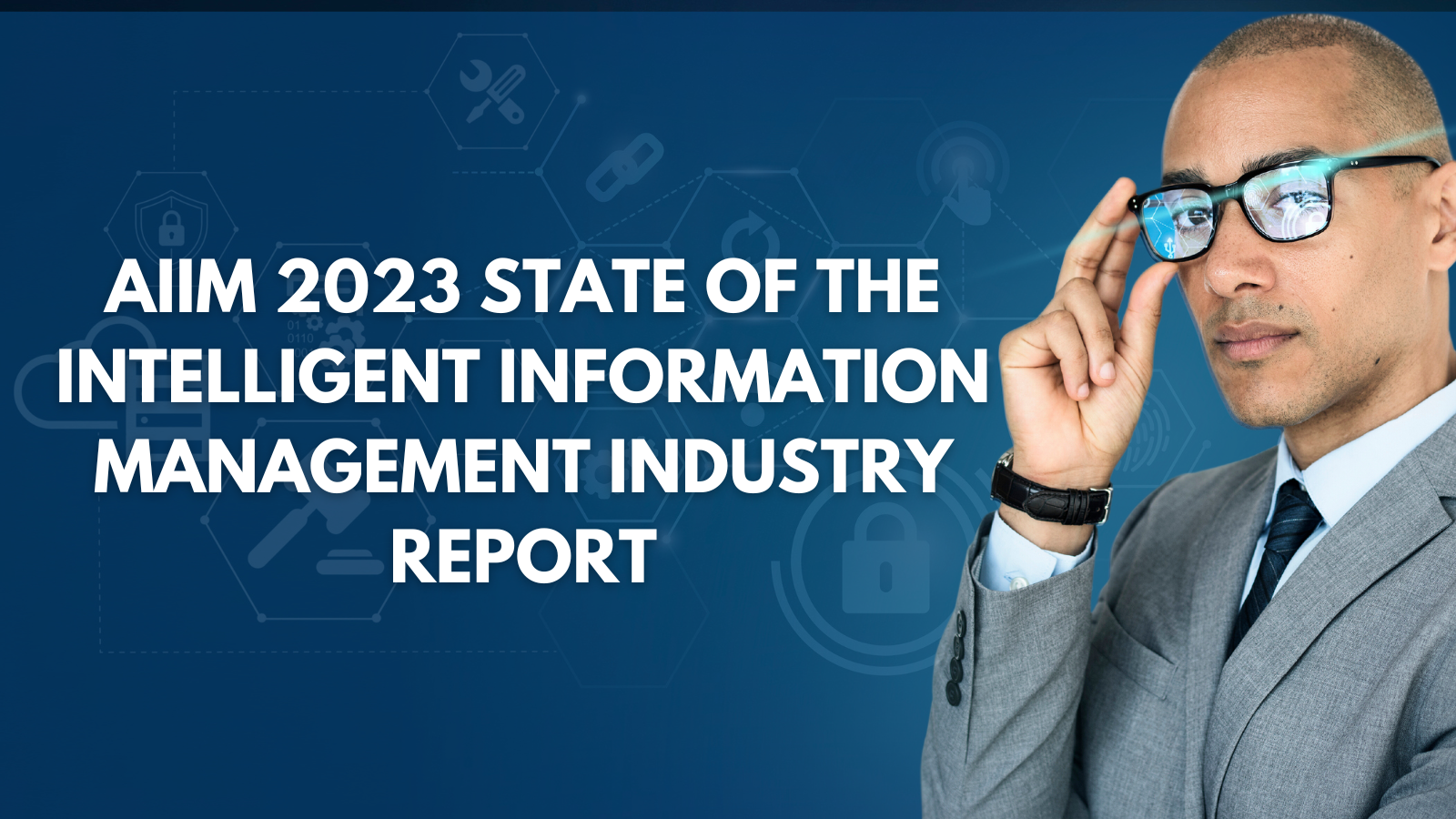 Subscribe
2023 State of the Intelligent Information Management Industry Report
Analytics | Intelligent Information Management (IIM)
AIIM is proud to release its State of the Intelligent Information Management Industry report for 2023. Filled with insights and trends that organizations should take note of, the report results from a survey conducted among AIIM members. It provides a comprehensive overview of the current state of information management across different industries.
Intelligent Information Management (IIM) is the practice of managing information in a way that optimizes its value to the organization. It involves using technology and automation to capture, manage, and analyze information from various sources and turn it into actionable insights. The AIIM 2023 State of Intelligent Information Management Industry report provides an overview of how organizations leverage IIM to drive digital transformation, improve customer experience, and enhance operational efficiency.
One of the key findings of the report is the growing importance of IIM in the context of digital transformation. 79% of survey respondents see information management becoming more important over the next two years.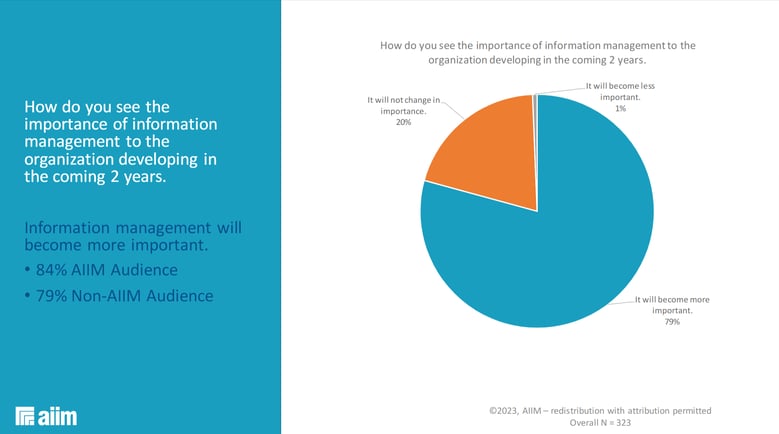 Information management is far more complex and advanced than a decade ago. This report provides the data behind the fundamental shift we are experiencing as well as recommendations for where organizations can focus on getting the best out of technology, processes, and people.
Organizations continue to experience information sprawl caused by hybrid work, output from artificial intelligence applications, and expanding technology stacks. Seventy-eight percent of survey respondents feel that technology usage is driving the vast volume, velocity, and variety of information that is flooding their organizations.
Organizations using 7-10 information management systems or repositories have gone from 3.6% in 2013 to 6.2% in 2018 and now 14.42% in 2023. This represents approximately 100% growth every five years in the number of systems. Additionally, interoperability is a challenge with expanding technology stacks. Most content systems (74%) are not connected to other lines of business systems. Only 26% of document, content, and records management systems integrate with other core applications.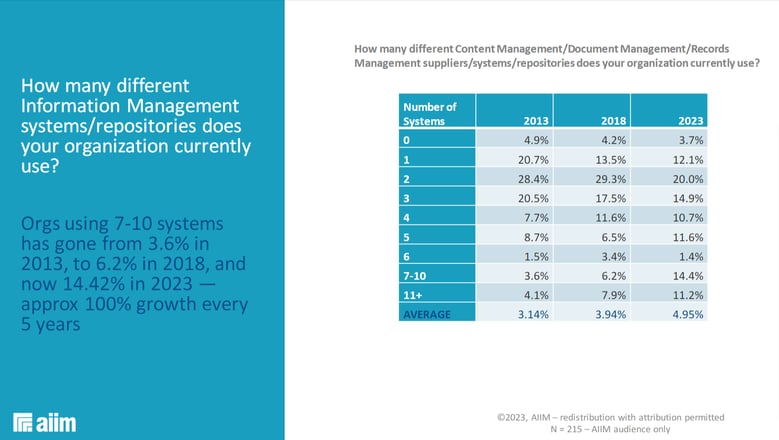 "Organizations should carefully evaluate the growth of content systems," said David Jones, former AIIM Board Member and report author. "Consider information governance and interoperability when adding new systems."
Interestingly, while information management is projected to become more important, around 33% of respondents rated their organizations below average in core information management areas, such as managing information through its lifecycle and applying governance and compliance.
The COVID-19 pandemic drove digital transformation – the process of streamlining a company's core operations and customer value propositions using technology – within most organizations. Almost two-thirds (65%) of organizations have achieved significant digital transformation, up from 46% in 2018. However, the challenges blocking further digital transformation remain consistent — lack of money, focus, and rigid culture. Information management professionals must find a way to discuss the value of Information Management with executives.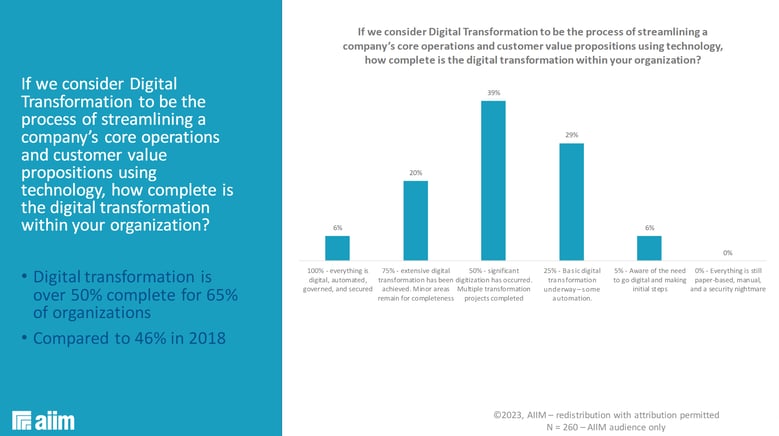 As the need for information management increases, the need for skilled practitioners will also increase. Overall, 55% of respondents agree that information management is an attractive profession for recent graduates. However, in the 18-30 age range, 50% disagree with this statement. Almost half (44%) of respondents from the AIIM audience are 45 years old or above.
To avoid a skills shortage within the next decade, the industry needs to invest in recruiting new entrants and investing in professional development.
We hope this report provides valuable insights into the current state of IIM and its potential benefits for organizations. We encourage you to download the AIIM 2023 State of the Intelligent Information Management Industry report and read it for yourself. In doing so, you will gain valuable insights into the current state of IIM and the opportunities and challenges it presents.