Cloud | Information Management | analytics | content services
Over the past few years, we've seen the Enterprise Content Management (ECM) industry go through some significant changes. Many would say it goes even deeper than change and have been calling it a metamorphosis. In nature, metamorphosis is the process of transformation from an immature form to an adult form in two or more distinct stages – a good example is a tadpole turning into a frog.
Data Management | analytics | automation
"Digital Transformation is a game changer," and "leaders embrace digital transformation"—but is it really a game changer and have we actually embraced it?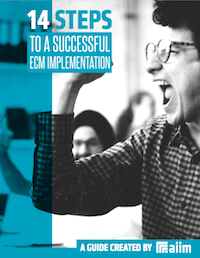 14 Steps to a Successful ECM Implementation
Making an ECM implementation successful requires planning and attention to detail. The best way to create the right solution is to identify organizational goals and priorities. Learn how to manage a successful implementation in our free guide.
Collaboration | Content Management | IIM x | analytics
Here are some eBooks, Guest Columns, and Tip Sheets you may have missed. A Thanksgiving treat.
Business Process Management (BPM) | analytics
Businesses have come to realize the importance of analyzing their processes as the key to progression. According to recent AIIM research, by embracing BPM practices, one-third of organizations have decreased their review and approval cycles, over 60% have improved routing to and between individuals, and 42% have experienced greater organizational agility and routing between processes.
Artificial Intelligence (AI) | Data Management | analytics | automation
What worries us most is often not what actually gets us—that is, causes us our biggest problems. The enormous human capacity for worry can result in productive focus and taking action. Artificial Intelligence (A.I.) inspires our imaginations, invokes our worst nightmares and touches our deepest fears. Near-term, it threatens to take away our jobs and leave us with no way to feed our families.
Big Data | Data Management | analytics
[Note: This is a guest post by Andrew Wells and Kathy Chiang. Andrew Roman Wells is the CEO of Aspirent, a management-consulting firm focused on analytics. Kathy Williams Chiang is VP, Business Insights, at Wunderman Data Management. They are the co-authors of Monetizing Your Data: A Guide to Turning Data into Profit-Driving Strategies and Solutions. For more information, please visit www.monetizingyourdata.com.]