Analytics | Intelligent Information Management (IIM)
AIIM is proud to release its State of the Intelligent Information Management Industry report for 2023. Filled with insights and trends that organizations should take note of, the report results from a survey conducted among AIIM members. It provides a comprehensive overview of the current state of information management across different industries.
AIIM Conference | Analytics | Enterprise Content Management (ECM)
AIIM19 is coming soon to San Diego on March 26-28 and as usual the gathering will be the place to be for information management professionals. If you plan on attending you should mark your calendar for an important roundtable session called "When You Are in the Storm: Content Analytics & ECM Implementation Across the Enterprise" being hosted by John Daly, Information Governance Manager the Metropolitan Sewer District in St. Louis. I asked John to give us a small preview of the session.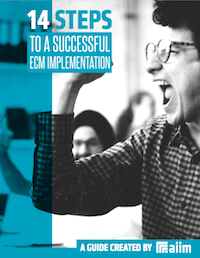 14 Steps to a Successful ECM Implementation
Making an ECM implementation successful requires planning and attention to detail. The best way to create the right solution is to identify organizational goals and priorities. Learn how to manage a successful implementation in our free guide.
Data and analytics have redefined the way we compete. Data is a critical corporate asset that organizations are starting to monetize in new ways to get ahead of their competition. The bottom line? Companies that leverage data to drive the performance of their organization's decisions are winning at a faster rate than their competition.
Content analytics provides the "last mile" of insight, ultimately required for automating business processes and creating customer-centered journeys that go beyond conventional encounters.
AIIM's resident Podcaster Extraordinaire, Kevin Craine, recently sat down with Andrea Chiappe, Director of Innovation and Strategy at Systemware, to discuss opportunities in the convergence of analytics, cognitive computing, and machine learning. The following is a short synopsis of the interview. You can find the full podcast interview here.
You've heard about content analytics. You've been told that your organization needs it. You've been told that you need it. But chances are good no one has bothered to explain what it is and why we all should care.