Analytics | Artificial Intelligence (AI) | Machine Learning
Digital transformation means reworking business processes to take maximum advantage of data and digital content. Better, faster, and cheaper content management is one goal, but the real payoff is in automating routine tasks including customer interactions. More data and process improvement will, in turn, allow us to do more with our content, to reach new audiences and boost satisfaction and profitability, however you measure it. To get there you need AI -- algorithms, models, and measurement -- and you need to trust that what you've built will do the job reliably and correctly.
Analytics | Automation | Data Management
"Digital Transformation is a game-changer," and "leaders embrace digital transformation"—but is it really a game-changer, and have we actually embraced it?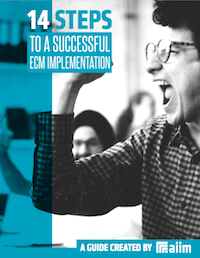 14 Steps to a Successful ECM Implementation
Making an ECM implementation successful requires planning and attention to detail. The best way to create the right solution is to identify organizational goals and priorities. Learn how to manage a successful implementation in our free guide.
Analytics | Data Management | Machine Learning
You manage a large facility with multiple buildings across the campus. Each building, while somewhat unique, is equipped with plumbing, electrical, security, HVAC, and other elements that must be monitored, maintained, and repaired at some point. Ideally, you would have an army of staff available to monitor and check everything constantly to provide feedback and predict what will happen before catastrophe strikes, but you don't. This is where machine learning and industrial operations can play a significant role.
Analytics | Collaboration | Enterprise Content Management (ECM)
Here are some eBooks, Guest Columns, and Tip Sheets you may have missed. A Thanksgiving treat.
Analytics | Enterprise Content Management (ECM) | Enterprise Search
My wife and I are big fans of the British Bake Off show – it's called the Great British Baking Show in the US for Pillsbury copyright reasons.
Analytics | Business Process Management (BPM)
Businesses have come to realize the importance of analyzing their processes as the key to progression. According to recent AIIM research, by embracing BPM practices, one-third of organizations have decreased their review, and approval cycles, over 60% have improved routing to and between individuals, and 42% have experienced greater organizational agility and routing between processes.