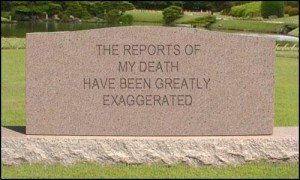 Subscribe
ECM – Reports of My Death Are Greatly Exaggerated
Information Governance | Enterprise Content Management (ECM) | Intelligent Information Management (IIM)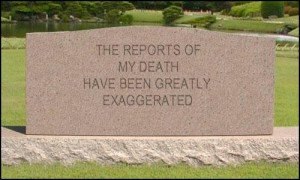 Gartner: "ECM is now dead (kaput, finite, an ex-market name), at least in how Gartner defines the market. It's been replaced by the term Content Services."
What is happening in the enterprise IT space – and how is it impacting content management?
Consider the following emerging broad trends -- trends that will mold and shape the world of content management in both the short and long-term create a need for a broader and more encompassing industry description than "ECM."
| | |
| --- | --- |
| Emerging trends | Impact on content management |
| Explosive growth in the volume and variety of data AND content. Billions of new connections between objects -- the Internet of Things | Users need to do so much more than just capture documents and information; they need to ingest information of ALL sorts as early as possible into business processes and standardize and automate these processes. They then need to extract insight from this exploding volume of information and prepare for the era of machine processing and artificial intelligence. Finally, they need to develop policies and automatic processes to dispose of information without business value. |
| Rise of new data-centric technologies -- Hadoop, NoSQL, Blockchain | The availability of new tools to manage data at massive scale increases the need for effective management of metadata. |
| Incorporation of core content management capabilities in file platform themselves (Office365, Amazon, Google, IBM/Box, DropBox) and collapsing prices for storage | Add-on core content management increasingly under price pressure, driving many solution providers to shift their focus to applications and solutions. |
| Expanding and increasingly challenging national and regional compliance and regulatory demands -- and the growth of cloud and privacy "nationalism" | Organizations need to take as much of the human element as possible out of governance by first converting everything to digital form (i.e., tackling the paper problem head-on) and then apply semantic and auto-classification technologies. |
| A clear shift among the leading solutions providers to cloud-first R&D investment strategies; large-scale end users with major on-premise legacy systems are left playing catchup | Users want content management solutions with a clear cloud strategy— even if they say they're not ready for the cloud right now. |
As time goes on, content management capabilities are going to be viewed much less as a monolithic "solution" and much more as a set of capabilities that will be consumed in a much more modular fashion -- tied to the needs of particular business processes. Content capabilities will be tied to processes -- both custom and SaaS. In the end analysis, this is the world that Gartner now calls "Content Services."
"Retiring" ECM" doesn't mean the need for ECM capabilities goes away, nor does it mean that everyone should run out and rip out all of those mission-critical ECM systems. But it DOES mean that what organizations are doing with content has outgrown the traditional definitions.
I think a new "roadmap" of the content space is needed, one that reflects all of the "content-y" things people are doing, how they are approaching them, and all the different flavors of content solutions that exist to solve very different problems.
Find out more in our new white paper, THE NEXT WAVE: Moving from ECM to Intelligent Information Management.
The ECM "Industry" is not often noted for multi-company educational efforts. We greatly appreciate the support of the following companies in this ground-breaking industry white paper: Alfresco, IBM, ibml, Kodak Alaris, Microsoft, M-Files, OnBase, Upland.
-----
Some additional Resources that might be of interest!