AIIM on Air | Digital Transformation | Enterprise Content Management (ECM)
More and more records managers in state and local government operations tell me that their job is changing. In addition to stacks and stacks of scanned files, and a confluence of different types of electronic files, the inclusion of audio and video records are becoming more and more common. Indeed, many managers now must capture, store, and manage things like audio from 911 dispatch, police camera footage, and other documentary evidence that fall outside the typical scope of "records."
Enterprise Content Management (ECM)
Many organizations feel forced to keep legacy applications alive to retain access to historical data – either for customer service, operational requirements, or compliance. However, keeping these old systems running can use up resources that would be better deployed driving digital transformation. And relying on legacy technology creates business risk because these older systems are much harder to fix when things go wrong and more vulnerable to security threats.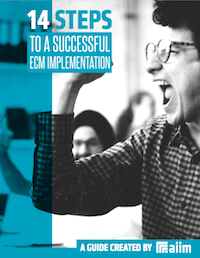 14 Steps to a Successful ECM Implementation
Making an ECM implementation successful requires planning and attention to detail. The best way to create the right solution is to identify organizational goals and priorities. Learn how to manage a successful implementation in our free guide.
Enterprise Content Management (ECM)
Few announcements in information management have been bigger than Gartner's article heard round the world that announced the death of Enterprise Content Management (ECM) as we knew it. Michael Woodbridge's quote gets straight to the point here: "ECM is now dead (kaput, finite, an ex-market name), at least in how Gartner defines the market. It's been replaced by the term content services, a strategic concept that covers three aspects, namely content services Applications, Platforms and Components." Since this article was published in 2017, the Information Management industry exploded with new questions, like, Is ECM really dead? What's this content services thing? It turns out, the story is just a little more complicated than one technology being replaced by another.
Content Services | Enterprise Content Management (ECM) | Intelligent Information Management (IIM)
In recent years, nothing has sparked more controversy in the information management industry than the 2017 Gartner post officially retiring the term "Enterprise Content Management (ECM)" in favor of a new term, content services. Here at AIIM, we've been providing independent research, educational training, and certification for over 70 years. For a good majority of that time, the focus has been on ECM and the practices associated with ECM to capture, store, manage, and preserve information. Heck, we even standardized the term Enterprise Content Management way back in the early 2000s, so in a lot of ways, AIIM is uniquely positioned to help clarify some of the confusion that may still remain.
AIIM on Air | Enterprise Content Management (ECM)
We're now operating twenty years into a new millennium. But despite the futuristic potential, many organizations continue to operate with systems and software that are a decade or more behind the times. Organizations that continue to operate in the past will be challenged to keep pace today – and in the future.
Content Migration | Enterprise Content Management (ECM)
"Legacy" is a term we see a lot in the IT world; in reference to software and hardware, it describes a system that has been superseded by improved technology. It's easy to identify these systems with one simple question: "Have our business needs outgrown this system?" If you answered yes, it's likely you're in need of a legacy system replacement project - a project to replace the outdated system with a new system that can better suit the needs of the business.