Content Services | Enterprise Content Management (ECM) | Intelligent Information Management (IIM)
In recent years, nothing has sparked more controversy in the information management industry than the 2017 Gartner post officially retiring the term "Enterprise Content Management (ECM)" in favor of a new term, content services. Here at AIIM, we've been providing independent research, educational training, and certification for over 70 years. For a good majority of that time, the focus has been on ECM and the practices associated with ECM to capture, store, manage, and preserve information. Heck, we even standardized the term Enterprise Content Management way back in the early 2000s, so in a lot of ways, AIIM is uniquely positioned to help clarify some of the confusion that may still remain.
AIIM on Air | Cloud | Content Services
Over the past few years, we've seen the Enterprise Content Management (ECM) industry go through some significant changes. Many would say it goes even deeper than change and have been calling it a metamorphosis. In nature, metamorphosis is the process of transformation from an immature form to an adult form in two or more distinct stages – a good example is a tadpole turning into a frog.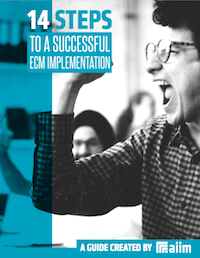 14 Steps to a Successful ECM Implementation
Making an ECM implementation successful requires planning and attention to detail. The best way to create the right solution is to identify organizational goals and priorities. Learn how to manage a successful implementation in our free guide.
Recently, AIIM released an eBook titled, State of the Industry – Content Services that examines the current state of Content Services technologies and how user perceptions about them are changing. For this research study, we surveyed over 300 decision-makers from around the world about their focus on Content Services to answer these three core questions:
Capture and Imaging | Content Services
Multi-channel next-generation information capture is clearly the least mature of the four core Content Services technologies.
Content Services | Electronic Records Management (ERM) | Information Governance
The rising volume of information and its potential value to customer experiences is changing what is needed from records management and information governance. Organizations clearly understand that they have an information governance problem but are struggling with solutions as the tide of information chaos rises.
The past few years have created many new challenges for the Information Professionals who are entrusted with managing an organization's digital assets. Information is cascading down upon every organization in unprecedented volumes and forms, challenging traditional and manual concepts of records management and information stewardship. Every organization – regardless of industry – is now a technology organization. But rising information chaos is a very real and strategic threat to the ability of organizations to succeed, or even survive. An effective Content Services strategy is key to addressing these challenges.