The venerable template allows structured form data to be accurately extracted. In the document capture industry, the concept of templates where you specify the location of each data element is a tried-and-true strategy for structured forms. If the form is standardized, giving the software the precise place to look for data will almost always result in better performance over alternatives such as rules-based approaches using keywords or patterns. Even with unstructured data such as on invoices, we find that many organizations have opted for a template approach after finding that more flexible, rules-based approaches fall short. The result is a tremendous amount of upfront effort and a lot of maintenance.
Artificial Intelligence (AI) | Automation | Document Management
Having your cake and eating it, too, is a proverb that's almost 500 years old, which means you cannot have two incompatible things at the same time. So many examples of situations exist where you face two mutually exclusive options. Let's take document capture. Document capture software is designed to automate document-oriented tasks such as sorting or extracting key data. In order to achieve that automation, you must spend time to configure the software to identify documents and reliably locate and extract that data with a high enough degree of accuracy that your staff need only be involved in verifying a small percentage of it.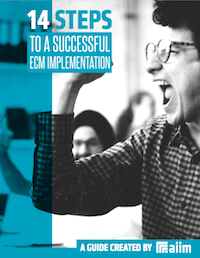 14 Steps to a Successful ECM Implementation
Making an ECM implementation successful requires planning and attention to detail. The best way to create the right solution is to identify organizational goals and priorities. Learn how to manage a successful implementation in our free guide.