document management | scanning
Companies are always looking for ways to make their workplace more productive and efficient and to reduce costs. Document management has an important part to play here. A survey conducted in 2012 showed that 21.3% of losses in employee productivity are due to paper-based documentation challenges that businesses go through. Converting your paper files into digital files via document scanning services can really help in alleviating the nuisance of managing paperwork at the office. While some documents do need to be printed, digitization can considerably increase your workplace productivity. With document scanning businesses, you can achieve superior efficiency, better systems for storage and retrieval and greater security controls. Let's take a deeper look into how digitization can prove to be beneficial for your business.
automation | digital processes | document management | human resources | intelligent information management
Are your Human Resources processes intelligent? Before you try and answer that, let me explain more about what I mean.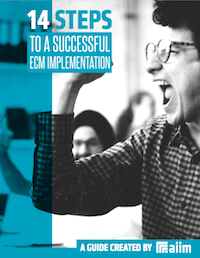 14 Steps to a Successful ECM Implementation
Making an ECM implementation successful requires planning and attention to detail. The best way to create the right solution is to identify organizational goals and priorities. Learn how to manage a successful implementation in our free guide.
AI | Artificial Intelligence | automation | document | document management
Artificial Intelligence (AI) is obviously all the rage. Consider the search traffic on "Artificial Intelligence" since early 2016. As a result, just about every technology product in the world now seems to have the artificial intelligence "label" attached to it.
No matter what industry you are in, audits are stressful. Many of your company's processes and documents must be analyzed to make sure you are compliant and up to standard. That means the auditor is going to need to see a lot of paperwork. If you currently use filing cabinets, inboxes, and hard drives to store your documents, then an audit is likely your worst nightmare. Luckily, there is a better way. With a document control software, you no longer have to stress when it's time for an audit. All your information can be stored within one comprehensive system that allows your data to be tracked, stored, indexed, and searched. Here is a look at six ways a document management system can help your company get organized and ready for your next audit:
bpm | business process | document management | human resources
It is the best of times and the worst of times for HR professionals.
content management | document management | information chaos
The possibilities for more information chaos surround us. Content is proliferating at geometric rates, and organizations and the people who work in them are struggling with massive amounts of information overload. The sheer volume of content and data entering our organizations is growing in complexity, volume, and variety. That would all be complicated enough on its own. But what are organizations doing – often with the best of intentions – to actually make things WORSE? Here are my top 7 tips to make things WORSE! I've put together a free tip sheet with the details -- check it out, and feel free to spread it around if you choose -- just click the button. Assume that your existing process platforms – like your ERP (Enterprise Resource Planning), Human Resource Information Systems or Accounts Payable system – can just handle everything. Assume your nephew can probably create the online forms you need because he is pretty good at technology. "Go paperless" by just using your copier to scan to a folder on a shared drive. Go cheap when it comes to getting outside expert help. Tackle ALL content and processes at once. Let IT handle this; business people don't have time. Allow "the business" to buy lots and lots of unconnected single application SaaS solutions. ----- In the Toronto, NY or DC metro areas? We've got a process improvement seminar coming up in your neighborhood! They're FREE. Washington DC event -- October 4 at the National Press Club New York event-- October 6 at the Manhattan Penthouse Toronto event -- October 13 at the Allstream Centre ----- You might also be interested in... Brexit, Presidential Campaign Follies, the Olympics and Disruption Déjà vu