automation | digital processes | document management | human resources | intelligent information management
Are your Human Resources processes intelligent? Before you try and answer that, let me explain more about what I mean.
AI | Artificial Intelligence | automation | document | document management
Artificial Intelligence (AI) is obviously all the rage. Consider the search traffic on "Artificial Intelligence" since early 2016. As a result, just about every technology product in the world now seems to have the artificial intelligence "label" attached to it.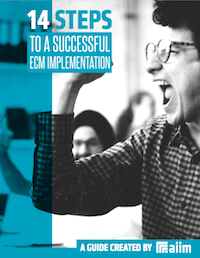 14 Steps to a Successful ECM Implementation
Making an ECM implementation successful requires planning and attention to detail. The best way to create the right solution is to identify organizational goals and priorities. Learn how to manage a successful implementation in our free guide.
No matter what industry you are in, audits are stressful. Many of your company's processes and documents must be analyzed to make sure you are compliant and up to standard. That means the auditor is going to need to see a lot of paperwork. If you currently use filing cabinets, inboxes, and hard drives to store your documents, then an audit is likely your worst nightmare. Luckily, there is a better way. With a document control software, you no longer have to stress when it's time for an audit. All your information can be stored within one comprehensive system that allows your data to be tracked, stored, indexed, and searched. Here is a look at six ways a document management system can help your company get organized and ready for your next audit:
bpm | business process | document management | human resources
It is the best of times and the worst of times for HR professionals.
content management | document management | information chaos
The possibilities for more information chaos surround us. Content is proliferating at geometric rates, and organizations and the people who work in them are struggling with massive amounts of information overload. The sheer volume of content and data entering our organizations is growing in complexity, volume, and variety. That would all be complicated enough on its own. But what are organizations doing – often with the best of intentions – to actually make things WORSE? Here are my top 7 tips to make things WORSE! I've put together a free tip sheet with the details -- check it out, and feel free to spread it around if you choose -- just click the button. Assume that your existing process platforms – like your ERP (Enterprise Resource Planning), Human Resource Information Systems or Accounts Payable system – can just handle everything. Assume your nephew can probably create the online forms you need because he is pretty good at technology. "Go paperless" by just using your copier to scan to a folder on a shared drive. Go cheap when it comes to getting outside expert help. Tackle ALL content and processes at once. Let IT handle this; business people don't have time. Allow "the business" to buy lots and lots of unconnected single application SaaS solutions. ----- In the Toronto, NY or DC metro areas? We've got a process improvement seminar coming up in your neighborhood! They're FREE. Washington DC event -- October 4 at the National Press Club New York event-- October 6 at the Manhattan Penthouse Toronto event -- October 13 at the Allstream Centre ----- You might also be interested in... Brexit, Presidential Campaign Follies, the Olympics and Disruption Déjà vu
content management | document management | information chaos
Kudos to my friend Bob Zagami for bringing this to my attention from the editor of the RV Daily Report, Greg Gerber. RV Daily Report changes press release publishing policy Organizations constantly struggle with the question of not only the volume of content and documents they are managing, but amidst this chaos, they also wrestle with the question of "what is truth?" Or in more practical terms, what is the "official" version, who has approved it, and how can we track the chain of custody and modifications throughout the life cycle of a document? This clearly bubbles up when it comes to interactions with industry organizations, and the use of industry organizations for the timely release of industry information. With all of the above tensions exacerbated by the addition of external players (like agencies) added to the release approval equation, industry organizations can be caught in the middle of all this. I have to say we've seen the kind of dynamic that frustrates Mr. Garber pop up here are AIIM on occasion. Plus, his post gave me a bit of a chuckle on an icy Washington morning. My favorite quote in the article was this: If RV Daily Report receives a press release from an official representative of the company or organization, or picks up a story from the firms' social media accounts or the wire services, and it's published in one of our newsletters, the story will NOT be removed. The CEO can fall to the ground, flail his arms and legs, and hold his breath until his face turns blue, but it won't matter. Corporate attorneys can call me puffing their chests and beating them like Tarzan while threatening all types of hideous sanctions, but they'll speak to the hand, as my teenage daughters use to say. As a dad of daughters only and someone who grew up surrounded by females, I've endured more drama than any male should ever face in a lifetime. As a result, I've developed immunity to it. Good for you, Mr. Gerber. ----- Just a microcosm of the many content and information issues we'll be discussing at AIIM16 in New Orleans on April 26-28. Join us.