Document Management | Enterprise Content Management (ECM)
In this digital era, organizations are looking for ways to streamline their business processes. Companies are adopting different management solutions driven by AI-based software or apps to automate it. There are so many solutions to choose from, but the process gets quite tricky when the boundaries between the solutions are not defined properly.
Capture and Imaging | Document Management
Companies are always looking for ways to make their workplace more productive and efficient and to reduce costs. Document management has an important part to play here. A survey conducted in 2012 showed that 21.3% of losses in employee productivity are due to paper-based documentation challenges that businesses go through. Converting your paper files into digital files via document scanning services can really help in alleviating the nuisance of managing paperwork at the office. While some documents do need to be printed, digitization can considerably increase your workplace productivity. With document scanning businesses, you can achieve superior efficiency, better systems for storage and retrieval and greater security controls. Let's take a deeper look into how digitization can prove to be beneficial for your business.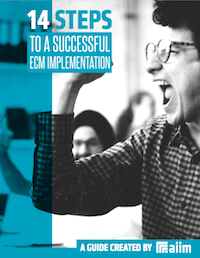 14 Steps to a Successful ECM Implementation
Making an ECM implementation successful requires planning and attention to detail. The best way to create the right solution is to identify organizational goals and priorities. Learn how to manage a successful implementation in our free guide.
Automation | Document Management | Intelligent Information Management (IIM)
Are your Human Resources processes intelligent? Before you try and answer that, let me explain more about what I mean.
Artificial Intelligence (AI) | Automation | Document Management
Artificial Intelligence (AI) is obviously all the rage. Consider the search traffic on "Artificial Intelligence" since early 2016. As a result, just about every technology product in the world now seems to have the artificial intelligence "label" attached to it.
No matter what industry you are in, audits are stressful. Many of your company's processes and documents must be analyzed to make sure you are compliant and up to standard. That means the auditor is going to need to see a lot of paperwork. If you currently use filing cabinets, inboxes, and hard drives to store your documents, then an audit is likely your worst nightmare. Luckily, there is a better way. With a document control software, you no longer have to stress when it's time for an audit. All your information can be stored within one comprehensive system that allows your data to be tracked, stored, indexed, and searched. Here is a look at six ways a document management system can help your company get organized and ready for your next audit:
Document Management | Electronic Records Management (ERM) | Enterprise Content Management (ECM) | Information Security
Too often we look at documents as just pieces of paper or digital files that contain information. We often forget to consider the value of that document. Some documents are assigned value based on time to write (like a very large document) or potential fines if done wrong (like a regulatory or compliance document). But every document has some value.