Document Management | Robotic Process Automation (RPA)
The Difference Between Intelligent Document Processing and RPA — Or Is There One? For many businesses, content and data capture tools are highly sought out, particularly in the banking and insurance sectors. With so many different types of documents required to operate and adhere to compliances, the need for capturing data accurately and quickly, especially unstructured data, is ever growing. As a result, businesses are looking at sophisticated data capture solutions to achieve this. For a while, the biggest player was intelligent document processing (IDP), which used to be known as "capture." However, now robotic process automation (RPA) is matching the features IDP tools offer and throwing their hat into the data capture ring.
Document Management is the use of a software application to track digital documents from creation through approval and publication. It serves in many ways to apply a formal governance framework to the document creation and collaborative editing processes.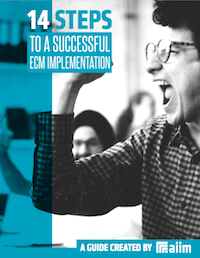 14 Steps to a Successful ECM Implementation
Making an ECM implementation successful requires planning and attention to detail. The best way to create the right solution is to identify organizational goals and priorities. Learn how to manage a successful implementation in our free guide.
In today's digital era of information technology, a company needs to consider several factors to decide how to manage their data and documents online. A large share of companies have now adopted cloud-based infrastructure, but many still rely on the tried-and-true legacy of on-premises document management software programs. If you, too, are in a dilemma as to which solution is right for your business, stick around as here is a detailed comparison between cloud and on-premises document solutions.
AIIM on Air | Document Management
Reaching your Digital Transformation goals often requires the addition of new software solutions. But, shopping around for software can be a challenge.
Document Management | Electronic Records Management (ERM)
When I teach, questions often come up about the differences and similarities between document management and records management. Is there any difference? Does it really matter? Which one is best? The answers are, respectively, yes, yes, and it depends. Let's take a look at each.
Document Management | Enterprise Content Management (ECM)
In this digital era, organizations are looking for ways to streamline their business processes. Companies are adopting different management solutions driven by AI-based software or apps to automate it. There are so many solutions to choose from, but the process gets quite tricky when the boundaries between the solutions are not defined properly.