Artificial Intelligence (AI) | Automation | Intelligent Information Management (IIM) | Process Automation
Since the earliest forays into optical character recognition (OCR) by Ray Kurzweil in the early 1970s, software developers have been on a mission to teach computers how to do the paperwork for us. What if the computer could replace the interminable number of hours needed each day in offices around the globe for humans to read documents, understand the meaning, and extract the right data for the next step in a work process? What if the computer could also do the data entry?
Understanding the Key Factors that Affect How Much Document Automation You Can Achieve When the word "automation" is brought up in a conversation, most people think of something that is completely handed over to machines. And that scenario can be true if the tasks involve very straightforward, highly repetitive work with little variance. Think of processes like provisioning an email account for a new employee and you'll get the idea. When it comes to automation of document tasks, while it is relatively easy to convert paper into images or to make resulting images of documents searchable, it is quite another thing to take unstructured document-based information and comprehensibly convert it into highly reliable, structured, and usable data. All of a sudden, aspects of a project or organization's requirements that appear to be very straightforward begin to take on more ambiguity when it comes to assessing just how much automation can be achieved.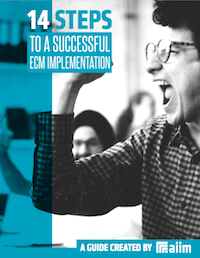 14 Steps to a Successful ECM Implementation
Making an ECM implementation successful requires planning and attention to detail. The best way to create the right solution is to identify organizational goals and priorities. Learn how to manage a successful implementation in our free guide.
Automation | Electronic Records Management (ERM) | Information Governance
When the dominant terminologies to describe a problem change, there is often a corresponding confusion in the roles that individuals play. In the broader content space, we experienced some of this disorientation as the core language used shifted from "ECM" to "Content Services," and then with the incorporation of "Content Services" into the broader framework of "Intelligent Information Management." This same terminology disorientation has been true in the governance arena as well, with varying uses and interpretations of "Records Management" and "Information Governance." The confusion has left some organizations asking, "Do we need Records Managers, or do we need Information Governance professionals?"
Automation | Electronic Records Management (ERM) | Information Governance
Before we start, let's take a minute to address the big elephant in the room. You're probably thinking, "Where are you going with this sales angle, Sean? I work with records and information, and my job is all about managing, protecting, and storing it. I don't sell a thing!" Well, what we're going to cover today will show you that you ARE, in fact, in the business of selling when it comes to Information Governance – it's just a slightly different model than we're all used to. In this selling model, we're not exchanging goods and services for money; we're exchanging ideas for acceptance.
Automation | Electronic Records Management (ERM) | Information Governance
Words are important. Beyond that, the words you choose can mean the difference between someone understanding what you're saying and someone giving you that glazed expression with one eyebrow lifted saying, "Huh?" It's just as important to think of WHO you are communicating to, as it is to think of WHAT you're trying to say. Allow me to share a quick example to illustrate my point. One of my favorite hobbies is fly fishing. To me, there's nothing like being out in the middle of nowhere, wading into the middle of a crystal clear river, and trying to fool some trout.
Automation | Information Governance
Digitally Transforming IS the Future Most organizations and departments have a mandate to continuously improve operations. A conventional change agenda involves better tools and technology, better behaviors, and better processes, all focused on generating better efficiencies and improved productivity - a transition called Digital Transformation.