automation | content management | enterprise content management | records management
Guest Post: Joanne E. Novak from Konica Minolta Business Solutions. For the past 3 years, the Clerk of Common Pleas Court in Clark County, OH, Melissa Tuttle, has been utilizing a content management tool to automate her business workflows. Like many Counties, Melissa and her team deal with a lot of paperwork and file types. Utilizing a content management tool has helped them eliminate the time-consuming burden of pulling paper files manually and instead utilize automation so that Melissa and her team can do their jobs better. "[Our content management tool] is not just a scanning tool, but much more…to help the workflow and integrations, and help us achieve our goals in running the court system." - Melissa Tuttle, Clerk of Common Pleas Court, Clark County, OH This county adopted technology over a decade ago to become more efficient. Yet, today there are many other counties in the US still struggling with manual processes and paper files. With each state creating their own guidelines for public record requests, it's become a growing challenge for the clerk's office to respond "as quickly as possible" to provide the requested information.
automation | content mangement | intelligent information management | webinar
Information is cascading down upon every organization in unprecedented volumes and forms, challenging traditional and manual concepts of records management and information stewardship. This information tsunami is happening at the very time that the process value of these digital assets is more mission-critical than ever.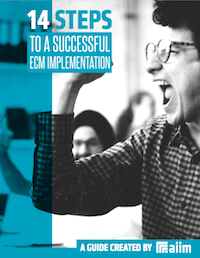 14 Steps to a Successful ECM Implementation
Making an ECM implementation successful requires planning and attention to detail. The best way to create the right solution is to identify organizational goals and priorities. Learn how to manage a successful implementation in our free guide.
automation | digital processes | document management | human resources | intelligent information management
Are your Human Resources processes intelligent? Before you try and answer that, let me explain more about what I mean.
AI | Artificial Intelligence | automation | document | document management
Artificial Intelligence (AI) is obviously all the rage. Consider the search traffic on "Artificial Intelligence" since early 2016. As a result, just about every technology product in the world now seems to have the artificial intelligence "label" attached to it.
automation | digital transformation,
Life for the owner of a startup can be stressful and filled with rapid-fire choices that can hobble progress and add an undue burden. Luckily for startup owners everywhere automation has become a ubiquitous technology and is innovating in the business sector every day.
automation | compliance | governance | records management
In The State of Intelligent Information Management: Getting Ahead of the Digital Transformation Curve and in GDPR after the Deadline: Progress, But a Long Way to Go, AIIM began an examination of one of the four key IIM practice areas — Automating Compliance and Governance.