In light of recent events, we can all agree that information security has been criminally overlooked on some major fronts across most industries. Absolutely mind-boggling attacks on major corporations like Sony, Yahoo, and Equifax have consecrated InfoSec in the most frightening way possible. It is entirely possible that InfoSec had been given the resources it needed in those conditional circumstances but, given the unmitigated damage and lack of response, it is beyond fair to say that InfoSec may not have been a high priority. The benefit, if any, of these attacks is that they cemented the need for InfoSec in all businesses of all sizes.
Artificial Intelligence (AI) | Automation
Automation in the workplace is already well underway. The McKinsey Global Institute estimates that up to 50% of workplace tasks could be fully automated by 2055, if not before. For employees, this can be a daunting concept, as increased automation in professional settings could lead to job loss on a mass scale.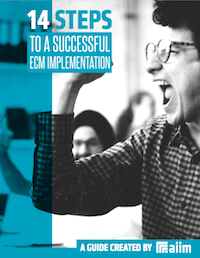 14 Steps to a Successful ECM Implementation
Making an ECM implementation successful requires planning and attention to detail. The best way to create the right solution is to identify organizational goals and priorities. Learn how to manage a successful implementation in our free guide.
Artificial Intelligence (AI) | Automation | Machine Learning
Artificial intelligence is changing the way we do everything. As we look ahead, self-driving cars, hyper-intelligent predictive software, and self-improving robots seem possible.