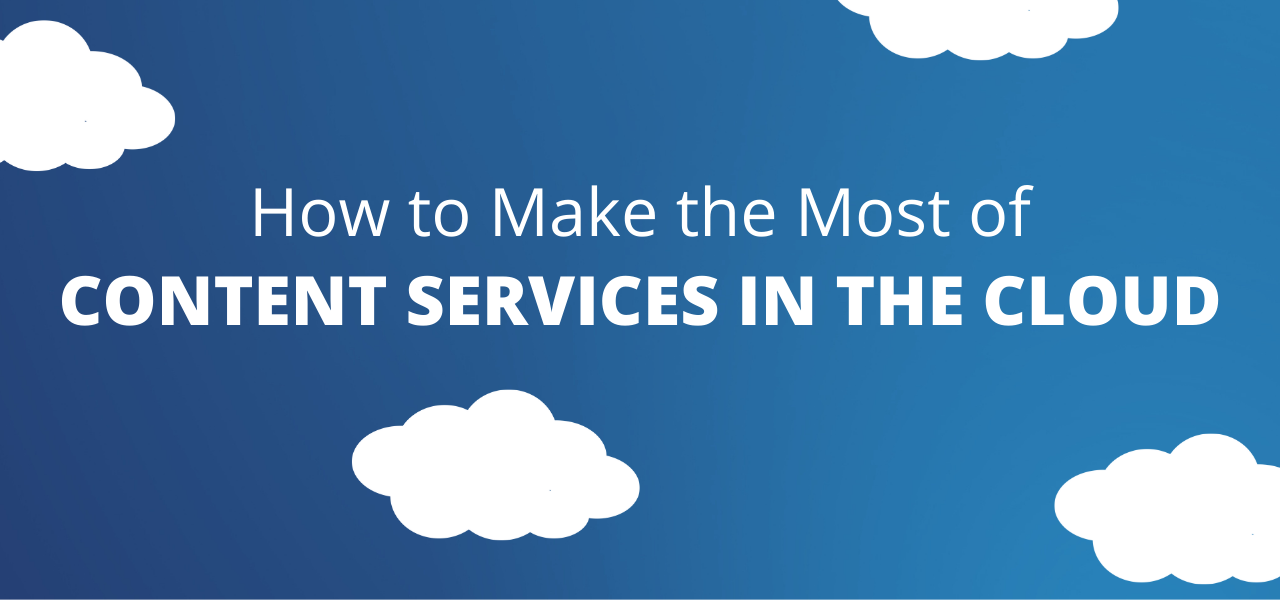 Subscribe
How to Make the Most of Content Services in the Cloud
New cloud-based approaches promise to transform workflow in ways that produce new levels of service, savings, and responsiveness. There are many strategic reasons for moving to the cloud. Organizations around the world have embraced the cloud as a way to fundamentally improve the performance of the business and dramatically improve customer experience.
Content Services in the Cloud
How can you begin to take advantage of the cloud for your business? One area is cloud-based content services. Opportunities can be found in integrating content, process, and people. Today, organizations are moving away from traditional enterprise content systems in favor of cloud content services. These platforms are capable of centrally managing content via a secure cloud-based portal, promoting team collaboration on the go, and automating key business process workflow.
---
---
Both small and large operations are in a great position to capture the benefits of content services in the cloud since it doesn't require an enterprise-sized budget or teams of advanced programmers to achieve. SMBs benefit because teams can quickly capitalize on applications that streamline core processes and improve customer service and experience in ways that can make an immediate difference. Large enterprise departments benefit because they can draw upon tools and systems more quickly and easily than before. Cloud-based services provide applications and systems without the need for extensive IT support. In contrast, business units and work teams often struggled to justify and obtain the technical support and expertise needed in the past.
With the Cloud, The Sky is the Limit
Where can you find the most opportunity? Organizations participating in our research at AIIM say that savings fuel the transformation journey in core processes like application reviews and approvals, HR processes, customer correspondence, and finance. Back-end operations are seen as prime targets for digital process improvement. Still, extended benefits in customer-facing activities like improving and automating customer correspondence, onboarding, and case management are also driving transformation.
Gaining Advantage in the Cloud
How do you use content services in the cloud to improve customer experience, accelerate cycle times, and reduce costs? Here are just a few uses cases to consider:
Accounts Payable
All businesses have an accounts payable function, but the AP process is often prone to paper-based inefficiencies and workflow despite increasing digitization. Organizations often use unrelated sets of technology tools, file systems, and manual processes to manage their accounts payable process. This approach lacks a cohesive integration strategy, is often non-compliant with industry guidelines, and is time-consuming to manage. Instead, content services in the cloud provide an opportunity to automate vendor onboarding and accounts payable processes, saving time and ensuring best practices. Data capture from incoming supplier invoices and automatic data entry and archival of invoice images streamline the process and dramatically reduce costs associated with labor and infrastructure.
Policies and Procedures
Organizations that operate in highly-regulated industries and that must manage a wide variety of policies and procedures benefit from content services in the cloud because they are more able to adhere to increasingly strict information governance requirements that require content to be more and more digital. Consider, for example, a medical center that must manage a cumbersome, manual process to manage their policies and procedures – requiring dedicated IT and business support teams to meet their compliance KPIs. This puts operations behind the curve, working with a process that is error-prone, not cost-effective, and operationally inefficient. The result can often be unhappy patients, frustrated staff, and a higher risk of non-compliance. These constraints are all mitigated by adopting a cloud-based content services approach. Document management, automated versioning, and content rules capabilities boost the ability to manage policies and track compliance.
Contract Management
Contract management is another function that most organizations must manage. Content services are a critical component of the workflow as a result and essential to not only keep organized but also to track and gain access to critical files at a moment's notice. Cost is often a barrier to better collaboration and higher productivity; however, both small and mid-sized businesses, as well as large enterprise departments, are looking to the cloud for cost-effective solutions. One example is an integrated document viewer that allows multiple team members to use, modify and track comments on contracts. Since all team members can see all comments in one place, with tracked versions, the entire workflow is more agile and more accurate.
Making a Difference
With all the different cloud solutions and capabilities available, it can be difficult to know which content approach is right for you. What do you look for in a good cloud content services solution? Here are a few critical characteristics to consider:
Rapid Deployment – One of the key advantages of cloud-based solutions is the ability to deploy applications quickly. Unlike monolithic enterprise on-premise solutions that can take months or even years to develop and deploy, cloud-based content services can be up and available in just days. This brings a return on investment more quickly while accelerating the process improvement benefits.
Reduced Reliance on IT – Since services are 100% web-based, content services in the cloud reduce the need for advanced IT capabilities or custom applications programming. This is a huge enabler for large enterprise departments that may lack the priority needed for support. And small and mid-sized businesses can "play with the big boys" since the latest innovations and capabilities are constantly updated in the cloud.
Scalability – The ability to scale your cloud environment on-demand is another huge benefit. This gives businesses of all types the ability to handle growing or diminishing resources to meet business demands capably. Before the arrival of the cloud, adding extra server space, for instance, involved having someone install hardware, extensive testing, and then paying for maintenance. Instead, cloud scalability is a planned level of capacity that can grow or shrink as needed.
Ease of Use – If content applications are cumbersome and require a steep learning curve, users will likely look for ways to sidestep the system or won't use it at all. Cloud content services, in contrast, are more intuitive and specialized, which reduces the need for training while encouraging adoption across the business.
Lower TCO – Cloud architecture reduces overall IT spending, resulting in tangible cost savings. Budgets can be dedicated where needed while business units are empowered to move forward with process improvements more quickly. And since cloud-based applications are typically classified as an operating expense versus a capital expense, business units can afford the latest and greatest technology without having to find a large bucket of funds upfront to pay for it.
Moving Forward
The confluence and synergy of the cloud and next-generation content services solutions bring savings and operational advantages by eliminating paper and manual processing, but the next level of ROI is found by automating key business processes that improve operational performance and customer experience. Look for providers and partners with the right mix of capability, vision, and expertise that will allow you to take advantage of content services in the cloud.