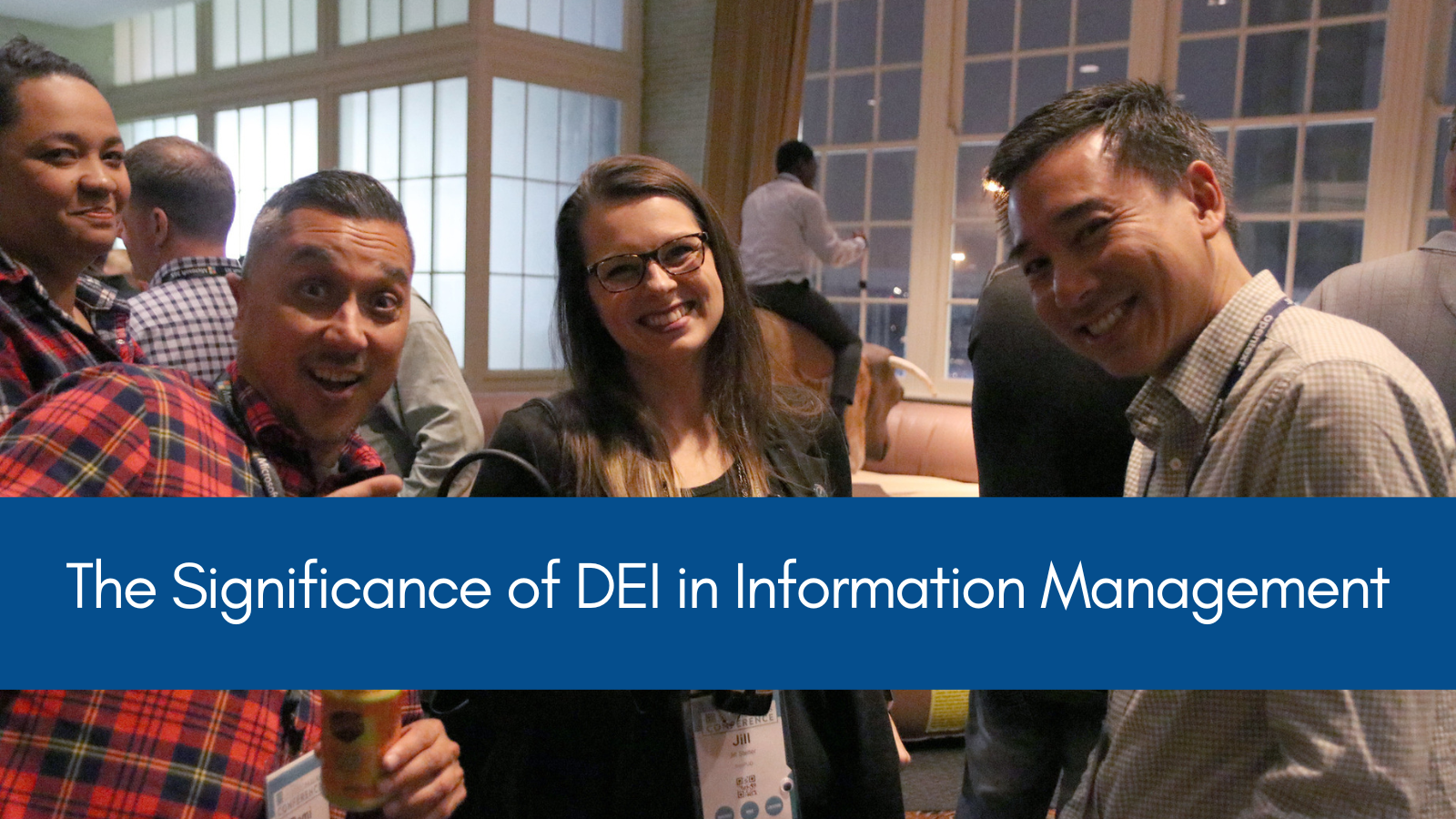 Subscribe
The Significance of Diversity, Equity, and Inclusion in Information Management
Collaboration | Women in Information Management (WIIM) | AIIM Community | Human Resources
In honor of Pride Month in June, I wanted to share some thoughts about diversity, equity, and inclusion (DEI) in the information management industry.
The Value of DEI in the Workplace
Extensive research has already established the value of DEI in the workplace, with Boston Consulting Group finding that companies with diverse leadership teams report higher innovation revenue. However, I've been pondering the specific importance of DEI in the field of information management.
Recognizing Diverse Perspectives in Information Management
To gain some insights, I had the privilege of speaking with Sarah Lambert-Sheffield, a passionate advocate for DEI in information management. Sarah, a newly Certified Information Professional (CIP), serves as the Lead Document and Records Management Specialist for Fluor Federal Petroleum Operations, LLC and works as a contractor to the U.S. Dept. of Energy SPR.
When asked about the importance of DEI in information management, Sarah pointed out that "DEI is important in information because there is diversity in the information itself." Information managers must be able to recognize when diverse perspectives are needed to better understand the information at hand. Sarah emphasized, "Our job isn't to know the information – it's to know how to tap into resources to understand information better." Information managers possess the skills to gather and utilize resources effectively.
Sarah explained that information management is inherently inclusive. A primary goal of this profession is to ensure that everyone who needs access to information can obtain it. "Our job as information managers is to understand the process of information and disseminate it accordingly," explained Sarah. "It's about understanding as much as creating the opportunity for accessibility."
Importance of DEI to Employees
DEI also holds significant value for employees and job seekers. According to LinkedIn research, 76% of employees and job seekers consider diversity important when evaluating job offers. A report by Pew Research revealed that 68% of workers under 30 view a focus on DEI in the workplace as a positive aspect.
Attracting Younger Professionals to the Industry
The emphasis on diversity and inclusivity in information management can serve as a strategy for attracting new professionals to the industry. This was the case for Sarah, who was drawn to the field because she wanted to be involved in disseminating information. "DEI is important as a mechanism for bringing younger, diverse professionals into the industry," Sarah emphasized. "These are the people who will carry your business into the future."
Why DEI Matters
In 2018, I co-founded Association Women Technology Champions (AWTC) with the mission to advance, empower, and recognize women in the association technology community. My friend Rene Shonerd came up with the idea after attending a professional event for IT leaders in the association community held several years ago, where only 10% of attendees were women.
I was one of the women in that room, and I deeply felt that underrepresentation there and elsewhere in my technology career.
As a young woman in IT, I lacked mentors to look up to. AWTC provided me with mentors and a community of women and allies, committed to increasing diversity in IT. I know from personal experience that representation matters. Not as a token, but as inspiration and motivation for younger generations of professionals.
Championing DEI at AIIM:
We are creating the same welcoming community here at AIIM.
At the 2023 AIIM Conference, we featured a diverse slate of speakers and invited student delegations to attend the event. We highlighted the local technology community at the conference as well, featuring local technology leaders and NOLAvate Black, a community for black professionals and entrepreneurs in the technology sector.
DEI is important to me and our Board of Directors. In fact, DEI was important enough to the board to list "championing DEI values within the association" as a key responsibility in the position profile for President & CEO. It was one of the reasons I was eager to work for AIIM.
I am grateful for thought leaders like Sarah, who are helping AIIM envision the association's path toward greater DEI. Information management is a practice needed by every organization, big or small. AIIM is committed to making information management accessible to all, regardless of ethnicity, gender, or sexual orientation.