AIIM Community | Collaboration | Human Resources | Women in Information Management (WIIM)
In honor of Pride Month in June, I wanted to share some thoughts about diversity, equity, and inclusion (DEI) in the information management industry.
The COVID-19 pandemic crisis has changed most everything. Technology, social, and cultural disruptions have forced organizations to shift rapidly, expanding remote work capabilities. As we approach the post-pandemic era, a new normal has emerged in workstyles. Businesses now look to foster and enable a hybrid workplace. With this massive transition underway, many organizations struggle to maximize productivity and resilience while building a seamless and secure digital workplace.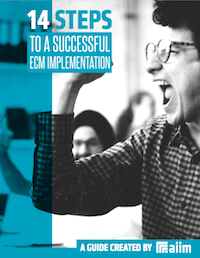 14 Steps to a Successful ECM Implementation
Making an ECM implementation successful requires planning and attention to detail. The best way to create the right solution is to identify organizational goals and priorities. Learn how to manage a successful implementation in our free guide.
Knowledge management is one of the most crucial yet overlooked aspects of workplace progress. When employees fail to get access to the knowledge necessary for completing their tasks, the organization suffers. Knowledge sharing in the workplace can increase productivity, social interaction, and trust among the team. It's great for nurturing the organization's knowledge bank so everyone can access it even as people come and go. Here are five strategies you can use to share knowledge in the workplace.
Collaboration | Information Governance | Privacy
With the new year in full swing, there's a lot of conversation around what comes next and what 2020's impact will mean for 2021. IT teams, specifically, are working to understand how to get a grip on content sprawl in the era of remote work. A recent study commissioned by Egnyte surveyed 400 IT leaders to understand how COVID-19 has impacted businesses' ability to maintain data security and governance with a distributed workforce.
Collaboration | Sharepoint and Office 365
You know that saying, "When life gives you lemons, make lemonade"? It's something I try to live by. I'm a self-proclaimed eternal optimist and always try to look for the positive in everything. If you do it often enough, you'll soon find that there is always a positive way to look at things. It won't always turn the bad completely good, but it will always put a positive spin on it and make it easier to handle. Finding even a glimmer of hope through positivity can be enough to pull you through. This year, life didn't just give us lemons; it basically gave us a sea of lemons. The unexpected COVID crisis hit and changed…well, everything. In business, organizations were forced to rethink how they view remote work, remote workers, and the systems used to support them. And for the majority, we were unprepared: Only 34% of the organizations surveyed reported that their organization was "very prepared" for remote work prior to COVID.* Today we're going to look at this overwhelming sea of life's lemons and see if we can't squeeze out at least a glass of lemonade!
Collaboration | Email Management
While social media, the cloud, and advanced enterprise content management systems get the most attention, the fact is that plain old email remains to be a foundational tool in the way business gets done. And email shows no signs of going away any time soon. In fact, the total number of active email users jumped to 3.9 billion in 2019. American workers will receive an average of 126 emails a day. Like it or not, email remains the glue that ties an organization together. We use it to communicate with our bosses, colleagues, partners, and customers. We use it for storing important messages, and a lot of important collaboration happens in email. But, just because a tool can be used for a particular job doesn't mean it's the best option.