AIIM Community | Collaboration | Human Resources | Women in Information Management (WIIM)
In honor of Pride Month in June, I wanted to share some thoughts about diversity, equity, and inclusion (DEI) in the information management industry.
AIIM Community | Human Resources | Market Intelligence
AIIM has been discussing the next generation of information management leaders and how the industry can better attract and retain young professionals quite a lot in 2023, and with good reason.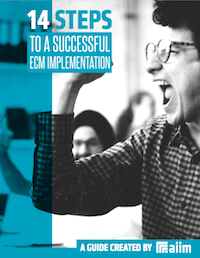 14 Steps to a Successful ECM Implementation
Making an ECM implementation successful requires planning and attention to detail. The best way to create the right solution is to identify organizational goals and priorities. Learn how to manage a successful implementation in our free guide.
A Look at Information Overload It's no secret that organizations today are swamped by information. According to AIIM, organizations expect the amount of information they must manage to increase by 4.5x in the next 18 months. Add to this the massive and immediate shift to remote working in 2020 and the impacts of information overload compound exponentially. It's hard to avoid information overload nowadays. And the quantity and speed of that information coming at us is often more than we can handle. The impacts are felt in every aspect of doing business today; two-thirds of office workers say that the volume of data they must manage negatively affects their job.
In their efforts to streamline key business processes, industry leaders have looked to artificial intelligence (AI) and automation. Automation has forced multiple industries to rethink how they work and function ⁠— and human resources is one field where automation proves its worth. However, automation is not a be-all end-all solution to HR woes. While it fills in the gaps where humans fail to deliver, automation has its disadvantages, too. That said, here are some pros and cons of automating HR processes.
Business Process Management (BPM) | CRM | Enterprise Resource Planning (ERP) | Human Resources
I've been working on a project over the past few weeks focused on the role that content plays in core business processes, specifically Human Resources (HR), Customer Relationship Management (CRM), and Enterprise Resource Planning (ERP).
Every day represents a new set of people-process-technology challenges for HR professionals. From the time a prospective employee first comes into contact with an organization to the time they leave or retire, HR professionals must deal with myriad of documents and processes that span the entire lifecycle of an employment relationship.