In their efforts to streamline key business processes, industry leaders have looked to artificial intelligence (AI) and automation. Automation has forced multiple industries to rethink how they work and function ⁠— and human resources is one field where automation proves its worth. However, automation is not a be-all end-all solution to HR woes. While it fills in the gaps where humans fail to deliver, automation has its disadvantages, too. That said, here are some pros and cons of automating HR processes.
Business Process Management (BPM) | CRM | Enterprise Resource Planning (ERP) | Human Resources
I've been working on a project over the past few weeks focused on the role that content plays in core business processes, specifically Human Resources (HR), Customer Relationship Management (CRM), and Enterprise Resource Planning (ERP).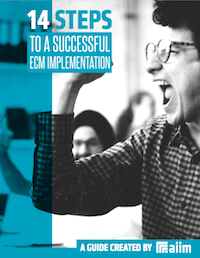 14 Steps to a Successful ECM Implementation
Making an ECM implementation successful requires planning and attention to detail. The best way to create the right solution is to identify organizational goals and priorities. Learn how to manage a successful implementation in our free guide.
Every day represents a new set of people-process-technology challenges for HR professionals. From the time a prospective employee first comes into contact with an organization to the time they leave or retire, HR professionals must deal with myriad of documents and processes that span the entire lifecycle of an employment relationship.
Highly successful organizations understand the importance of acquiring and keeping top talent. HR departments are starting to tap into a massive competitive advantage by leveraging data analytics to identify top performers before they're hired, improve their retention rates, and keep their employees happy and engaged. As the technology for dealing with large sets of employee data continues to advance, this competitive advantage will soon become the new normal. The time for human resource professionals to start embracing data analytics is now.
Automation | Document Management | Human Resources
It is the best of times and the worst of times for HR professionals. Many organizations have reaped enormous benefits from more effectively managing the unstructured information association with core Human Resources processes. That's the good news. The bad news is that MOST organizations have not yet moved down the path of HR automation, creating massive inefficiencies and risks in their hiring, retaining, employee servicing, and firing practices.
Human Resources | Privacy | Social Media
I had an interesting conversation with Michelle Sherman yesterday after publishing my post on Poking the Soft Underbelly of Social Media. She writes on social media issues for a very insightful blog, Social Media Law Update, for a law firm. Her articles related to e-discovery and retention are particularly interesting.