HR | content mangement | ecm | erp | human resources
The best way to think about HR process automation is by thinking about it over the lifecycle of an employment relationship and the kinds of documents that are typical in each stage of the life cycle.
HR | content mangement | ecm | human resources
Every day represents a new set of people-process-technology challenges for HR professionals. From the time a prospective employee first comes into contact with an organization to the time they leave or retire, HR professionals must deal with myriad of documents and processes that span the entire lifecycle of an employment relationship.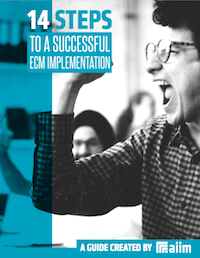 14 Steps to a Successful ECM Implementation
Making an ECM implementation successful requires planning and attention to detail. The best way to create the right solution is to identify organizational goals and priorities. Learn how to manage a successful implementation in our free guide.
digital transformation, | human resources
Interviewing full stack developers can be a difficult job. As an interviewer, you'll need to assess personality, technical proficiency, and work ethic all at once. While you may have rounds of interviews to accomplish this, it's best to establish as much as you can within the first interview. How do you accomplish this for a technical interview? How do you interview full stack developers effectively? There are plenty of ways to conduct an interview successfully, so there's not one single format that's guaranteed to work or fail one hundred percent of the time. However, there are some tips and tricks you can employ to ensure your full stack developer interview goes as smoothly as possible.
automation | digital processes | document management | human resources | intelligent information management
Are your Human Resources processes intelligent? Before you try and answer that, let me explain more about what I mean.
employee engagement | hiring | human resources
Remote work is exploding in popularity. Over a few short years, the percentage of remote workers has skyrocketed. Experienced professionals have flocked to remote work because of its promise of flexibility, freedom, and fulfillment. Employers are seeing the benefit of telecommuting as well. Increased productivity and reduced costs being compelling reasons to consider the new-fangled mode of work. Remote project managers can be trickier to hire than other remote professionals, however. Here are 5 essential interview tips for hiring remote project managers for your company:
bpm | business process | document management | human resources
It is the best of times and the worst of times for HR professionals.