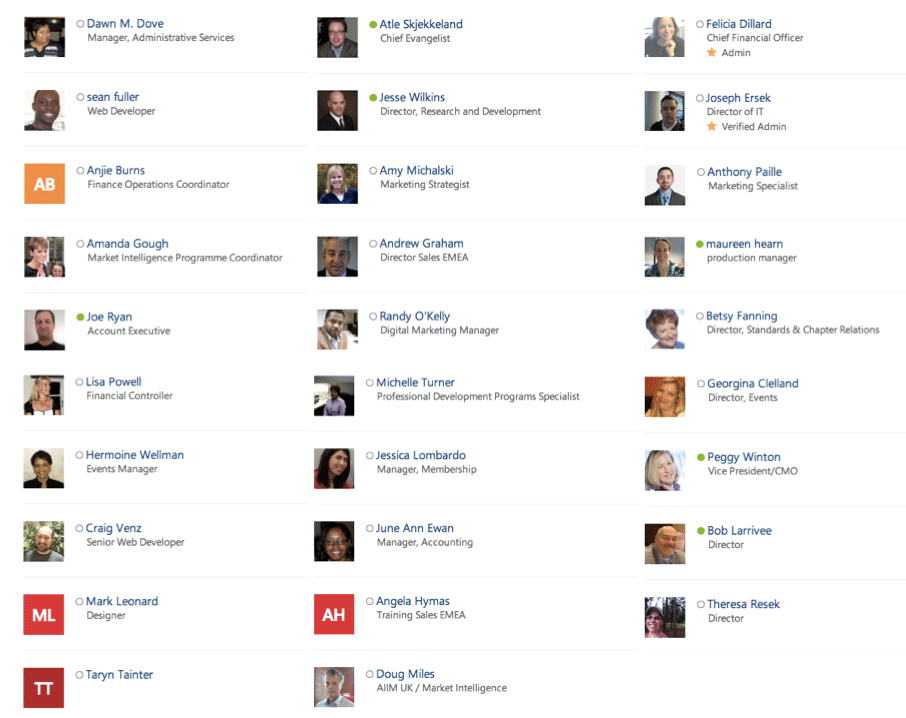 Among the many things for which I am thankful are the 29 people who make AIIM work.
People are often surprised there are only 29 staff people here at AIIM given that in the course of 12 months these folks...
Put on 37 webinars, with an average of 400+ registrations and 200+ attendees each.
Convene an international conference with 750+ attendees and awesome keynotes like Brian Solis, Tom Koulopoulos, David Pogue, Guy Kawasaki, Thornton May, Seth Godin, and a host of others.
Publish 6 major Industry Watch reports, 26 white papers, 6 Infographics, and 15+ checklists and toolkits.
Speak (not just me) at 20+ major industry conferences per year around the world.
Support activities in 40+ chapters and in 15+ standards committees.
Support 6,000 individual members, 200+ trade members, and 30+ Executive Leadership Council members.
Train 2,200+ people per year in how to properly implement content and information management solutions.
Organize a 9 city road show that draws 1,500+ attendees across North America and a partner event in the UK.
Are the crazy people who organize World Paper Free Day with no budget.
Know more about how to market and communicate the strange world of document, content, and records management than any staff I know.
And are more knowledgeable about how to leverage marketing automation (we use Hubspot) than companies many, many times larger than AIIM.
Here are the 29 people who do all this.
They are not perfect, but they are damn good and they work terrifically hard and in a world where a lot of employees just don't care, they do. They really do. And I appreciate that.
Thank you.