Archiving | Digital Preservation | Digital Transformation
The National Archives and Records Administration (NARA) is the nation's record keeper. We identify, protect, preserve, and make publicly available the historically valuable records of all three branches of the federal government. NARA is also the nation's records manager. That is to say, NARA's Office of the Chief Records Officer for the U.S. Government leads records management throughout the federal government and assesses the effectiveness of federal records management policies and programs. Part of that work is to issue guidance to federal agencies on a wide variety of records management topics. One of NARA's newest guidance products to federal agencies is regulations with digitization standards for permanent records.
One of the issues I spend some time worrying about is how to balance my enthusiasm for social technologies with the very real concerns that exist as organizations consider the control and compliance realities.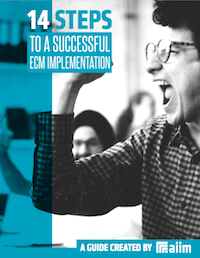 14 Steps to a Successful ECM Implementation
Making an ECM implementation successful requires planning and attention to detail. The best way to create the right solution is to identify organizational goals and priorities. Learn how to manage a successful implementation in our free guide.
It's not that long ago that emails were simply out there. Not much, if any, thought was given to email as something that needed to be managed in the same way as other information resources. The common assumption about email was: Storage is cheap, so we can just keep everything. And if we need to find it, well, Outlook and Exchange have search functions! But, the way email messages are stored, backups are made, and archives are kept are important because they all have an impact on how findable and shareable the information they contain ends up being. Ultimately, content and information that you're unable to find is worthless. And the challenges with unmanaged email don't stop there. What about emails that have been archived elsewhere, or simply saved to someone's desktop? And what about the people searching from within other applications? And what of the attachments? In this video session, we'll explore the basics of email management with a look at: Basic Architecture Storage and Backup Archiving
Archiving | Enterprise Content Management (ECM)
Today customers, partners and internal stakeholders demand web access to accurate, timely, and pertinent business information. Driven by competitive pressure to continually improve the customer experience, organizations are enhancing their online, self-service model of customer interaction. The ability to promote seamless online information availability and react promptly to in-person or telephone customer service requests not only provides a marked competitive advantage, but can dramatically reduce operational costs.
Archiving | Enterprise Content Management (ECM)
With the vast number of disparate systems in an organization, along with their relative complexity and enormous amounts of data, ECM migrations can be daunting. This brief list of eight considerations in undertaking an ECM migration is meant to provide a common-sense approach to addressing the process.
Archiving | Email Management | eDiscovery
Have a well defined and detailed calculated business case. Organizations are facing various challenges to take back control and unlock the business value of content, especially in emails. Four challenges drive the business case for email management: Archive email and content for storage space management to reduce operational costs introduced by the increasing volume and size of emails and multiple formats of content types Manage email and content for legal obligations to comply with different rules and regulations which create duties of evidence and documentation, facilitate eDiscovery, or indicate supervision and monitoring for non-compliance Combine email and content to other loosely managed content to minimize risks caused by increased organizational scale and complexity, changed speed and style of communication, lost knowledge. Manage email and content to gain efficiency. Associate email and content to processes and business applications to accelerate business processes