We regularly discuss the value and importance of information governance - at our conference, in our training courses, in our virtual events. And we're by no means alone - every association and consulting firm in the industry has been making the same points for years. And if you're reading this post, you probably get it already. But what if your bosses still don't care? How can you move your organization's information governance program forward in the absence of management support or interest? There are two ways to approach this.
Electronic Records Management (ERM) | GDPR | Information Governance | Information Security | Privacy
A potentially problematic challenge for industry and legislators is the apparent tension between privacy rights and the rapid adoption of blockchain-based applications which are expected to reach $10.6 billion in revenue by 2023.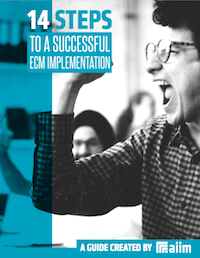 14 Steps to a Successful ECM Implementation
Making an ECM implementation successful requires planning and attention to detail. The best way to create the right solution is to identify organizational goals and priorities. Learn how to manage a successful implementation in our free guide.
Data Management | Information Governance | Information Security
Data Privacy Day takes place annually on January 28th in recognition of the January 28, 1981 signing of Convention 108, the first legally binding international treaty concerning privacy and data protection. This day, led officially by The National Cyber Security Alliance (NCSA), is an international effort to "create awareness about the importance of respecting privacy, safeguarding data, and enabling trust".
Information Governance | Information Security
In today's digital world, the chance of information-related security breaches is high. Is your company's data security plan up to date and bullet proof?
Big Data | Information Governance | Information Security | Intelligent Information Management (IIM)
The amount of data stored on electronic systems today is exploding and growing at an exponential rate. Data breaches, privacy concerns, and growing e-discovery costs continue to evolve how organizations approach controlling their business data while balancing worker productivity. Aged or poor data hygiene can further increase organizational inefficiencies, in aggregate costing billions annually.