Information Governance | Intelligent Information Management (IIM)
Too often, I hear IIM professionals complain about this issue. "People aren't reading our IIM policy," they say. "I wish our organization forced everybody to read the policy. That way they would know what the IIM requirements are." My response is always the same: Given the choice, 99% of the people in your organization will never read your IIM policy. Get used to it. That is not going to change. It's not a bad thing. "But they are governed by the policy!" is usually the response back to me. "If it applies to them, they should read it." That last statement is a bit of a leap in logic. Let's put the shoe on the other foot for a moment.
Information Governance | Intelligent Information Management (IIM)
As important as Intelligent Information Management (IIM) policy writing is, it's probably not the only dish you have cooking on the stove. It's important, therefore, not to let that process commandeer more time from your day than it has to. The best way to do that is to keep your IIM policies lean. What Does It Mean for an IIM Policy to be Lean? We want both the final document and the policy creation/revision process to be free of unnecessary elements. From drafting to consultation to revision to submission for approval and whatever other steps the document will need to go through in your office, the fewer superfluous statements involved, the faster it can happen.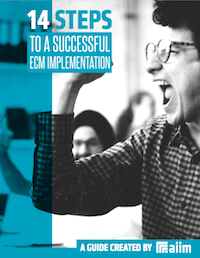 14 Steps to a Successful ECM Implementation
Making an ECM implementation successful requires planning and attention to detail. The best way to create the right solution is to identify organizational goals and priorities. Learn how to manage a successful implementation in our free guide.
AIIM on Air | Information Governance | Intelligent Information Management (IIM)
There are a few different scenarios for auditing your data. Audits can be performed to assess data quality, identify data liabilities, ensure data privacy, uncover data leaks, and so on. Information governance audits, in particular, are used to ensure compliance with relevant information governance policies and procedures.
We regularly discuss the value and importance of information governance - at our conference, in our training courses, in our virtual events. And we're by no means alone - every association and consulting firm in the industry has been making the same points for years. And if you're reading this post, you probably get it already. But what if your bosses still don't care? How can you move your organization's information governance program forward in the absence of management support or interest? There are two ways to approach this.
Data Management | Information Governance | Information Security
Data Privacy Day takes place annually on January 28th in recognition of the January 28, 1981 signing of Convention 108, the first legally binding international treaty concerning privacy and data protection. This day, led officially by The National Cyber Security Alliance (NCSA), is an international effort to "create awareness about the importance of respecting privacy, safeguarding data, and enabling trust".
Information Governance | Information Security
In today's digital world, the chance of information-related security breaches is high. Is your company's data security plan up to date and bullet proof?