Information Governance | Intelligent Information Management (IIM)
Navy Petty Officer1st Class Rholanda Tucker, assigned to the "Blacklions" of Strike Fighter Squadron 213, conducts routine maintenance on a 20mm gun from an F/A-18F Super Hornet in the hangar bay of the aircraft carrier USS Gerald R. Ford in the Adriatic Sea, July 16, 2023. The Gerald R. Ford Carrier Strike Group is on a scheduled deployment in the U.S. Naval Forces Europe area of operations, employed by the U.S. Sixth Fleet to defend U.S., allied, and partner interests. Photo By: Navy Petty Officer 3rd Class Aaron Arroyo
Big Data | Compliance | Electronic Records Management (ERM) | Information Governance
This article was written by AIIM Florida Chapter Board Member Alvaro Arias Cruz, District Director of Archives of Bogotá. It was originally published in the AIIM Florida Chapter Newsletter in April 2023. Learn more about the AIIM Florida Chapter at https://aiimfl.org/. Colombia has one of the most robust and comprehensive archives laws in the Latin American region, identified as the General Archives Law (Law 594 of 2000). Through this state norm, Colombia and all its public institutions have made substantial progress in document management and archives administration, so much so that it has been recognized nationally and internationally as a reference for several countries to develop their own legal frameworks on their public archive policies.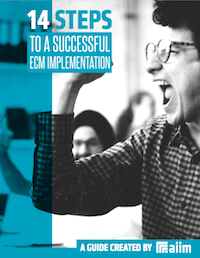 14 Steps to a Successful ECM Implementation
Making an ECM implementation successful requires planning and attention to detail. The best way to create the right solution is to identify organizational goals and priorities. Learn how to manage a successful implementation in our free guide.
Information Governance | Sharepoint and Office 365
I know Halloween has come and gone, but I'd love for you to entertain a horrifying scenario for a moment. It's March 15, 2020, and the United States has just gone into lockdown in response to the COVID-19 pandemic. The Empire State Building in New York City, the Prudential Center in Boston, Willis Tower in Chicago, and office buildings across the country have become vacant ghost towns. Millions of companies and organizations have to figure out overnight how to conduct business outside the walls of their office for the first time. Now imagine cloud-based collaboration tools were never invented. There are no cloud storage solutions to safely share files across borders. There are no video meetings, digital whiteboards, or real-time document collaboration tools. There's no instant messaging or internal message boards. How does business get done? Can the world just completely stop for two years?
The digital world has changed the way we live our lives. It has also changed the way organizations do business. With so much information being generated, it becomes more difficult for organizations to manage it all and ensure compliance with regulations like GDPR and HIPAA. Information governance helps organizations maintain control of their information while complying with these regulations.
Back in 2017, I called up a few of the information governance friends I'd made through the AIIM Community to better understand the challenges they were up against. As we engaged in a bit of Socratic dialogue, it became clear to us all that the perceived role of information governance had to shift from a singular focus on risk and cost reduction. If they don't, they will NEVER change the status of information management within their organizations. The key to this transformation is aligning information management decisions with business decisions.
What is Information Governance, and Why is it Important? There are many benefits to constructing an Information Governance program plan. Generally, regulatory compliance or litigation activities are at the top of the list and often spur the creation of the IG program itself, but that's just the start of the list of IG benefits.